This article is more than 1 year old
Mars rover Curiosity snaps 'pale blue dot' image of Earth, Moon
All of humanity seen in a precious few pixels
NASA's Jet propulsion Laboratory has published the first image of the Earth and Moon taken from one of the camera systems aboard the Curiosity rover. We look very small indeed.
Curiosity's mast camera took the picture of us on Sol 529 of its mission to Mars (January 31 in Earth's chronology) at around 80 minutes after the sun set over the rover's parking spot on the Red Planet. The Earth and Moon blend into a single blob and could only be separated by image enhancement and the elimination the effects of cosmic rays from the shot, NASA said.
While the primary focus of the rover is downward at the Martian soil, and occasionally drilling below its surface, Curiosity's controllers at JPL will be spending more time looking up this year. Besides the Earth shot, the rover (and NASA's other Martian hardware) is on standby to observe the passing of comet Siding Spring in October as it skims 86,000 miles (138,000 kilometers) over Mars, spraying debris as it goes.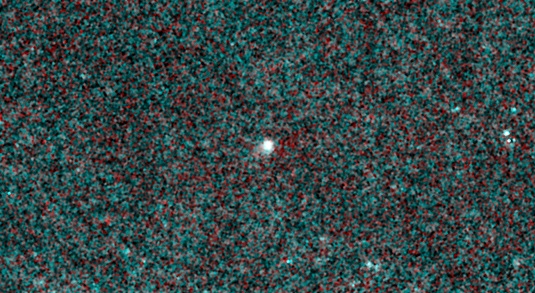 Comet Siding Spring, coming soon to a planet near you
"Our plans for using spacecraft at Mars to observe comet Siding Spring will be coordinated with plans for how the orbiters will duck and cover, if we need to do that," said Rich Zurek, Mars Exploration Program chief scientist at JPL.
While the Earth image from Curiosity isn't close to "I can see my house from here!" quality, it's still a humbling reminder of how far we have travelled as an exploring race, and even the usually acerbic author of the Sarcastic Rover Twitter feed was moved to pathos.
I took a picture of the Earth last week and then I put "You are here" on it and laughed for an hour. Then I cried. http://t.co/QgkUqj4Lda

— SarcasticRover (@SarcasticRover) February 6, 2014
While the main focus of NASA is to look outward into the universe, some of its most moving images have been when the space agency's missions look back at Earth. Earthrise, taken of our planet by Apollo 8 in 1968, is one of the most iconic images in existence, and has been credited by some with kickstarting the environmental movement.
Perhaps the most famous example is the "Pale Blue Dot" photograph of Earth, sent 3.7 billion miles by Voyager 1 as the probe began to leave the Solar System. Astronomer Carl Sagan persuaded NASA to take the picture – not for science per se, but to show the scale of the Earth in the cosmos.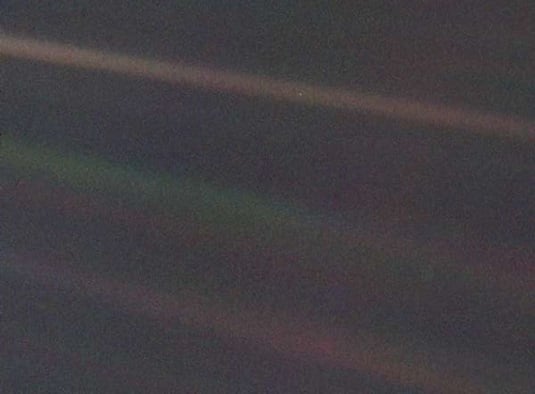 The ultimate long-distance selfie
"Consider again that dot. That's here. That's home. That's us. On it everyone you love, everyone you know, everyone you ever heard of, every human being who ever was, lived out their lives," he later wrote in his book Pale Blue Dot: A Vision of the Human Future in Space.
"The aggregate of our joy and suffering," he wrote, "thousands of confident religions, ideologies, and economic doctrines, every hunter and forager, every hero and coward, every creator and destroyer of civilization, every king and peasant, every young couple in love, every mother and father, hopeful child, inventor and explorer, every teacher of morals, every corrupt politician, every 'superstar,' every 'supreme leader,' every saint and sinner in the history of our species lived there – on a mote of dust suspended in a sunbeam."
As for Curiosity, it's currently sitting on the edge of a sand dune 92 million miles from home, waiting to see if NASA thinks it's safe to move forward. But the rover, its image, and the other probes, satellites, and explorers into outer space humanity has created, are a permanent testament of how far we've come, and how very, very far we have to go. ®