Firefox's touchy-feeling Windows 8 makeover now in beta
Nearly two years in the making, it's almost ready to roll
---
After a long development process, a beta version of the Firefox web browser that offers support for Windows 8's touch-centric UI mode is now available.
"This touch-friendly, tile-based Firefox is optimized for Microsoft's Windows 8 Modern UI and designed to ensure users get the best Firefox browsing experience possible on their Windows 8 tablets, touch-screen laptops and other compatible devices," the Mozilla Foundation said in a blog post announcing the release.
Mozilla has been promising a version of Firefox for The Interface Formerly Known As Metro (TIFKAM) since 2012, but the project has met with repeated delays.
Last August we were told it would appear on December 10, but that date came and went without mention of the project.
The version that's available now still isn't finished, either, but its "beta" status indicates that Mozilla thinks the TIFKAM code is now stable and usable enough to be tested by a larger audience. (Earlier versions were from Mozilla's bleeding-edge Aurora build channel and were only considered experimental.)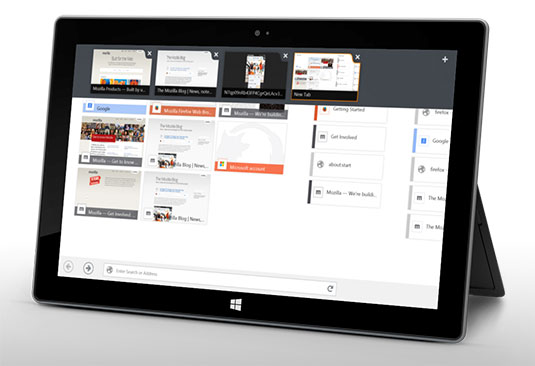 Firefox's latest beta version hopes to give Internet Explorer 11 a run for its money on Windows 8
Among the TIFKAM features in this release are support for both full-screen and partial-screen views in Windows 8.1; a UI based on large tiles that are easy for even fat fingers to touch; and support for the Share Charm, for sharing web content with social networks.
You can download the beta from Mozilla's website, here. Be aware, though, that the installer will "upgrade" any existing version of Firefox on your machine. The beta cannot be installed alongside an earlier version.
Also, for obscure reasons, Windows 8.x only allows one browser to run in TIFKAM mode on any given machine. To test Firefox's new Windows 8 features, you'll first need to make Firefox the default browser using the Default Programs control panel. With that done, you should be able to choose "Relaunch in Firefox for Windows 8 Touch" from the main Firefox menu. ®