Apple may handily hold the title of World's Most Valuable Company when measured by the size of its market capitalization, but the number-two spot, long held by fossil-fuel pusher Exxon Mobil, has been usurped by one of Cupertino's craftiest competitors: Google.
As we clicked Publish on this story after the markets closed on Friday, Google's market cap stood at $390.55bn; ExxonMobil was right behind at $389.28bn – but behind is behind, if only by a billion and change.
Despite its recent kick in the teeth by the Wall Street moneymen, Apple remains comfortably in front at $457.15bn.
But perhaps not for long. Google is a darling of investors these days, with its stock price rising relatively steadily after a big boost in mid-October. Apple has had its ups and downs, to be sure – and as for Exxon Mobil, the multinational oil giant has slumped along with Apple since the beginning of this year.
Google has performed so well, in fact, that it's planning a two-for-one stock split in April, the first in its history. That won't affect its market cap, of course, but it could cause trading in its shares to heat up a bit more.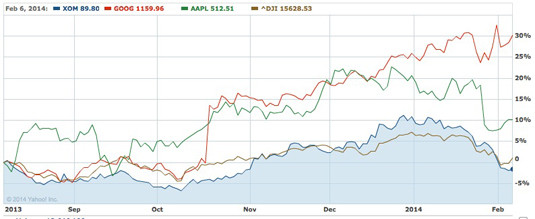 It's been an impressive six months for Google's stock performance (click to enlarge; source: Yahoo Finance)
While market capitalization and its source, stock price, is a perfectly reasonable way of evaluating a company's, well, value, it's also a good idea to take a peek at available cash and marketable securities, as well. By that metric, as of the end of September of last year, Google had a 10X lead over Exxon Mobil, with $57bn available to play with compared with the $5.7bn bank account of the Irving, Texas, energy supplier – or CO2 supplier, your call.
Apple, famously, is a longstanding hoarder of cash, despite recent stock buy-backs; as of the end of last September it was sitting on $146.7bn.
One more way of evaluating a company's stock price: its price-earnings ratio (P/E ratio) – the higher the ratio, the more faith that moneymen put in its future growth. Common wisdom is that 20 to 25 is a reasonable range for a P/E ratio.
If that wisdom is to be believed, then the analysts' projected 2014 P/E ratio for Google of 26.7 appears to indicate that Wall Street sees it to be a good bet for the future, while Exxon Mobil's 11.4 and Apple's 11.9 would seem to say that while investors may not have given up on growth, they don't see either as skyrocketing anytime soon.
Google, all things considered, may be on its way to capturing the "Most Valuable" crown from Apple – one analyst has even predicted that it will eventually be the world's first trillion-dollar company.
Here at The Reg, we're not holding our breath on that prediction. But the competition for top dog is definitely a three-horse race now – to mix metaphors a bit.
And the race has been an amusing one so far, for those who follow such financial shenanigans. Apple first passed Exxon Mobil in 2011, became the most valuable company of all time in August of 2012, but sank below Exxon Mobil in January 2013 – although it caught back up in mere days – and slipped again last April. It's on top again today by a hefty margin, however, and now it gets to look over its shoulder as Google and Exxon Mobil duke it out for number two.
After that dust-up is settled – and we're betting on Google – it's anybody's guess how the tussle will play out. However, if Cook & Co. don't pull some iMagic out of their hat this year as promised, the race to the top might get mighty tight, mighty fast. ®
Similar topics