This article is more than 1 year old
Jolla entices hardware hackers with free device development kit
Unique 'smart covers' make modding your mobe a snap
Upstart Finnish smartphone company Jolla has released a developer kit that enables independent tinkerers to create devices for The Other Half (TOH), Jolla's exclusive, snap-on peripheral system.
TOH devices look like phone covers, and they snap onto the back of Jolla handsets like covers, but they contain electronics that allow each TOH device to provide additional content or functionality to the phone.
The most basic type of TOH devices provide what Jolla calls "ambiences" – bundles of wallpapers, ringtones, system sounds, and other media – so that when you snap the device onto the handset, the phone is automatically re-skinned to match the theme of the device's plastic.
Jolla itself is now selling two such add-ons, dubbed "Aloe" and "Keira Black", each of which provides a unique theme.
But TOH can be used for a wide range of other applications as well. In essence, any type of peripheral that can connect to the handset via Bluetooth or I2C can be built into a TOH cover for easy snapping onto a Jolla phone.
Each cover identifies itself to the handset via NFC, which allows the phone to automatically download any required drivers or additional software from Jolla's online store. That goes for ambience devices, too – the actual media is downloaded from the store, rather than being stored on the TOH device itself.
Jolla's developer kit includes detailed specs outlining Jolla's hardware requirements for TOH devices – explaining where you shouldn't put electronics, for example, because they'll interfere with the phone's antennas – plus model files that can be fed to 3D printers to fabricate the necessary plastic parts.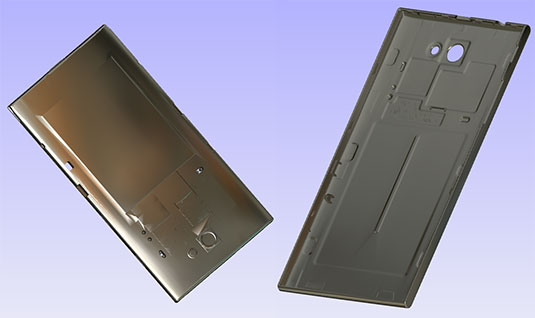 Any color that you want, as long as it looks just like this ... Jolla's kit includes printable 3D models
Perhaps the most intriguing part of the kit, however, is the license under which Jolla is offering it. Jolla phones run Sailfish OS, a mobile Linux variant, so their software has always been hacker-friendly. With the TOH development kit, Jolla has made plain that it wants its hardware ecosystem to be open, too – mostly.
Jolla's TOH developer license not only grants a perpetual license to distribute, use, and implement the TOH spec, but it also grants a perpetual license to any and all patents Jolla may own that are related to it – including ones it may be granted in the future.
It also stipulates that any developer who claims that someone else's implementation of the TOH spec violates their own rights will instantly have their license terminated – in other words, everyone play nice, and no suing each other.
There's just one stipulation: you can't charge a fee for your TOH devices, either directly or indirectly. Or rather, if that's what you want to do, you'll need to take the matter up with Jolla to work out licensing terms. There has to be some money for Jolla in here somewhere, after all. ®