This article is more than 1 year old
Baby's got the bends: LG's D958 G Flex Android smartie
The shape of things to come?
Review Ask any consumer technology pundit and they will tell you the future of communications gadgets is all about physical flexibility and wearability. With its new G Flex tablette, LG has embraced the former and produced a device with a flexible screen and a flexible battery.
It's a handset that trumpets its form just as loudly as its function but does the world actually need a phone that bends and does the design deliver any tangible benefits?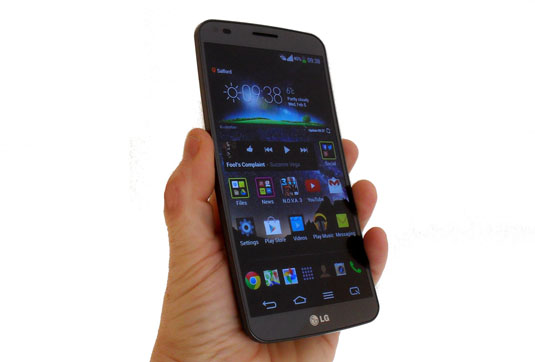 LG's D958 G Flex is not only curved, it bends too
If the current trend towards ever larger phones doesn't appeal, then the G Flex probably isn't for you. Kitted out with a 6-inch screen, it's a sizeable old hector. At 160.5 x 81.6 x 8.7mm it is a wee bit larger in all ways than Samsung's Galaxy Note 3 although the screen is 0.3 inches larger. It's also 9g heavier at 177g.
The Note 3 is as flat as a pancake, however, the Flex has an alluring curve to it. This allows it sit more comfortably in your back pocket but, the design effectively makes it 13mm thick from the lowest to highest point when looked at in profile.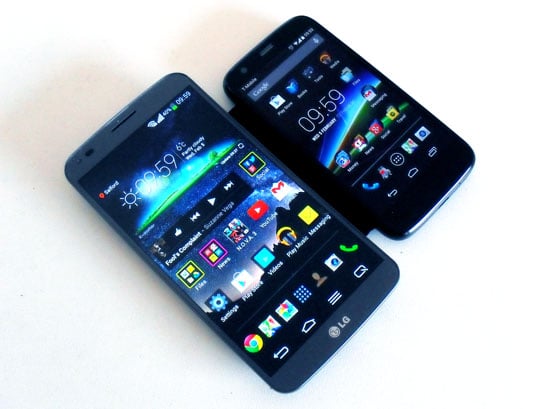 Alongside the Motorola Moto G, the Flex certainly makes big impression
So how much does the Flex flex? Not a massive amount to be truthful. Place it screen down and apply some pressure to the back and it will bend flat. Beyond impressing your pals down the boozer the flexibility part of the the package is a bit of a gimmick and I'd suggest refraining from testing it while under the influence.
Get carried away and I think there's a chance your G Flex will become a G Snap. That said, the limited flexibility does mean you can sit on the thing with no fear of your buttocks doing any irreparable damage and the curved profile does make for an impressively usable device given its size.

Although it doesn't lie flat, it doesn't rock when placed on surfaces
You see, apart from the Flex being clearly more phone-shaped than other mobiles, the curve of the screen makes it a little easier to use with one hand. Its shape tends to curve towards your thumb, a nicety lacked by the flat Samsung Galaxy Note 3 or Sony Xperia Ultra. Other benefits of the curved screen are when gaming – your fingers rest far more comfortably at the edges when playing FPS games like NOVA 3 or Dead Trigger.
As for watching videos, here the Flex becomes your one private curved screen telly. Yet when you put the Flex down on its back there's still enough of a flat spot to stop it rocking. Flip it over, and the screen is kept completely clear of the deck, which can only be a good thing.

The curvature actually protects the screen when placed face down
The bendiness has been achieved by the use of what LG calls a Plastic OLED or POLED display. Here, the traditional glass substrate is replaced by one made of plastic. On top of that sits a thin sheet of Corning's Gorilla Glass. The display boasts a resolution of 720 x 1280 pixels (or 245dpi in old money). Admittedly, this is a bit on the low side by the standards of the latest high-end phablet competition, most of which have 1080p displays, but don't let that put you off.
I've heard it suggested that the Flex display appears to suffer from noise artefacts, as if the curvature of the screen was somehow messing with the image from the RGB matrix or the pixels were not evenly lit. But to be frank, it looked perfectly OK to my eyes, even when peering at small text on web pages.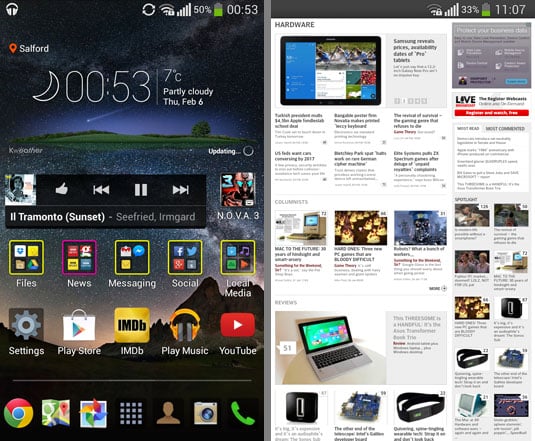 Optimus UI home screen and web browser
That said, it's not the brightest of phone displays. LG reckons it's good for 330 nits, which is nothing special, some LCDs can manage twice that. Yet like all good OLED panels, it's colourful and shows very good levels of contrast. In short then, it gives much less away to the likes of the Note 3 than the raw numbers, and some other commentators, would suggest.
The screen is accompanied by a Dolby-enhanced single speaker firing out of the slot in the back. Obviously that puts the kibosh on stereo but it's a loud and composed affair that makes a good fist of both music and film soundtracks. As I've said before LG's Android video and music player apps are very good, almost as good as the Xperia media apps Sony provides.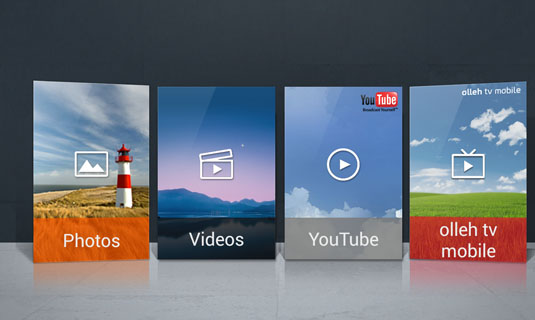 QTheatre could do with a few more options
A feature I don't recall from the G2 is the QTheatre. This is a panoramic menu you can access by a pinch-to-zoom gesture from the lock screen that takes you directly to your music and video content. On the review handset on offer was YouTube and a Korean digital TV tuner.
In the hand, the body of the Flex is an overtly plastic affair, much like the Samsung Galaxy 4. Unlike the Samsung, the Flex boasts a self-healing back which repairs scratches. Now my review handset was supplied by a reseller – hence the Korean lettering on the back and TV tuner – so I couldn't really lay into the back panel with gusto, but I did put it to the test.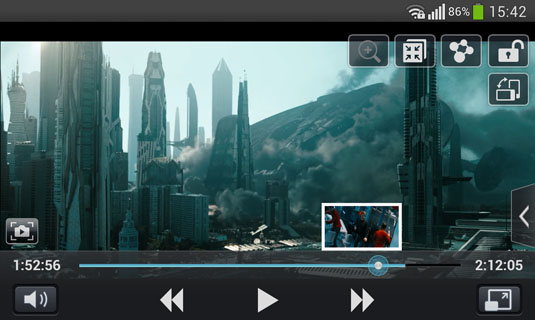 LG provides an excellent video player
Considering the sort of damage a mobile phone is likely to suffer in everyday use, I inflicted a gentle scratch with my car keys. And lo, this did indeed vanish after a few minutes, so there is definitely something to be said for the handset heal thyself trick coating.
On the back you'll find the same power and volume buttons as you will on the LG G2 I reviewed late last year. As I said at the time, this is less than a revolution, yet more than a gimmick. Simply, the more use you make of them the more intuitive this modus operandi becomes.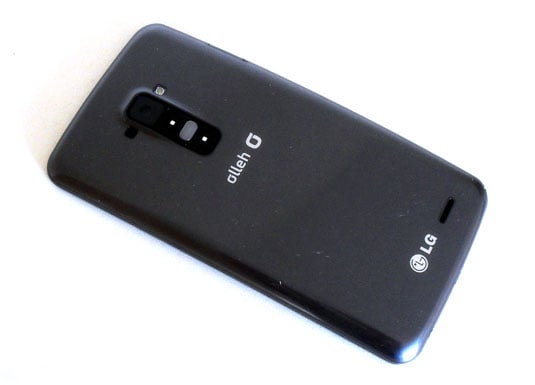 The review handset we managed to get hold was a Korean model, hence strange text on the back
The similarities to the G2 don't end there. Powering the Flex is the same Qualcomm MSM8974 Snapdragon 800 chipset which features a 2.26GHz quad-core Krait 400 CPU, the Adreno 330 GPU and 2GB of RAM. Like the G2, the G Flex goes like an outhouse door during a dysentery epidemic. The AnTuTu score of nigh on 37,000 speaks for itself.
As for the battery, don't ask me how they make it bendy, I've no idea. It's fixed though, and is a 3,500mAh lithium polymer affair that makes even the Galaxy Note 3's 3,200mAh Li-ion power pack look a little puny in comparison.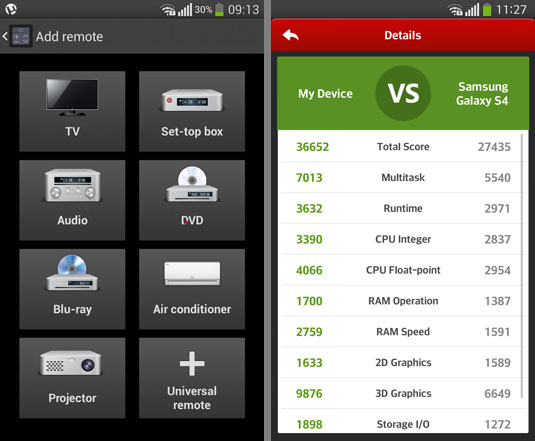 Remote control options and a My Device AnTuTu comparison with a Galaxy S4
During tests, the Flex's battery turned in some very positive results managing close to 18 hours of 1080p MP4 video playback. In heavy everyday use – which involved some serious 4G data slurping, lots of calls and repeated, lengthy use of Google Navigation – I never needed to charge the Flex more than once every two-and-a-bit days. No problems to report with signal reception or call quality either, all of which were well up to snuff.
Cue the usual howls of outrage and pulling out of hair, but the Flex doesn't have a memory card slot. But as it only comes in a 32GB flavour I don't personally see that as a reason to not buy one, all else being equal. You may disagree. Caveat emptor.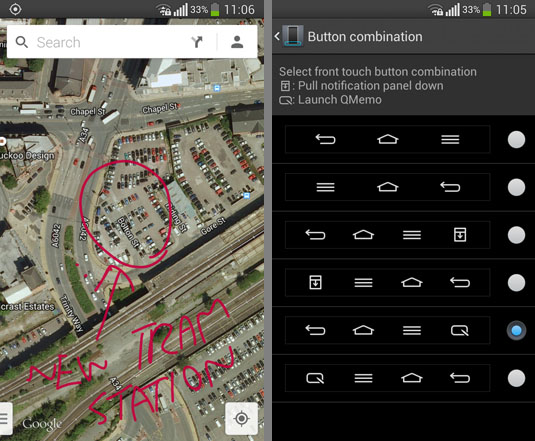 QMemo for screen grab doodles with numerous display options available
The cameras are another set of components lifted from the the G2, with near enough the same perfectly decent 13Mp snapper on the back, although it's missing only the G2's optical image stabilization. The front facing 2.1Mp webcam can shoot 1080p video too.
Connectivity is the same too, with a 4G cellular radio, dual-band 802.11ac Wi-Fi, Bluetooth 4.0 and an infrared transmitter with a pretty decent remote control app. There's a SlimPort microUSB connector with media output and On-The-Go hosting capability. All that's missing is an FM radio but that I can live with, or rather without.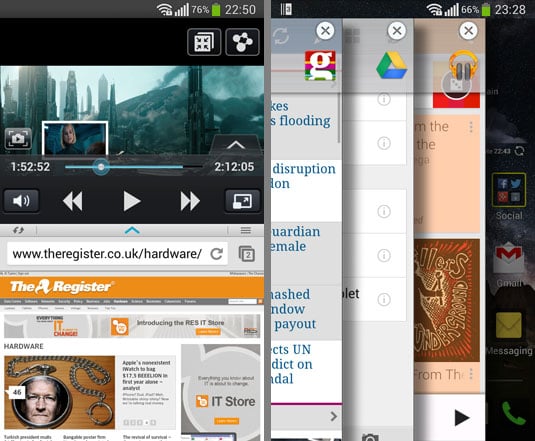 Multi window apps just like TouchWiz and you can stack three apps for easy access
This being an LG device we have Android (4.2.2) with the Optimus UI, which adds a shed-load of extra functionality. Among these enhancemnts is the QMemo screen doodle app, a look-away-and-video-stops function and the capability to run two apps in windows à la TouchWiz.
There's also a handy facility to three-finger-swipe up to three apps to the left where they stack up in a vaguely BlackBerry 10-ish sort of way. A three finger swipe to the right gives you a glimpse of all three from which you can "pull" them back out to full-screen.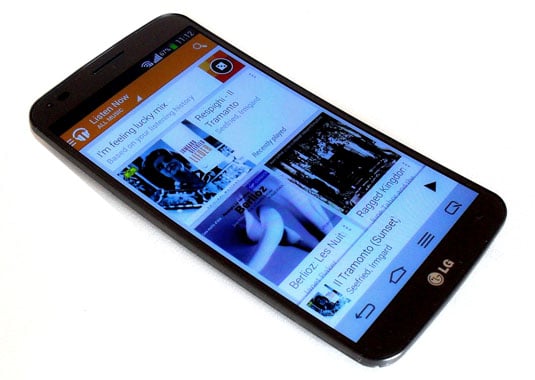 Bendy is trendy? Time will tell for LG's D958 G Flex
In a nod to the Flex's sheer size you can also reduced the size of both the keyboard and phone dialer and drag them to either the left or right side of the screen for easier single-handed use.
As far as Android overlays go Optimus has, at least in my opinion, developed into the best currently available. It may not offer quite the same dizzying - but arguably unnecessary - range of extras as Samsung's TouchWiz launcher but it's far less intrusive and looks truer to the design ethos of the underlying Android user interface. The more I use Optimus, the more I like it and it's almost becoming a reason to recommend an LG 'droid over any of the non-Nexus competition.
The Reg Verdict
Despite the name, the flexibility of the Flex is actually its least important feature, although its slightly curved shape does offer some benefits, as despite its size, it's a highly useable device and in terms of handling proves to be an excellent video and gaming machine.
Other pluses are unusually large battery capacity and a feature-laden incarnation of Android that's not as ugly or intrusive as Samsung's alternative. This combination of features delivers what I reckon to be the best large mobile/phondleslab/phablet on the market. The self-repairing plastic casing seems less of a must-have feature even though it seems to work. Personally, I'd have thought a metal finish would look and feel more appropriate, especially given the price tag. ®
Thanks to MobiCity for the loan of the review sample.

Baby's got the bends: LG's D958 G Flex Android smartie
LG's curved 6-inch Android phablet actually bends and has a self-healing back to cope with scratches. Also features a 2.26GHz quad-core CPU and 32GB of storage.