Visitors to the Delhi Auto Expo motor show are getting the first look at a new concept car from Renault, the Kwid, which features a controllable quadrocopter drone that flies out of the roof.
"This is the first time we have chosen to reveal a concept car outside Europe and this is an eloquent sign of our commitment to India," said Gilles Normand, chairman of Renault Asia-Pacific in a statement.
"Young customers in India are often trend setters, looking forward to pushing the envelope when it comes to technology and enjoyable drives. Kwid, with its Flying Companion, meets this forward-looking spirit with both its dynamic styling and hyper connectivity."
The "Flying Companion" is a small battery-powered drone that sits in a hatch under the back of the roof. The driver can pull over and use a tablet app to send the drone aloft to check out how serious a traffic jam is, take exterior footage of the vehicle, or (presumably) to scout ahead for speed traps.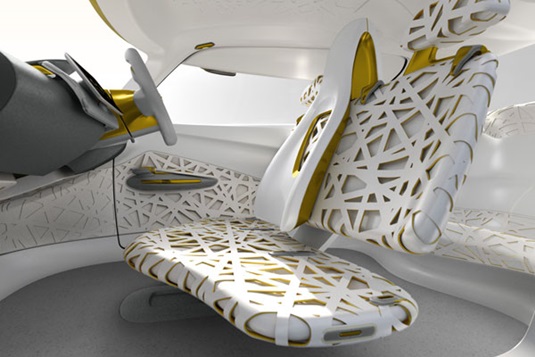 Should leave some interesting skin patterns after a long drive
The rest of the five-seater has been designed to appeal to Indian consumers, Renault says. The Kwid has a bench seat in front, with the driver positioned in the center of the car, allowing a passenger to sit on either side, and the interior is made up of strips of material to allow for easy airflow.
There are none of the traditional dials to be found in a car, instead the Kwid uses a TFT LCD display in front of the driver to provide information. The little fellow is powered by a 1.2 liter diesel engine, although the company says it can also be fitted with batteries as an option.
Not that anyone's going to have the option – the Kwid is merely a concept car and is highly unlikely to see final production. But El Reg suspects custom car builders will look at that drone idea and think, "Why not?" ®