This article is more than 1 year old
Netflix speed index shows further decline in Verizon quality
Smoking gun for Netflix streaming problems, or coincidence?
Verizon insists it "treats all traffic equally" but new data from Netflix indicates that the network provider's customers have seen a degradation in service quality in the past months.
The streaming video company released its monthly ISP speed index for January on Monday, and the results show another significant decline in service quality for Netflix users on both Verizon's FIOS and DSL services.
The publication of the rankings comes a week after a security expert claimed that Verizon was throttling bandwidth to AWS IP addresses and Netflix.
Verizon strenuously denied this claim at the time, and told El Reg in a statement that: "We treat all traffic equally, and that has not changed. Many factors can affect the speed a customer's experience for a specific site, including, that site's servers, the way the traffic is routed over the Internet, and other considerations. We are looking into this specific matter, but the company representative was mistaken. We're going to redouble our representative education efforts on this topic."
However, Netflix's results show a multi-month fall in quality for video streamers using services from major ISPs like Verizon, Comcast, and AT&T.
Verizon subscribers have the worst luck, apparently, and endured an average lowest speed of 0.97Mbps in January, compared with 3.78Mbps for Google Fiber and an average US speed of 1.78Mbps.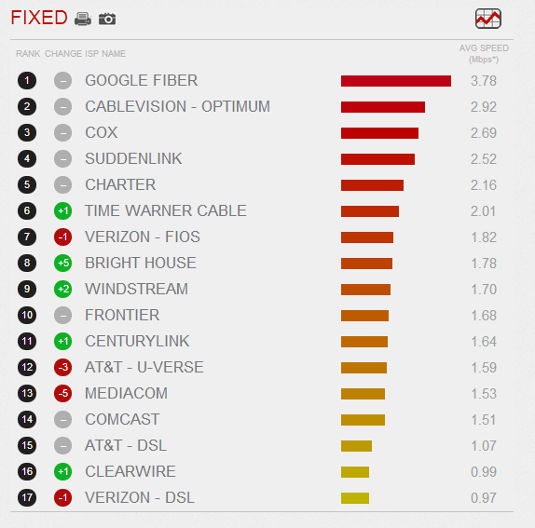 Verizon customers have seen (or not seen – Ed) major declines in streaming quality
Though there is no definitive reason for why Netflix subscribers have seen such a drop in quality, in all likelihood it stems from a peering dispute between ISPs and networks operated by Google, Netflix, and others.
ISPs deny this, and argue (like this Comcast engineer) that people can experience degraded quality for a number of reasons.
Either way – something is up, and Netflix users on a number of traditional ISPs are experiencing a drop in their quality of service. ®