Apple's iTunes 'n' App Store rakes in half the mazuma of Google's ENTIRE core business
And it's growing faster, as well
Here's your fun stat for today: Apple's iTunes, Software, and Services group has gross revenues of about half that of Google's entire core business – excluding Motorola and "Other" – and those revenues are rising faster than Google's.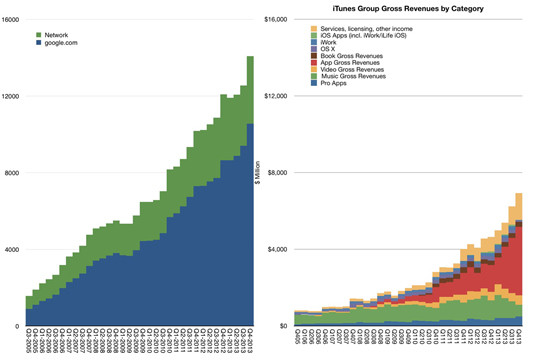 In diversity (of product categories, at least), there is strength (click to enlarge)
This li'l tidbit comes to us courtesy of Horace Dediu's Asymco, whose analysis also points out that if the iTunes group was its own separate company, its 2013 revenues of $23.5bn would rank it as number 130 on the Fortune 500.
That $23.5bn, by the way, represents a year-on-year growth of 34 per cent. It appears that at least one of Apple's divisions is answering in the affirmative to the analyst who asked Tim Cook during Apple's recent financial report conference call, "Are you still a growth company?"
As is usually true in such analyses, however, caveats abound. Note, for example, that Dediu is summing up gross revenues, and thus is including the 70 per cent of App Store revenue that Apple shells out to the app developers. Seems fair – WalMart's gross revenues include what it pays Kraft for Velveeta, after all.
Sharp-eyed Reg readers who check out Deidu's other charts will notice that when he compares Apple reported revenues to gross revenues, the App Store's gross numbers are larger than the reported figures, but the same isn't true for music, books, and video. No hanky panky: that's just because Apple reports only its slice of the App Store take, but all of its music, books, and video revenues. Go figure.
Anyway you slice it, though, a lot of cash is sluicing through Apple's software and services arm – a success that was far from certain when the iTunes Music Store was launched in the US in June 2003 and then in Europe in June 2004.
Here at The Reg, for example, opinions of the then-music-only and DRM-hobbled service were divided. One of our worthies called it "a great service" and another dismissed it as a "dismal little online music shop."
Soon thereafter, however, it became clear that Apple had a hit on its hands. "When Apple launched its online music store in the US on 28 April 2003," the BBC wrote on the store's first anniversary, "few could have predicted the impact it would have.
In late 2003, Time magazine named it the "Coolest Invention of 2003", citing "the transparent ease of use that is the hallmark of Apple's entire product line." Bloggers also were generally supportive, with Jim Heid effusing, "The iTunes Music Store makes buying music easier than stealing it," and Veerle Pieters declaring, "iTunes kicks Napster's ass!"
Remember Napster?
Of course, impressive gross revenues don't necessarily equate to impressive profits. In fact, in January 2010, Apple CFO Peter Oppenheimer went as far as to say, "Regarding the App Store and the iTunes Store, we're running those a bit over break-even" – although he provided no precise figures.
But as we've argued many times before, keeping developers happy is critical in building and maintaining a platform ecosystem, and we can only assume that the $15bn that Apple has so far paid developers from App Store sales alone has engendered more than a smidgen of happiness. ®