This article is more than 1 year old
FBI offers $10,000 bounty for arrest of laser-wielding idiots
Agency reports 11 aircraft a day are hit by foolish flashers
While laser pointers are very useful for presentations and distracting cats, the FBI is fed up with idiots using them to try to blind airline pilots, and is offering $10,000 to anyone who provides information leading to an arrest.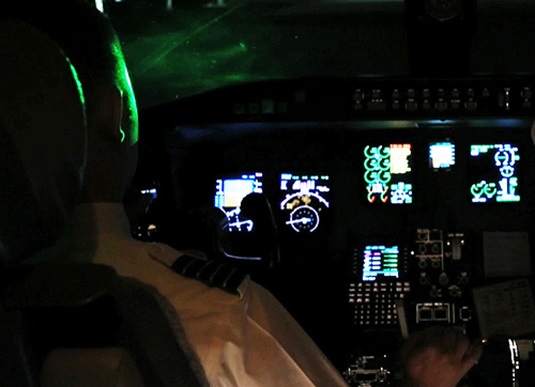 Blinded by the light
"Aiming a laser pointer at an aircraft is a serious matter and a violation of federal law," said Ron Hosko, assistant director of the FBI's Criminal Investigative Division. "It is important that people understand that this is a criminal act with potentially deadly repercussions."
Since 2005 the FBI has been tracking the number of laser strikes on aircraft, which typically occur as aircraft come in for landing, and has seen a thousand-fold increase in reported incidents since then. Last year 3,960 reports were received, amounting to 11 per day, and to date 35 pilots have required medical treatment after being hit.
In an effort to crack down on the practice, the FBI will now give up to $10,000 to informants who can identify the laser flashers, provided a successful prosecution is obtained. The reward program will run for the next 60 days.
"We hope that more public awareness about this issue will lower the instances of laser strikes," said George Johnson, a federal air marshal who serves as a liaison officer with the Bureau on laser issues. "We also want to encourage people to come forward when they see someone committing this felony – one that could have terrible consequences for pilots and their passengers."
Initially, laser flashers were charged with interfering with the operation of an aircraft, a 1961 statute that can earn miscreants up to $250,000 in fines and/or up to 20 years in prison. In 2012 the FAA also created a separate charge of using a laser against aircraft with up to $11,000 in fines and up to five years in prison.
Aside from the dangers involved in blinding a pilot, laser strikes also cause serious disruption to other air travelers. Once a laser flash is reported, FAA guidelines state that aircraft must avoid the vicinity for 20 minutes, which can cause problems at busy airports.
"Shining a laser into the cockpit of an aircraft can temporarily blind a pilot, jeopardizing the safety of everyone on board," said FAA Administrator Michael Huerta. "We applaud our colleagues at the Justice Department for aggressively prosecuting aircraft laser incidents, and we will continue to use civil penalties to further deter this dangerous activity." ®