Ending the profit fail: Imation FINALLY posts a positive quarter
Firm creeps back into the black after nearly four years
Scalable storage outfit Imation has finally announced a profitable quarter after 15 loss-making quarter in a row. It's stemming the bleeding at last as its optical and tape media revenues spiral downwards. The newer businesses are beginning to grow fast enough to offset that.
Revenues of $232.8m for the fourth quarter, ended Dec 31, compared favourably to $191.9m in the third quarter and unfavourably to $266.8m in the same quarter last year; that's a 12.7 per cent fall over the year.
Net income was $16m, a welcome reversal of the prior quarter's $34.9m loss, and a terrific contrast with the huge $310.2m loss a year ago. It was helped by one-time gains like a property sell-off.
The full fiscal 2013 year results saw revenues of $860.8m, down 14.5 per cent from the previous year, which was down from the previous year, which was down from the ... you get the picture.
All Imation has been doing is racking up losses because it was over-exposed to optical and tape media businesses, where demand collapsed over the past few years. When it did finally try and get into growing businesses, it made some wrong moves.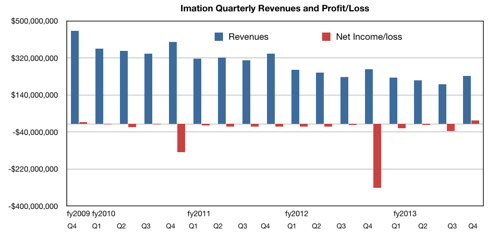 Click chart to get larger version
Now, after a slow start, CEO Mark Lucas and his team are clearing the decks of detritus, cost-controlling strongly, building up the acquired Nexsan storage array business and hoping that the good times will come around again. It's still a brutal slog.
In the third quarter it sold off its Memorex consumer electronics business and Q4 saw the selling off of the XtremeMac business, which it bought in 2008.
Consumer storage and accessories business revenue – 56 per cent of total revenues – declined 23 per cent in the fourth quarter on an annual compare. The blame finger is pointed at optical media.
Lucas said: "Our TDK Life on RecordT audio and accessories business enjoyed strong year over year revenue increases, and we have many new consumer storage products on our roadmap for 2014. While we do not expect CSA to return to revenue growth in the near term, it is expected to continue to be an important contributor of earnings and cash flow to the Company."
The Tiered Storage and Security Solutions (TSS) business – representing 44 per cent of total revenues – increased 5.4 per cent in Q4 2013 from the prior year, reflecting revenues from the Nexsan acquisition.
Lucas said: "The steep revenue decline rates in magnetic tape that we saw through the middle of 2013 levelled off in the fourth quarter. ... We are just now beginning to see improvement in the [TSS] pipeline for future orders, and longer term we expect robust growth from our storage and security portfolio."
The downward plunge in revenues may not yet be over, Lucas warned: "We are pleased with our fourth quarter results, which benefited from lower than anticipated revenue declines in our legacy business, solid working capital and cost management, and several one-time gains. While this is encouraging, we have not reached an inflection point in our transformation as our growth products have not yet offset secular revenue declines in our legacy business."
When will that damn inflexion point come?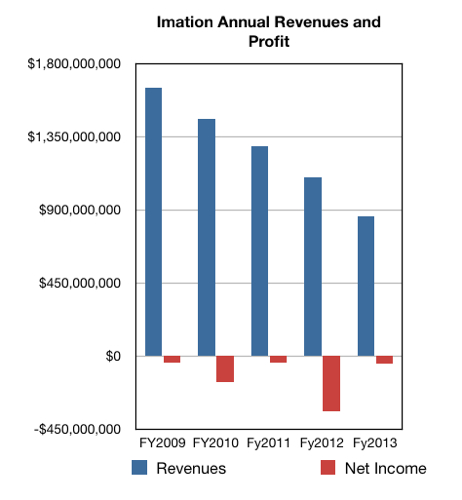 The chart shows recent annual revenues and profits, with no sign of any inflexion point; the revenue line is plunging down and down. If the trend is simply extrapolated, Imation will be dead by 2016. But simple extrapolation is not what's likely, with the revenue decline looking to slow and bottom, we hope, in 2014 or, maybe, next year.
Lucas said: "We ended 2013 with some of our lowest inventories ever and $132.6m in cash, which provides us with the financial strength to execute our strategic transformation," and; "We remain committed to our transformation and confident in its ultimate success."
There was more detail in the in the earnings call. Lucas said:
"While optical sales decreased, our other consumers businesses did well. We introduced a new flash product during the quarter, the micro USB flash drive, which is the first product launched since our shift to mobile computing storage solutions; the micro USB storage and data transfer needs of the new fast-growing NAS market of mobile device users."
"We also unveiled the TDK TREK wireless speakers," he said, "which demonstrates our focus on portable, wireless and weatherproof technology for our target audio market. The TDK audio and accessories business finished the year strongly with gains over the 2012 fourth quarter."
"We will continue to focus on building our Nexsan and IronKey product revenues," Lucas concluded.
There is a new Nexsan distribution agreement with Ingram Micro and Nexsan's salesforce is being increased. Overall Nexsan products profit margins are seeing increases.
Vulture Central's storage desk sees a steady turnaround happening with a possible bottoming out of revenue declines in 2014/2015. If Durcan and his team can continue making quarterly profits it will be an impressive feat. ®