Mystical VM-accelerating beast emerges from Atlantis
Bring me your sick, your tired, your poor VMs
---
Atlantis, maker of server-accelerating RAM-based VDI data storage, have a general VMware virtual machine-accelerating USX product, with server RAM as the primary storage tier and radical virtualised server acceleration as the result.
The pitch is that, by dedicating some of your virtualised server memory to be the storage tier for the hottest data, controlled by the ILIO USX VM, the entire server will run more VMs, five times more is the claim, because the dreaded I/O wait is reduced to a minimum, keeping today's multi-core processors as busy as possible.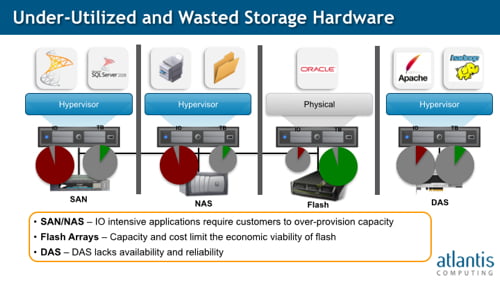 Atlantis view of existing storage
USX software forms the top tier of a storage layer cake with data access from networked arrays, which provide persistent storage, sped up through a reduction of network and disk - or flash - latency effects. Oh, and servers running USX can be federated too.
Atlantis has built USX (unified software-defined storage) from its existing ILIO VDI in-memory storage software, background here, which accelerates VMware and Xen Desktop VDI images. It claims USX is the "first software to create hybrid, hyper-converged and all-flash storage using existing SAN, NAS, RAM and any type of DAS (SSD, Flash, SAS)." We think it can also work with virtual SN appliances too.
ILIO USX schematic
It claims USX can lower storage costs by half because networked arrays do not have to be bulked up to approach the same performance level.
USX pools existing storage and and across servers, and Atlantis says it is not a cache but a tiered storage controller that pools all of a server's storage, direct- and network-attached, onto a single resource.
It claims: "ILIO USX eliminates the inefficiencies of storage silos by unifying all storage types into a highly optimised pool of storage resources that are now available to all applications. Policy-based controls then optimise capacity, availability and performance based on application needs, resulting in lower storage costs and better VM performance."
USX "unlocks the under-utilised capacity of over $50 billion of deployed enterprise storage," according to Atlantis CEO Bernard Harguindeguy. He adds it "gives IT the flexibility to get more out of their existing storage, even their older arrays, and to create new storage tiers by aggregating and pooling the SSDs, SAS, flash, and RAM of any number of servers."
According to Atlantis ILIO USX software can be used to create:
a hybrid array using server RAM and existing shared SAN or NAS storage to boost performance and increase the number of VMs supported
aconverged system using each server's RAM, Flash and SAS or SATA to create an integrated storage and compute platform
all-flash array using any combination of shared and local flash to amplify the flash storage capacity by up to 5x
in-memory, redundant RAM-based storage and persistent in-Memory – RAM-based storage replicated to shared storage.
Atlantis says IT admins can create any type of storage and clone VMs in seconds, with automated installation, configuration, and datastore creation across the data centre.
ILIO USX presents standard NFS or iSCSI volumes and "inserts transparently into existing virtualised data centres by deploying VMs that integrate with the hypervisor layer to present standard file and block-based storage to applications. It integrates with existing provisioning workflows and orchestration systems through REST APIs to enable automated policy-based provisioning."
USX has an active-active HA scheme for recovery without data loss if there are VM or host failures. Optionally there is thin replication for use in disaster recovery, sending data to remote sites.
The software also works with IBM X6 server ULLtraDIMM flash as this slide from a USX deck shows: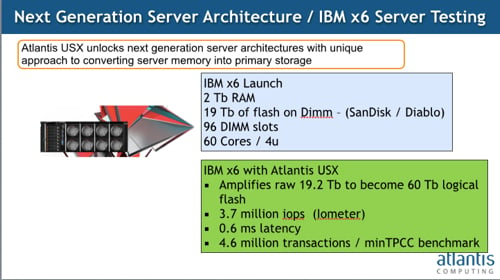 ILIO USX and IBM X6 server with ULLtraDIMMs
Atlantis is looking at database, email, web and file serving, and Hadoop workloads for USX.
Atlantis CTO and founder Chetan Venkatesh said USX was developed because "customers were clandestinely using ILIO for all sorts of things [such as] SharePoint and Exchange ... We thought we needed to do more and make ILIO more than a point solution to a problem."
He said ILIO and USX could merge later this year with VDI becoming another USX use-case.
USX will have a 1.5 release in the late Spring to add a capability for object storage with Swift and S3 supported, plus replication through the Amazon Storage Gateway. V1.0 has SmartCloud integration.
USX supports vSphere at launch with planned support for the other hypervisors in a later release. TPC and SPC benchmarks are coming.
Venkatesh said Atlantis and IBM were working together well around the ULLtraDIMM-equipped X6 server. We understand that Atlantis is talking to the other main server vendors as well, such as Cisco, Dell and HP.
How good is this?
Is this the holy grail of storage? Eliminate data access latency virtually completely and at an affordable cost? Stick USX on your server and create server-storage array donkeys into race-winning stallions? We don't know. It looks good specs-wise and Atlantis has a fair number of customers for its existing software, 440 of them with 12PB of in-memory storage and half a million VMs installed it claims.
IDC suggests "Converged infrastructure solutions that boast extended memory capabilities, like the Cisco UCS and the IBM x86 architecture servers, might be particularly good platforms for the use of Atlantis Computing's In-Memory Storage technology for server workloads."
The cost? ILIO USX is licensed based on the amount of storage capacity that can be provisioned, and is charged on a per terabyte basis. WE don't know what that cost is but Atlantis assures the world that it's less, much than upgrading storage arrays to boost VM performance, saying you can lower storage vista by up to 50 per cent.
Yet it's a relative newbie and Tintri, Tegile and Nimble Storage have hybrid array tech that accelerates VMs. Nutanix and Simplivity have converged server/storage systems that do the same. Fusion-io has its VM-accelerating appliances and ioVDI product. Are all of these companies' products to be rendered worthless by Atlantis's USX software?
Can you really front-end a trad storage array, NAS or SAN, with USX and turn its pedestrian performance responding to VM I/O requests into that of a turbo-charged dragster?
Run a pilot project and see for yourself. Note, you can only run server apps on USX, not VDI or XenApp. Get a technical FAQ here (PDF). You might find this business FAQ useful too. ILIO USX is available now through Atlantis Computing's certified channel partners. ®
Similar topics
Narrower topics