It's a scientific fact: Online comment trolls are sadists
Psychoboffins' studies discover why, as well: 'Trolls just want to have fun'
---
A group of Canadian researchers has given the imprimatur of social-science recognition to a fact that many of us who spend time in internet comment forums have suspected: there's a strong correlation between online trolling and sadism.
"Both trolls and sadists feel sadistic glee at the distress of others. Sadists just want to have fun ... and the Internet is their playground!" write Erin Buckels, Paul Trapnell, and Delroy Paulhus of the Universities of Manitoba, Winnipeg, and British Columbia, respectively, in a paper to be published in the journal Personality and Individual Differences.
The researchers define trolling as "the practice of behaving in a deceptive, destructive, or disruptive manner in a social setting on the Internet with no apparent instrumental purpose," referring to trolls as "agents of chaos on the Internet, exploiting 'hot-button issues' to make users appear overly emotional or foolish in some manner. If an unfortunate person falls into their trap, trolling intensifies for further, merciless amusement."
The Canadian psychologists' paper is entitled "Trolls just want to have fun", which is not merely a bit of boffinary humor at the expense of Cyndi Lauper, but rather a reference to one of the researchers' findings. "We found clear evidence," they write, "that sadists tend to troll because they enjoy it."
The paper was based on pair of online studies in which statements from such psychological reference standards as the Short Sadistic Impulse Scale (SSIS) and Varieties of Sadistic Tendencies scale (VAST) were embedded into a larger battery of questions designed to reveal personality traits.
The 418 participants surveyed were recruited from Amazon's Mechanical Turk website, and were restricted to respondents in the US. [Perhaps UK trolls might be less sadistic? Just asking...—Ed.]
The participants were provided with a choice of what they enjoyed most about participating in online comment forums; 23.8 preferred debating issues, 21.3 per cent liked to chat, and 5.6 per cent said that trolling was their favorite comment-forum pastime. The remainder either preferred another activity or didn't participate in online comment forums.
The questions embedded into the larger "dummy" questionnaire were designed to reveal characteristics that social scientists define as markers for the "Dark Tetrad" of personality traits: sadism, psychopathy, narcissism, and Machiavellianism – the latter being the tendency to unscrupulously exploit others. Of those four, sadism was split into two versions: direct and vicarious.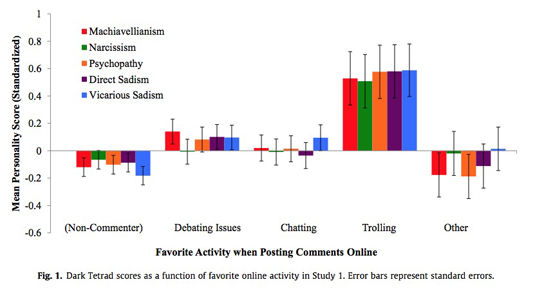 'Mean' in the y-axis label is used in its arithmetic sense (click to enlarge)
"As expected," the paper reports, "the Dark Tetrad scores were highest among those who selected trolling as the most enjoyable activity." Also interesting was the finding that the more time that the respondents spent in comment forums, the higher their scores for each Dark Tetrad trait except narcissism.
That latter trait, however, was positively correlated with those respondents who had chosen "debating issues that are important to you" when asked "What do you enjoy doing most on these comment sites?", a choice that also positively correlated with vicarious sadism.
Although the researchers' studies point to a correlation between sadism and online trolling in comment forums, they didn't attempt to establish a causal relationship. The paper does note, however, that "Antisocial individuals have greater opportunities to connect with similar others, and to pursue their personal brand of 'self expression' than they did before the advent of the Internet." ®