This article is more than 1 year old
NetApp FlashRay's OS is 'based on SANtricity' – analyst
'Completely wrong', says NetApp bod
A financial analyst suggests that NetApp's coming FlashRay all-flash array will not have a ground-up design operating system but will use the existing SANtricity O/S found in NetApp's EF540 and EF550 flash arrays. NetApp says he's completely wrong.
FlashRay is a completely new all-flash design from NetApp designed to compete with EMC's XtremIO, Violin Memory and startups like Pure Storage and SolidFire. These all have controlling software designed from the get-go to use flash. SANtricity, and Data ONTAP have a disk lineage and do not make bets use of flash by, for example minimising writes.
Stifel Nicolaus MD Aaron Rakers writes, based on checks with his sources:
NetApp's FlashRay solutions are expected to become generally available in [the] April timeframe ... Our understanding is that FlashRay, based on SANtricity OS with some traditional Data ONTAP capabilities, does not include compression / dedupe in the first generation.
Santricity is a disk array-based O/S inherited by NetApp when it bought the Engenio business from LSI. Our understanding has been that FlashRay will have a completely new operating system with flash storage awareness, optimisation and use built-in. It will also have deduplication and compression, needed to get the effective cost/GB of flash storage down towards fast disk storage levels.
Val Bercovici from NetApp's office of the CTO was asked this question; "Analyst saying FlashRay will use Santricity O/S and dedupe/compression won't be in v1. Is that the case?"
His answer was crisp and to the point: "Completely wrong on both counts :) He's describing an EF550."
FlashRay presentation
A NetApp FlashRay presentation at a TechField Day event in June last year can be seen on Vimeo and here is the main slide from it: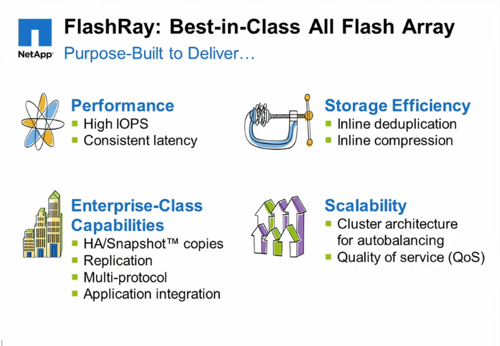 FlashRay best in class.
The presenter, Nathan Moffitt, director for Storage Platforms at NetApp, said FlashRay OS should have all the goodness of ONTAP, "Not just snapshots and replication. ... we wanted the complete ball of wax if you will." NetApp has had a team working on this ground-up OS built on the functionality of ONTAP "by the original developers of ONTAP ... to make sure the functionality is the same."
Does that include Dave Hitz, one of the founders of NetApp and a renowned engineer?
"You'll see a lot more information come out towards the end of the year." We didn't.
Performance needs to stay high while dedupe and compression are running. It's an "out if the door" requirement.
It will be clustered, multi-protocol, and have snapshots and replication, and application-integration, from the point of view of snapshot integration with SQL Server and other apps.
"This [FlashRay OS] has to be the next generation of where we go. ... though the next generation is where we are going to go with solid state disk designed from the ground up."
In response to a question about the snapshot integration not being in v1.0 the presenter shrugged and said: "1.0 is 1.0, right?"
The audience also heard that part of the FlashRay O/S functionality would be to minimise writes to the flash and so lower the rate at which it wears out; "That's the reason for doing deduplication and compression inline, right".
FlashRay has a scale-out architecture "modelled exactly off what we're doing with Data ONTAP today. ... the node limit will vary ... I don't know what we're doing out of the door ...but definitely scale-out and scale-up."
Not everything will be there in the first release. That indicates that dedupe and compression might not be present initially.
NetApp said it intends to compete toe-to-toe with all-flash array competitors. Regarding pricing there will be a premium for the feature set but NetApp wants to stay in line with where the market is. Moffiit said; " It's no secret NetApp ss not Dell storage. We don't price there. ... Don't look to us to come out with PlayStation 4. We're not going to go up to an extremely high price."
NetApp will price in line with the market and differentiate on feature set. ®