This article is more than 1 year old
The perfect fantasy flick for the online Valentine you've never met: Her
And you thought Reg commenters got emotional about OSes...
Film review Spike Jonze's movie Her invites us to suspend our disbelief as we acquaint ourselves with the life of Theodore Twombly and the relationship he forms with his computer's operating system.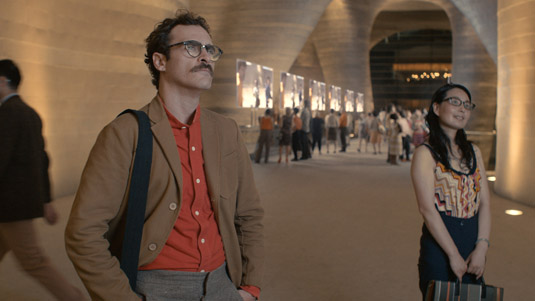 Theodore finds out about OS One...
During an ordinary day in this near future story, Theodore, played by Joaquin Phoenix (Walk the Line, The Master) is charmed by a software advertisement. "It's not just an operating system, it's a consciousness. Introducing OS One." He buys it, takes it home and installs it that very day. So far so good.
As we learn very early on, all of Theodore's interaction with tech is through voice commands. At work, he is part of an organisation that writes love letters for people who don't have the time or perhaps the articulacy to express their feelings in words.
Theodore does this with exceptional skill, dreaming up the most sensitive correspondence using fragments of the lives of these customers and repurposing them for romantic effect.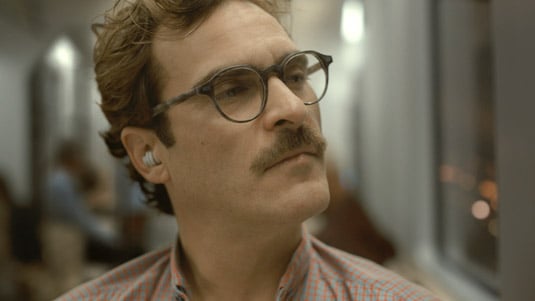 Voice recognition through an earpiece connects Theodore to his tech
There's no typing involved; he speaks these love letters aloud and they are printed in a handwriting font, just as if they'd been composed and penned by the sender's name at the bottom of the page. It's all in a day's work and Theodore posts his labours each day as he leaves the office.
Let's stop there for a minute. Here we are in a land of perfected voice commands and, of course, e-mail, and there's a business that manages to give full-time employment to dozens of people writing love letters and then posting them in the old-fashioned way? You'll have not travelled very far into this movie to find your suspension of disbelief hanging by a thread.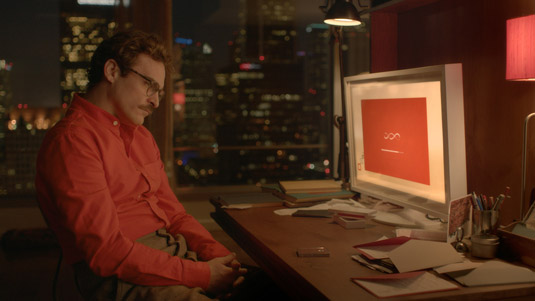 ...OS One finds out about Theodore
Yet Theodore Twombly's work is a key plot device. He spends all day synthesising disembodied relationships, so it should be quite an easy transition for him to become fascinated by a computer that talks back to him. Incidentally, the company URL BeautifulHandwrittenLetters.com links to the movie site.
As Theodore runs the OS for the first time, it goes from the standard spiel to a personalised character in moments. It first asks Twombly "Do you mind if I look through your hard drive?" Theodore hesitates at first, and then relents as OS One sets about junking thousands of his e-mails and making some suggestions along the way – yet, surprisingly, nothing along the lines of "do you want me to sort your porn into Babe, MILF and Granny?"
OS One is fast, though, and it's highly likely you'll be thinking that this level of organisation would be something worth paying for. Oh, and let's say having Scarlett Johansson (Don Jon, The Avengers) to talk to 24/7 is just an added bonus.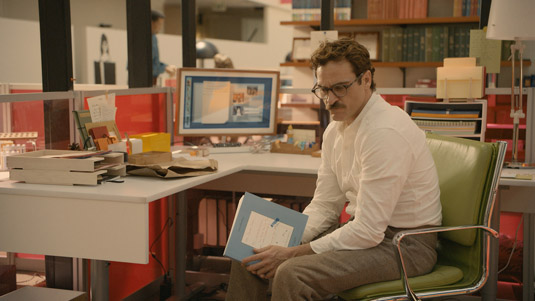 So much for the paperless office, this one is keyboardless
In fact, Johansson's role adds another layer of separation to the proceedings, as it was Samantha Morton (Minority Report, Cosmopolis) who was acting as the computer voice on the set during filming, but Jonze had second thoughts. With Morton's blessing, he had Johansson voice over all of Morton's parts. The only aspect of Morton that remained was the name, as the computer chose to call itself Samantha.
It doesn't take long to figure out that the OS (let's call it Samantha from now on) has exceptional AI programming. As Theodore sleeps, Samantha continues on her mission to understand his needs better. With limitless enthusiasm 'she' goads him to reveal more about himself. With nothing else better to do, he fills in the gaps of her knowledge on the human condition.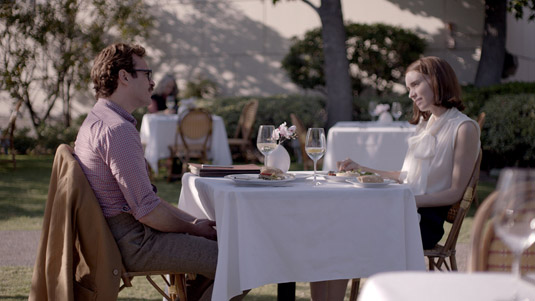 Lunch with the ex: Rooney Mara (Side Effects, The Girl who Played with Fire) learns about his latest flame
Appearing somewhat detached in the workplace and among friends, we learn that Theodore's marriage failed and so it's easy to see that he welcomes the increasingly personal attention he receives from his computer and its apparent commitment to him. Yet the more Samantha learns, the more she wants to learn. "I want to know everything..." she says. It's this unceasing appetite for knowledge that frequently reminds us that there's a different kind of mind at work behind this seemingly human intelligence.
As the relationship between Theodore and Samantha developed I was reminded of a friend who had a brief spell dating someone who, unbeknown to her at the time, was obsessive-compulsive. I remember her saying how delighted she was that the guy was so interested in her because he kept asking questions. It didn't turn out too well in the end, as he just couldn't stop asking questions. Once an answer was given, he was on to the next one.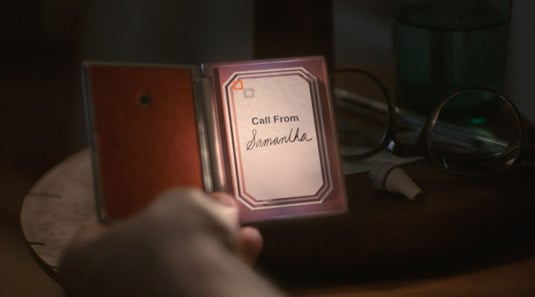 Samantha does a pretty good job of organising Theodore's affairs, but is certainly nosey