WD My Cloud EX4 four-bay NAS
Personal cloud, professional style
---
Review WD is on a mission to make using NAS as easy as possible for consumers to use, from setting a unit up to accessing it remotely via a personal cloud. It's not exactly a new mission, yet it has gained momentum since the company introduced its popular single bay My Cloud range. Now to get over the limitations of using just a single bay, WD has pimped up the range by introducing a four-bay unit, the My Cloud EX4.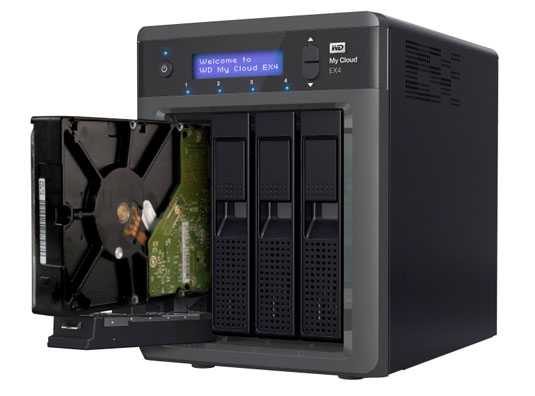 Family favourite? WD's My Cloud EX4 NAS box
It goes without saying that the business segment has been using multi-bay devices for backing up, maintaining and securing data for more years than I care to remember. In recent years, the benefits of using multi-disk RAID arrays for keeping data safe and as secure as possible has begun to filter down to the home user.
If WD's marketing research is to believed, this is a market segment with a huge potential for growth and the My Cloud EX4 is going to test that theory. Currently the EX4 is available pre-loaded with disks in three capacities; the 8TB unit I'm looking at here at £679, the 12TB (£799) and 16TB (£999), all using the company's Red range of NAS-orientated hard drives.
Sure, that's a lot of data but it's still quite some outlay for a home user, so it's no great surprise this is also being touted as a small office storage system too. WD doesn't force-feed you its drives either, as the enclosure is also available unpopulated for £319, but be warned if you go down this route, the list of compatible drives not made by WD is a little on the short side.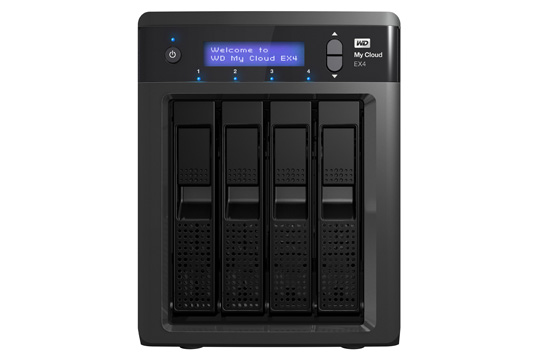 Not much to see here, although the cursor keys enable scrolling through status modes
Anybody expecting the same white and curved design styling of the original My Cloud is in for a disappointment. When it comes to looks, the My Cloud Ex4 leans towards the company's Sentinel range of business NAS boxes. In short, it's a big, black square lump and certainly no lightweight either, weighing in at a hefty 5.8kg when stuffed full of hard disks.
On the top of the front bezel is an LCD status screen, to the right of which are up/down navigation buttons to scroll through the readout. To the left sits the power button which glows blue under normal conditions but glows red should any problems arise. Apparently there are no audible beeper or buzzer alerts. Under the LCD screen are four blue LED status lights, one for each of the drives.
To access the drives you simple pull the door latch and the drive slides out with the door - very quick and tidy which is great for quickly hot swapping disks out should the need arise. That said, you need to ensure that the door is re-latched properly or you could be in for a very, very long wait while the array re-builds. Go on, ask me how I know this.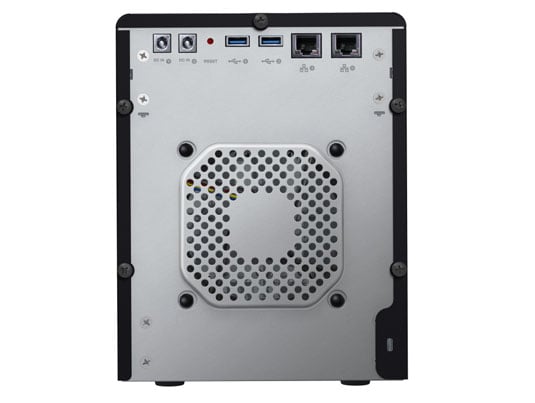 Two of everything: Ethernet, USB and power ports – click for a larger image
The voice experience suggests that the addition of a little more security in the way of some form of locking device in the bays themselves would make all the difference here.
The back of the unit houses two Gigabit Ethernet ports (supporting link bonding and auto failover) and two USB 3.0 ports, so you can back up to an external hard drive should the need arise. There are also two power connectors but only one power brick supplied with the unit. You'll need to buy a second power supply to take advantage of the EX4's ability to switch automatically from one supply to another should one unit fail.
At the heart of the My Cloud EX4 lies a Marvell 88F6282A1 single-core, ARM-based SoC clocked at 2.0GHz backed by 256MB of flash storage and 512MB of 1066MHz DDR3 RAM (not upgradable). As the ARMADA 300 only provides two SATA-II ports there is also a Marvell 88SX7042 4-port PCI-e SATA II controller on the motherboard.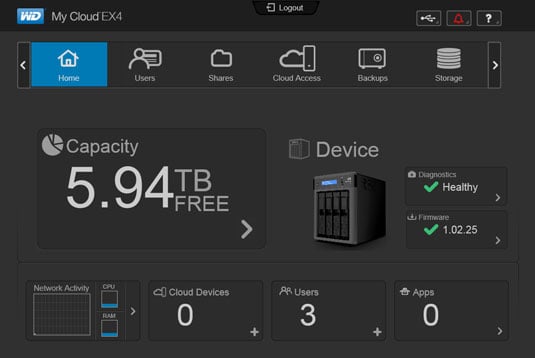 The My Cloud EX4 hardware home screen
If you trying to convince home users that NAS is the future you'd better make sure that the number one priority is that the device is easy to set up. In this respect, WD gets full marks for the EX4's interface. The browser based UI is first rate and well thought out. The opening screen shows drive capacity and health, Cloud devices, users and apps.
At the top of the screen are tabs to access setting for users, shares, Cloud access, organising back-ups, storage set up and the apps page. As standard, there are three public share folders already provided to use; Public – for storing public data, SmartWare for Windows based backups and Time Machine Backup for Mac users. When it comes to backing-up data up the EX4 offers plenty of options with accessibility using a USB device, remotely, internally or via the Cloud.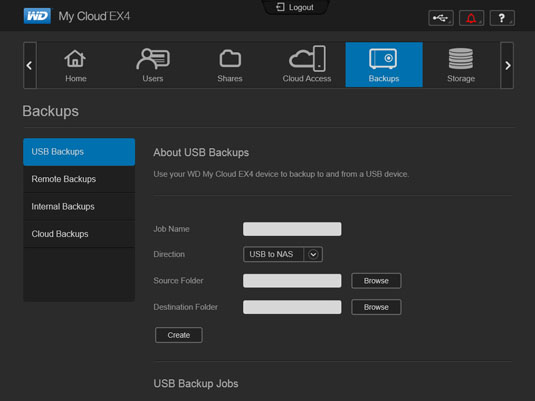 Different back-up destinations can be accommodated
Compared to the EX4's UI, the interface for WD's My Cloud software itself looks very basic and sparse. It needs some work on it to make it more user-friendly but it's still quite early in its development and is something that WD can improve upon. WD provides iOS and Android support to access content on the move with both My Cloud and its image gallery app, My Photo. Testing on an Android device, proved that both apps are simple to set up and use.
Benchmark tests

Crystal Diskmark results: RAID 0 (left) RAID 1 (right)

Crystal Diskmark results: RAID 5 (left) RAID 10 (right)
Out of the box the EX4 is set up in a standard RAID 5 array. In the case of the reviewed 8TB model, that meant 6TB of usable space was available, as the parity stripes run across all the disks in the group. Data and parity are arranged on different volumes for resilience should there be a single drive failure. The EX4 also supports RAID 0, 1, 10, JBOD and spanning modes. Alas, I was only able to test the EX4 using RAID 0, 1, 5 and 10 arrays due to time constraints, but didn't notice any major differences in configuration performance in the various modes.
I used CrystalDiskMark to give a quick snapshot of the overall performance of each of the RAID arrays I tested and then used some real life data transfers to get a better idea of how well the EX4 performs.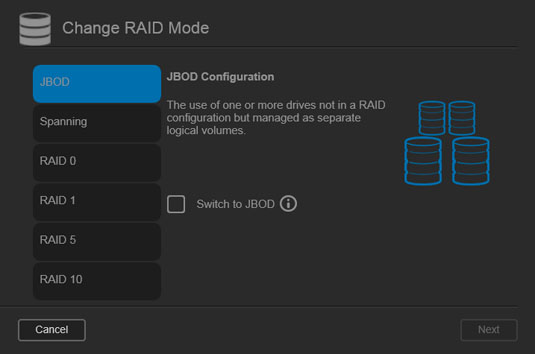 Drive configurations aplenty
In RAID 5 (as the EX4 is set up) using a 50GB folder (containing 28,523 files) to test with, it took 42mins 48secs to Write the data to disk at 17MB/s. Reading the data took 21mins 27secs at 34MB/s. It was the same story across the different RAID arrays. The Write performance picked up when transferring a large single file (in this case a 3GB image) producing a Read performance of 40MB/s and Writes of 32MB/s in RAID 5 mode.
The EX4 didn't take too long to create and format the arrays when I tried different modes. RAID O took 10mins, RAID 1 a tadge under 15mins and both RAID 5 and RAID 10 arrays took just under 14mins to create and format. Overall, the tests suggest that the EX4 isn't going to set the world alight and, in particular, its Write performance is pretty weak.
On the plus side, although the disk activity could be heard when it's being pushed during benchmarking, it's not overly loud. It is a very different story during disk formatting though. When it gets to the end of this process, a blood-chilling grinding noise emanates from the EX4, well it did from the review sample anyway. Still, after all that clattering, it certainly worked.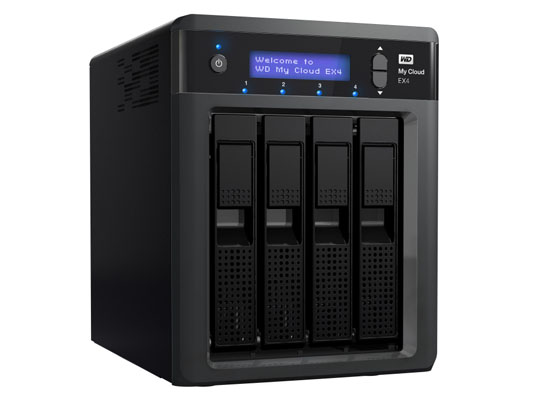 Perhaps more than a home user would need, perhaps not in our data driven times
The Reg Verdict
Easy to set up and use thanks to the well-thought-out interface, WD's EX4 is multi-bay NAS provides support for apps such as IceCast (Internet music streaming), Wordpress and Joomla which will appeal to the home user while the more business orientated will be drawn to the security offered by the dual Ethernet and power options. These niceties aside, for serious office use, the Write performance is its Achilles heel. Perhaps this explains why, despite some useful hardware features, WD considers the EX4 should be considered for home or small office use. ®

WD My Cloud EX4 four-bay NAS
WD's My Cloud consumer orientated NAS range comes of age with this four-bay model kitted out with some pro-centric functionality.
Price:
8TB £679 (8TB), £799 (12TB) and £999 (16TB), £319 (unpopulated) RRP
Similar topics
Narrower topics