This article is more than 1 year old
Apple Mac Pro: It's a death star, not a nappy bin, OK?
The quad-core desktop tube
Review We all got a sneak preview last summer and many were miffed when the scheduled arrival time at the close of 2013 came and went. However, it appears that the new Mac Pro did ship in small numbers in January of this year.
But the dispatch of new orders quickly slipped to March, and Apple's UK and US websites are currently listing delivery dates some time in April.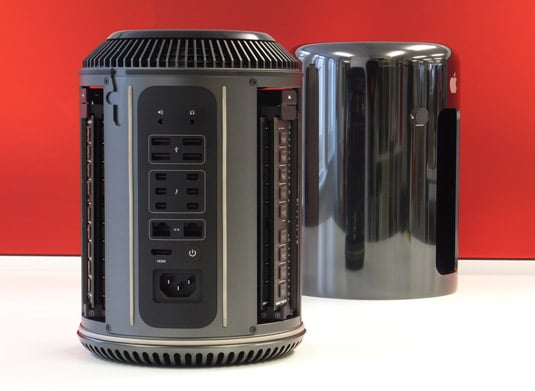 Apple's Mac Pro: known to many as Darth Vader's dustbin
That raises the question of whether Apple's latest designer doo-dad is actually worth waiting for. The answer to that largely depends on what you plan on doing with it. If you need to edit 4K video then the new Mac Pro really does offer your dog a shiny new set of gonads.
However, many tasks involving ye olde HD video or conventional 2D design and photography work will be served perfectly well by older Mac Pro systems or the current iMac or MacBook Pro.
An initial backlog of orders isn't all that surprising. Apple's professional users have always been its most loyal customers, and they've been waiting patiently for an update to the Mac Pro range for years – while Apple apparently focused its efforts on the consumer market with the iPhone and iPad.
That patience has been rewarded in spades, as the new Mac Pro genuinely re-invents the design of the traditional tower PC workstation. Some critics have said that the cylindrical design of the Mac Pro just looks like a high-tech trash-can, but up close and personal it's hard not to be impressed.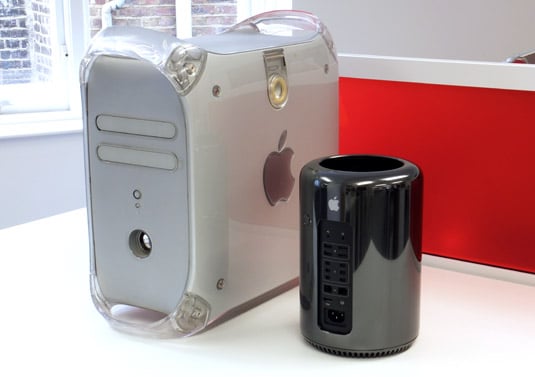 Desktop computing: An Apple Power Mac G4 sidles up next to the Mac Pro tube
Standing just 9.9 inches tall in its shiny black socks, the Mac Pro is small enough that you can position it comfortably on your desk without it becoming an imposition, or even hide it behind your monitor. The entire unit weighs only 5Kg, and the smoothly polished circular rim that runs around the top acts as a convenient handle so that you can pick it up and move it around your office quite easily.
The Mac Pro is also remarkably quiet, and although you can feel a steady stream of room-temperature air flowing up out of the central hollow core, the unit's cooling fan – which forms the circular cap at the top of the system – was quieter than the mains-powered hard disk that I used to install our test files onto the machine.
Despite that compact design, the Mac Pro really does provide workstation levels of performance. There are two standard configurations available, with prices starting at £2,499 for a model equipped with an Intel 3.7GHz quad-core Xeon E5 processor, 12GB of 1866MHz memory, 256GB of solid-state storage and a pair of AMD FirePro D300 graphics cards, each with 2GB of dedicated VRAM.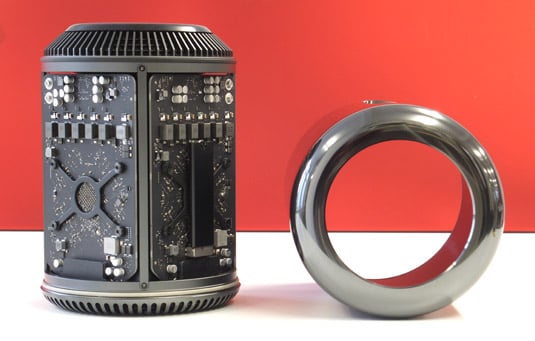 Sporting two AMD FirePro D300 graphics cards, the right one is covered by the SSD storage
Click for a larger image
The next step up is £3,299 for a six-core Xeon running at 3.5GHz, 16GB memory, 256GB solid-state storage and a pair of FirePro D500 GPUs with 3GB of VRAM. The test unit was further customised with an 8-core Xeon clocked at 3GHz, and two top-of-the-range D700 graphics cards, which will give you about 50p change out of £5000.00.
There's a 12-core model too, which adds a further £1,200.00. And, as always, Apple charges through the nose for memory and storage upgrades, hitting you for £1,040 to step up from 12GB to the maximum 64GB of memory, and a further £640 to upgrade the SSD to 1TB. Add that lot together and a fully tricked out Mac Pro will cost you £7,779. And no, that doesn't include a keyboard, mouse or monitor.
Modular Mac
Fortunately, you can shop around for memory upgrades elsewhere as a simple flick of a switch allows you to remove the outer casing of the Mac Pro, revealing its remarkably Spartan internal layout.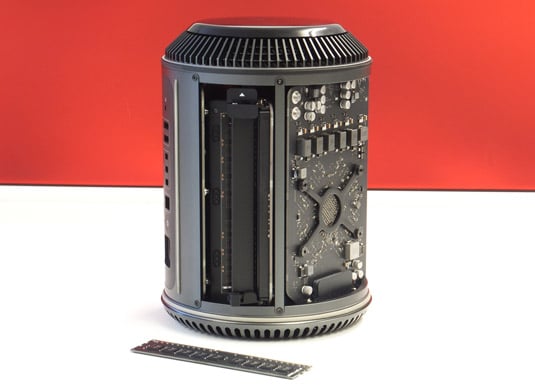 Unusual for Apple these days, memory upgrades are performed in a snap
Looking rather like the Genesis torpedo from Star Trek: The Wrath Of Khan – the good one, not JJ Abram's recent pallid remake – the naked Mac Pro offers up its RAM slots straight away and it takes the removal of just a single screw to pop out the SSD. The graphics cards can be removed with a little more work, but they're not currently upgradeable – although Apple has hinted that modular upgrades could be possible in the future.
However, even that level of upgradeability is unusual by Apple's recent standards, prompting iFixit to award the Mac Pro a score of 8/10 for upgradeability. They've even suggested that the Xeon CPU could be upgraded with a little effort – although the friendly dealer who provided our review unit didn't seem terribly keen on an attempt to try that idea.
Pro Performance
After admiring the Mac Pro's gleaming finery for an unseemly length of time, I decided that it might be a good idea to turn it on. Tucked around the back of the unit you'll find a simple Power button – with just a 3-pin power socket, and no PSU brick in sight – along with four USB 3.0 ports, HDMI, two Gigabit Ethernet interfaces, headphone and optical audio outputs, and no less than six Thunderbolt 2.0 ports. There's no audio input, so Apple is relying on Thunderbolt to take up the slack there, nor an SD card slot, which is just annoying.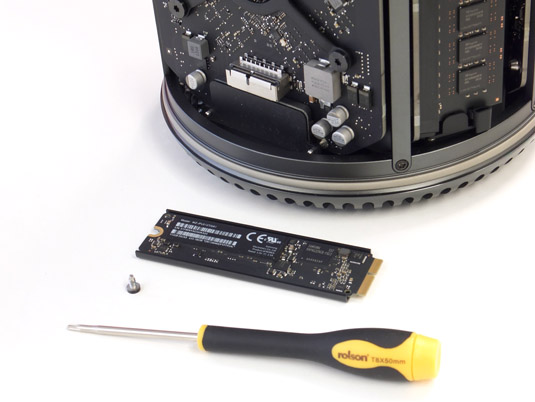 Just one screw takes care of an SSD swap-out – click for a larger image
You get a feel for the speed of the thing straight away. Tap the power button and the Mac Pro starts up in 16 seconds – three times faster than the current hard-disk equipped iMac. Most apps zap onto screen in just a second or two, and even the notoriously slow-starting Adobe Photoshop is up and running in just six seconds. Dorothy, we ain't in Kansas anymore…
Firing up the GeekBench test for processor performance produced a score of 23,374 – more than twice that of the current i5-based 27-inch iMac (11,200). Performance for 3D graphics is in a similar league. When running the Mac-native version of Batman: Arkham City the Mac Pro was able to hit 67fps even at 2560x1440 resolution with anti-aliasing and all other graphics options set at their maximum levels. Again, that's more than twice the speed of the iMac, which only managed 31fps on the same test.
But, of course, the Mac Pro is designed for more serious tasks, such as editing 4K video. To improve storage performance for video and other large files the SSD is now connected directly to the Mac Pro's PCIe bus, which Apple claims will provide performance of up to 1200MB/s. Our tests with the video-oriented BlackMagic benchmark tool produced read and write speeds of 949.5MB/s and 988.3MB/s, but that's still almost twice the 500MB/s performance of the SATA storage used in previous Mac Pro models.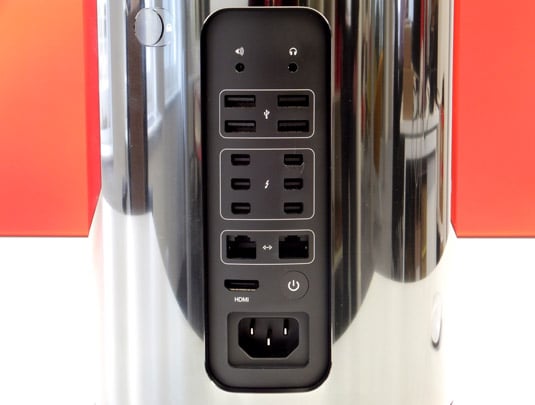 Ports aplenty but no SD card slot. Note the scratches on the backplate around the top right TB port
Click for a larger image
Our usual BootCamp tests were curtailed by the fact that the BootCamp update for the Mac Pro doesn't support Windows 7 – a fact not widely advertised by Apple, and the cause of some confusion on Apple's support forums.
In truth, none of these individual tests tells the whole story, since the Mac Pro can only really fulfill its performance potential with native Mac applications – such as Apple's own Final Cut Pro X – that have been been updated and optimised to utilise both the Xeon CPU and those twin graphics cards.
Seeing Final Cut effortlessly running multiple streams of 4K video off its internal SSD, while the graphics cards also support output to three separate 4K monitors, will convince many video editors that the Mac Pro is worth every penny. And while we're on the subject of value, securing the Mac Pro with just a Kensington lock and a cable won't appeal to everyone having invested £2.5k or more.
Some solutions put the Mac Pro in a box and with that goes all the asethetic design you've paid for. UK outfit Core Security has been touting its own locking mechanism that it hopes will gain Apple approval as it only makes it look a bit like a fire extinguisher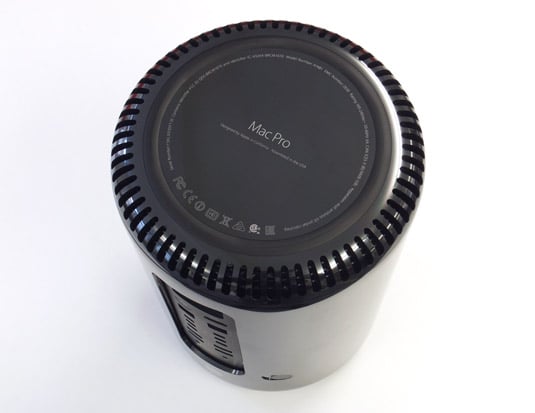 Runs quieter than an external hard drive
Back to the apps and Adobe has also announced a recent update for Premiere Pro that will allow it to support the FirePro graphics as well, so the vital question for many users is not about the speed of the Mac Pro but whether the apps that they work with every day can fully exploit that performance.
Initial concerns about the performance of 3D software such as Autodesk's Maya seem to have abated, but it's clear that you can't just assume that your existing apps will automatically benefit from the full power of the Mac Pro's hardware.
Thunderbolt Like Lightning
The Mac Pro's sheer speed is undoubtedly impressive, but its compact design does raise one other important question. Apple describes the Mac Pro as the "most expandable Mac yet", despite the fact that it lacks the expansion slots and drive bays found in previous Mac Pro systems, as well as most of its Windows workstation rivals.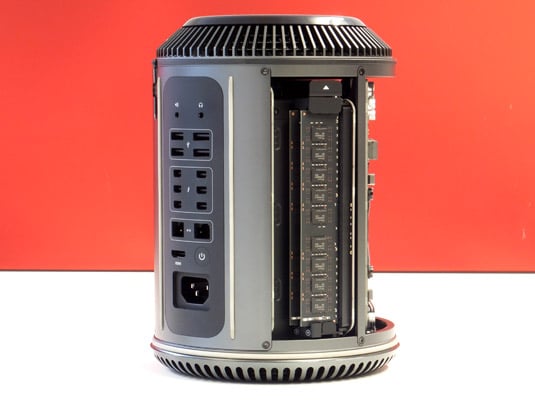 Another bank of RAM slots if you need them – click for a larger image
Apple is putting all its eggs into one basket here, as the Mac Pro's expansion options rely entirely on those six Thunderbolt 2.0 ports. Thunderbolt 2.0 provides a maximum data throughput of 20Gb/s and you can daisychain up to six devices off of each port, so there's certainly plenty of scope for future expansion there. That said, with Thunderbolt cables going for around £30 a pop, you could run up a bill just shy of £200 for simply plugging into all of the Mac Pro's ports.
However, existing Mac Pro owners who have invested heavily in PCIe hardware may be reluctant to abandon that investment. There are options, such as the Thunderbolt PCIe expansion chassis designed by Magma that might ease that transition, but it's not exactly a cheap option for slots that you used to take for granted on a desktop machine.
We'll have to wait and see whether mainstream developers of audio, video and storage hardware are prepared to follow Apple's lead and support the Mac Pro with new Thunderbolt products. There are signs of movement though. MOTU, for one, has dipped its toe into the water with its 828x audio and HDX-SDI video interfacing. Apogee Electronics has its Thunderbridge audio conduit and the UK's Focusrite Saffire PRO range of audio interfacing is also ready to rock. Players in the video market such as Aja Video Systems, Blackmagic and Matrox all have product too.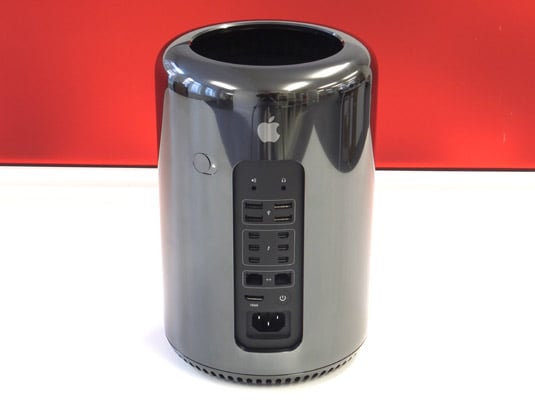 You might not see this view too often as it's the back of the Mac tube
The Reg Verdict
The new Mac Pro is undeniably an impressive feat of industrial design and engineering. And, compared to previous generations of Mac Pro systems, it also provides unprecedented performance for tasks such as 4K video-editing and 3D graphics.
If you're using Final Cut Pro X or Premiere Pro for 4K editing, then you'll probably want to get on the waiting list right now. However, a professional system such as this does not exist in a vacuum, and Apple will need to curb its go-it-alone instincts if it is to cultivate the third-party hardware and software support that the Mac Pro will need in order to fulfil its potential to become the hardware configuration of choice for creative professionals. ®
Thanks to Square Group for the loan of the Mac Pro.

Apple Mac Pro: It's a death star, not a nappy bin, OK?
An Intel Xeon CPU and AMD GPUs crammed into an elegant and compact design. With no PCIe expansion, Apple relies on Thunderbolt to hook up peripherals and has 4K video editors in mind as its primary customers.
Price:
£2,499 (base model) RRP