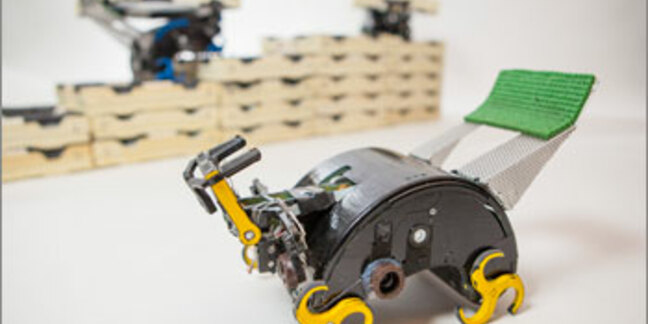 Researchers at Harvard University have developed a small robot designed to work in large groups to build structures.
Dubbed TERMES, the project draws its inspiration from termites, relying on multiple units who repeat a simple task relentlessly in order to build massive structures. The system would take relatively simple robots, each working autonomously, and combine their efforts to build a larger structure.
The university's Wyse Institute for Biologically Inspired Engineering developed the project as a method for building structures in dangerous conditions, such as repairing flood levies or assembling modules in space.
Much like termites and other insects operate in large swarms, the TERMES units would individually function with set tasks aimed at contributing towards a larger plan. The result, say researchers, would be a massive swarm of small robot units which could be controlled as a single unit.
"Normally, at the beginning, you have a blueprint and a detailed plan of how to execute it, and the foreman goes out and directs his crew, supervising them as they do it," said Wyss Institute staff scientist Justin Werfel.
"In insect colonies, it's not as if the queen is giving them all individual instructions. Each termite doesn't know what the others are doing or what the current overall state of the mound is."
Similarly, the scientists envision the TERMES robots would act autonomously, each assigned a small task such as stacking boxes. Combined, the units could function with a colony structure and be controlled as a larger unit.
The researchers note that in addition to helping automate the building process, such a system could also be highly adaptable, since the simplified nature of the robots would allow defective units to be easily replaced, and would result in structures which can be easily repaired or recovered should they be damaged during or after construction. ®
Sponsored: Practical tips for Office 365 tenant-to-tenant migration