This article is more than 1 year old
THOUSANDS of Tesco.com logins and passwords leaked online
Customers locked out of accounts, some discount vouchers AWOL
Thousands of Tesco customers have had their emails and passwords posted online after hackers got their hands on the login details.
A list of over 2,200 Tesco.com accounts was published on Pastebin yesterday and some customers have complained that their vouchers have gone missing from their accounts.
Tesco customers took to the supermarket giant's Facebook page to report being booted out of their accounts and having their points and vouchers stolen.
The grocery chain said that it was "urgently investigating" the situation.
"We have contacted all customers who may have been affected and are committed to ensuring that none of them miss out as a result of this," Tesco said in a statement.
"We will issue replacement vouchers to the very small number who are affected."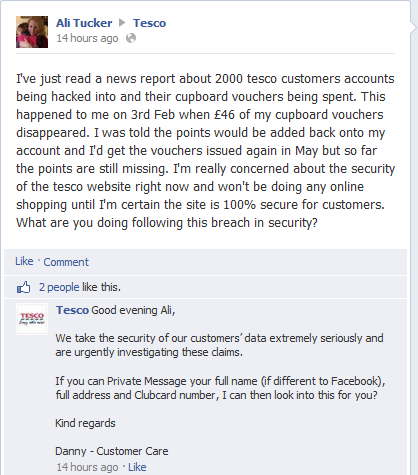 Nicked: Customers took to Facebook to complain about missing discount vouchers
It's believed that the usernames and passwords were acquired from hacks on other sites and then tried out on Tesco.com by the hackers.
Trey Ford, global security strategist at Rapid7, said that the breach highlighted again the danger of reusing passwords across multiple accounts.
"The attackers seem to have picked up usernames and passwords that were leaked after breaches of other, potentially unrelated organisations, and by trying them on Tesco's site, they were able to compromise 2,239 Tesco.com customer accounts," he said.
"So far the information available indicates that the impact of this has been relatively limited – stolen vouchers – but if attackers have tried this on Tesco.com, the chances are they are also trying it on other sites too and so we may see additional fallout."
February seems to be a bad month for Tesco customers - in the same month last year the supermarket chain had to call in the cops after hackers stole Clubcard vouchers from customers' online accounts.
The company also had a bit of a security gaffe earlier this week when it sent out an email to hundreds of customers about a pricing error on a trampoline and revealed all their email addresses. Tesco sent out the missive to tell customers they wouldn't be getting the trampoline they ordered because it had been priced incorrectly.
One customer said on Facebook:
Would love to know how the 'investigation' over the fact that emails were sent out cancelling the trampoline purchases last night sending the email to around 300 people at a time... showing ALL the personal emails of recipients! Total lack of protection for customers details!

I personally received FIVE messages so I have on my emails approx. 1500 emails!!

Would appreciate a response, as when I complained over the phone last night I was told they would be in touch... how I wonder? I do hope not via email!!
®