'The Mystery of the Martian Doughnut' solved by NASA sleuths
Definitely not a fast-growing fungus – sadly
---
NASA's Jet Propulsion Laboratory says it has solved the mystery of a doughnut-shaped rock that appeared in front of its Opportunity Mars rover in January.
The 1.5-inch rock, dubbed Pinnacle Island, appeared on Opportunity's cameras on January 8, and NASA worked out that it came to rest at some point in the four Martian days prior. NASA said that it was probably a rock knocked out by one of the rover's six wheels, although it didn't rule out the item being debris from a nearby meteorite strike.
However, such dull explanations weren't enough. There were the predictable jokes about little green men, and William Shatner asked at a NASA press conference if Martian ring toss was the reason for the rock.
Somewhat more bizarrely, NASA was also sued by one Rhawn Joseph PhD (a scholar who, in his own description "runs with the wolves"), who said the agency was failing in its scientific duties. He claimed to have evidence that the rock was in fact a form a fast-growing fungus similar to that found on Earth. Unfortunately for him, the truth was rather less exciting and the most likely cause was found to be true.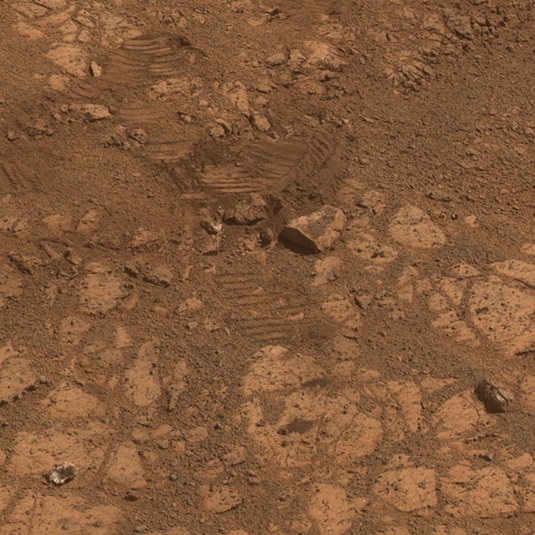 The doughnut (bottom left) and the source (dead center)
"Once we moved Opportunity a short distance, after inspecting Pinnacle Island, we could see directly uphill an overturned rock that has the same unusual appearance," said Opportunity deputy principal investigator Ray Arvidson of Washington University in St. Louis. "We drove over it. We can see the track. That's where Pinnacle Island came from."
The broken rock, dubbed Stuart Island because NASA just loves to name things, looks similar to Pinnacle Island, and an examination using the rover's microscope and alpha particle X-ray spectrometer showed it to have very high concentrations of manganese and sulphur, elements which dissolve well in water and could have been layered down under a stream of lake bed, the researchers speculated.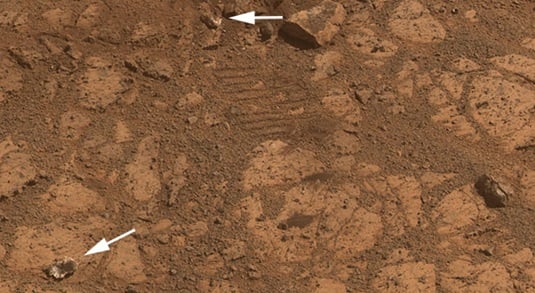 Like a rolling stone
"This may have happened just beneath the surface relatively recently," Arvidson said, "Or it may have happened deeper below ground longer ago and then, by serendipity, erosion stripped away material above it and made it accessible to our wheels."
Opportunity is powering up now that the Martian winter solstice has passed, and NASA has it positioned to bring its solar panels into the best angle to catch some rays. It's been quite windy nearby of late, which has cleaned a lot of dust off the rover's solar panels, and the Opportunity team said that this is the most efficient they've been for two years.
With the mystery of Pinnacle Island solved, the rover is now going to be sent south up a nearby hill to reach a boulder-studded ridge, which should show layers of rock that have accumulated over the lest billion years or so. The JPL have informally named it the McClure-Beverlin Escarpment, and this time there's a good reason.
Bill McClure and Jack Beverlin were two NASA engineers who worked on the Mariner program in the 1960s, which sent a series of satellites over the Martian surface to map out the planet. They became the first recipients of the NASA Medal of Exceptional Bravery for their actions on the program 45 years ago today, two of only four ever awarded.
The two were working on Mariner 6, which was sitting on the launch pad in its Atlas/Centaur booster when a faulty switch released the pressure valve on the platform holding up the 12-story rocket that was partially loaded with highly combustible fuel.
McClure, a former WWII paratrooper with the 82nd Airborne, and Beverlin, a former missionary, raced up the sagging structure, manually closing critical valves, saving hundreds of lives and millions of dollars–worth of facilities. When Atlas rockets blow they don't mess about.
"Our team working on Opportunity's continuing mission of exploration and discovery realizes how indebted we are to the work of people who made the early missions to Mars possible, and in particular to the heroics of Bill McClure and Jack Beverlin," said rover team member James Rice of the Planetary Science Institute. "We felt this was really a fitting tribute to these brave men, especially with the 45th anniversary of their actions coming today." ®