This article is more than 1 year old
Infinidat quietly files 39 patents. Let's take a closer look
Secretive big data startup 're-invents XIV'
A secretive Israeli startup staffed by ex-XIV people is filing patents like there's no tomorrow. Infinidat is all about object storage for big data, and has EMC Symmetrix inventor and XIV founder Moshe Yanai on its board.
The company, whose technology has been described as "XIV done right", has an IZBox G300 filer (NAS) it is selling and is based in Herzliya, Israel, with a US office in Needham, Massachusetts. It has an IZBox website and an Infinidat website. The IZBox is a gloriously well-designed long, long page of eye-candy with a link to a G300 datasheet (two-page PDF).
The latter is a one-pager with text about Black Infinity and Green, low-CapEx big data storage. Black Infinity is about "Unmatched intelligent storage capacity at a fraction of the cost of traditional storage" and the amassing of "business data sets so enormous that you thought they wouldn't be affordable until the distant future".
After hearing that we should pay attention to Infinidat we pointed our patented Register search algorithms deep into the warp and weft of the internet - known to informed digirati as "Googling" - and after trawling though billions of web pages followed Infindat's digital footprints to find out stuff about its staff and technology.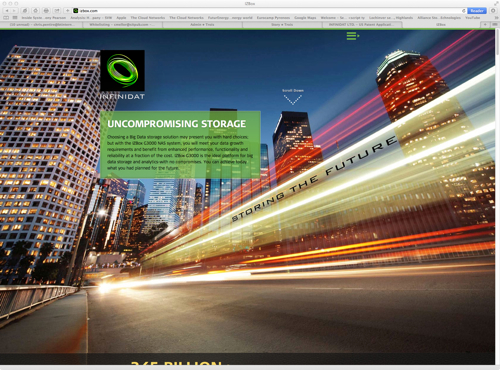 Infinidat website.
Infinidat was founded in 2009 and employs several hundred people. One of its founders was Dr Alex Winokur, a co-founder of XIV and currently at Axxana, another Moshe Yanai-founded company.
Staff include:-
Moshe Yanai - director,
Elie Geva - CEO,
Izhar Sharon - president Infinidat USA,
Adi Gelven - worldwide VP Sales,
Kariel Sandler - worldwide R&D manager,
Jacob Broido - VP of products,
Amir Biran - executive solution architect,
Ariel Gold - system architect,
Michael Shevrin - system engineer,
Guy Rozendorn - software engineer,
Rozem Yaari - software engineer,
Shlomi Penner - product manager,
Sivan Tal - software & systems R & D.
Jacob Broido is ex-IBM and has XIV experience – as have Guy Rozendorn, Rozem Yaari, Shlomi Penner, Michael Shevrin, Adi Gelvan and Kriel Sandler. Gary Weiss's LinkedIn profile says he has XIV experience and from June 2011 to June 2013 as a technical lead at Infinidat "implemented a clustered file system, along with an NFSv3 server. The clustered file system used advanced storage controller abilities, extending SCSI command set. Implemented with optimistic locking of inodes, densely packed inodes."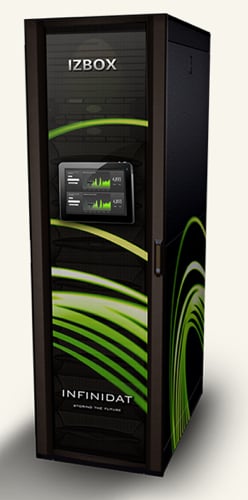 IZBox G3000 NAS.
Patents
We also found over three dozen patents applied for by Infinidat since August 2011, with storage virtualisation, object storage and low power techniques involved. Here's a few of them:
20140019706 System And Method Of Logical Object Management,
20130339569 Storage System And Method For Operating Thereof,
20130339406 System And Method For Managing Filesystem Objects,
20130326272 Storage System And Method Of Operating Thereof,
20130269039 Data Access Control,
20130238855 Management Of Cache Memory In A Storage System,
20130198478 Resources Allocation In A Computer Storage System,
20130198447 Storage System For Atomic Write Which Includes A Pre-Cache,
…
Spin-down disks appear to be used for storing low access-rate snapshot data.
IZBox G300 filer
This is a NAS box with up to 1.9PB in a single standard rack. It features:
Raw capacity of 1.44 to 1.92PB,
Usable capacity of 1PB to 1.5PB,
Usable capacity with compression of 1.7 to 2.3PB,
384GB memory per node,
8TB of flash cache,
4 x 10GbitE ports per node,
2 x 56Gbit/s InfiniBand ports per node,
NFS v3 and CIFS protocol support,
fully-redundant hardware with active-passive redundant nodes and no single point of failure,
Double parity RAID,
Automated self-healing of multiple disk failures,
Inline compression with up to 5:1 data reduction and no performance impact,
Protection from silent data corruption,
Single namespace,
Space-efficient, instant creation snapshots,
Asynchronous remote replication,
7KW per usable PB power consumption,
Simple management with web user interface, a CLI and RESTful API,
Online archive storage at a cost comparable to tape.
One graphic suggests it has a scale-out design as does some text: "you can scale to hundreds of PB with minimal operational overhead."
Application areas include life sciences, genomics and cold storage. There is a special focus on genomics: "the IZBOx G3000 is specifically designed for data emitted by genomics sequencers, with innovative compression algorithms that enable research institutions to maintain their data growth while minimising floor space and data centre costs."
We understand a more capable product is coming later this year. Infinidat may also be exploring a presence in Utah.
The main pitch is that you get radically lower cost, high-capacity unstructured storage with simple operational processes. Infinidat says the IZBox G3000 has an effective cost, with inline compression factored in, that "is genuinely disruptive."
With the credentials of its founders and the apparent maturity of its initial G3000 product it's probably worth taking the claims of the company seriously and watching what it does in the high-capacity data space. To find out more you could talk to Dutch value-added distributor Sertho which has a relationship, we understand, with Infinidat. ®