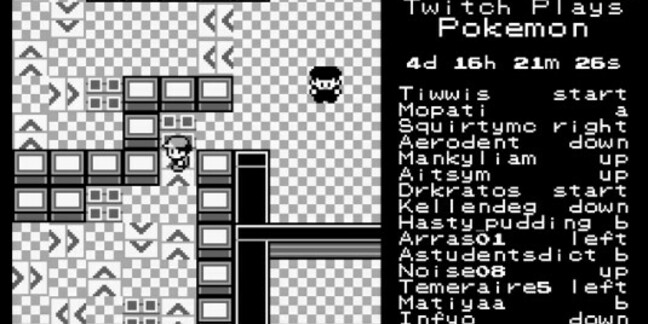 Live vid What happens if you take a beloved Gameboy game from the late 1990s and wire up the controls to a 75,000-strong chatroom that anyone can enter? The answer is progress, albeit of the achingly slow form.
On Monday, netizens closed in on five straight days of collaboratively playing a modified version of Pokemon Red, lobbing countless conflicting commands at the game every second. The effort is broadcast live online by Twitch. And chaos ensues.
The communal, live-streamed play-through of the role-playing game is ongoing and has so far seen the assembled gang of, at times, more than sixty thousand people make a surprising amount of progress, despite sabotaging themselves at nearly every moment.
For those unfamiliar with Pokemon, a primer: the game is structured around catching, training, and battling beasts. The player controls a human character who is tasked with traveling through an expansive world catching the creatures, solving puzzles and competing to win medals.
The game's control scheme is fairly complicated, there are various strategies for winning, and acquiring all 151 of the game's creatures is notoriously difficult. Upon first inspection, then, it is not an ideal vessel for the fast-paced, hysterical whims of the masses.
Yet that didn't stop an anonymous programmer hooking the game's controls up to Twitch's chat service, giving the internet's masses the chance to control the game and – perhaps – evolve into some kind of uber-Pokemon hivemind.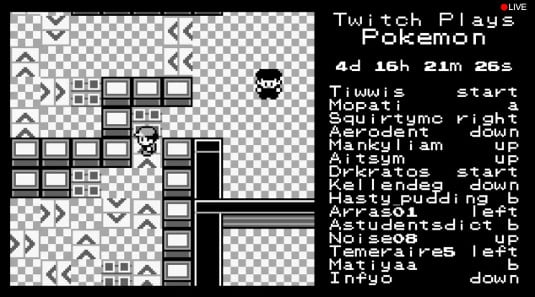 At times, the mixed messages made Pokemon seem like Parliament
But after four days and sixteen hours of continuous play, the assembled throng of spectators and manipulators have reached a location called Saffron City, which is about halfway through the game – impressive progress given the uncoordinated madness of the collective control.
By comparison, it is possible to finish the game in a two-hour "speedrun" sprint, and about three and a half days of playtime if trying to catch all 151 Pokemon.
For those curious as to how this was achieved, the creator wrote a Python script that listens for button commands said in the chatroom and simulates a key-press for the corresponding button in an emulator. The script also outputs button presses so the stream of commands can be shown next to the emulated video display.
"I thought that a collaborative attempt to complete a game would be entertaining to watch and participate in," the anonymous creator of the Franken-game said in a statement relayed to us by Twitch's marketing department. "Pokemon seemed like a natural choice due to its lack of reaction-demanding gameplay and very forgiving difficulty... I never planned on this many viewers/players so I'm glad that it's holding up as well as it is."
Meanwhile, another version of Pokemon is being played not by people but by a random number generator whose outputs are mapped to up, down, left, right, a, b and – with a lower weight – start. It has barely progressed past the first area and has been playing about three hours.
"This is one more example of how video games have become a platform for entertainment and creativity that extends WAY beyond the original intent of the game creator," Twitch's vice president of marketing Matthew DiPietro said in a statement. "By merging a video game, live video and a participatory experience, the broadcaster has created an entertainment hybrid custom made for the Twitch community. This is a wonderful proof on concept that we hope to see more of in the future." ®
Sponsored: Webcast: Discover and secure all of your attack surface