Volcanoes can become ready to blow in less time than scientists had previously thought, but their magma is usually kept in a cool, near-solid state.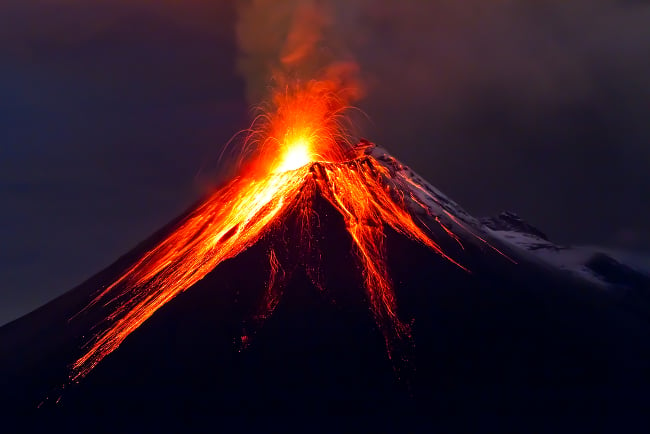 New research on Mount Hood in Oregon suggests that volcanoes can come up with liquid hot magma in as little as a couple of months, but most of the time, they contain magma that has been kept cool for thousands of years.
"If the temperature of the rock is too cold, the magma is like peanut butter in a refrigerator," said Adam Ken, an Oregon State University (OSU) geologist.
"It just isn't very mobile. For Mount Hood, the threshold seems to be about 750 degrees C - if it warms up just 50 to 75 degrees above that, it greatly decreases the viscosity of the magma and makes it easier to mobilise."
The key is when much hotter magma from deep within the Earth's crust comes up to meet the jellied magma four or five kilometres below the surface. The mixing of hot and cold is what triggered the last two eruptions at Mount Hood 220 and 1,500 years ago.
Mount Hood's eruptions aren't particularly violent, the magma tends to ooze instead of exploding, which is down to the different compositions of the two magmas, according to a previous OSU study.
"What happens when they mix is what happens when you squeeze a tube of toothpaste in the middle," said Kent. "A big glob kind of plops out the top, but in the case of Mount Hood, it doesn't blow the mountain to pieces."
The mobility of the magma depends on the amount of crystallisation - when it is more than 50 per cent crystalline, it's rendered immobile - which in turn depends on the temperature.
"People think about there being this big reservoir of liquid magma under a volcano, but we don't think it's in that state all the time," said Kari Cooper, associate professor in the Department of Earth and Planetary Sciences at UC Davis and lead author of the study.
Cooper and Kent figured out that Mount Hood's magma could be mobile as little as one per cent of the time, and definitely less than ten per cent, by studying the radioactive isotopes and distribution of trace elements in rocks ejected from previous eruptions.
The study could lead to better predictions by volcanologists, who can used seismic or other remote imaging techniques to look for whether the magma is liquid or semi-solid. The scientists plan to do further studies at other volcanoes to ensure the pattern repeats at other sites.
"What is encouraging from another standpoint is that modern technology should be able to detect when magma is beginning to liquefy, or mobilise," Kent said, "and that may give us warning of a potential eruption. Monitoring gases, utilising seismic waves and studying ground deformation through GPS are a few of the techniques that could tell us that things are warming."
The full study, "Rapid remobilisation of magmatic crystals kept in cold storage", was published in Nature. ®