Government-funded mailout is like the botched demolition of Earth planning notice, and we all know how that ended ...
Anecdotally, The Register has heard from a wide of range of readers who are deeply concerned about the care.data scheme.
Reg reader Roger told us:
We've definitely not received the leaflet. We do check all the mail receive, we get very little junk mail, and it certainly wasn't mixed with anything else.

I did ask at our surgery a couple of weeks ago and they seemed unsure what I was talking about. But that's nothing new.
Others got in touch with El Reg to say that they hadn't received the care.data leaflet because they had opted out of receiving junk mail from Royal Mail. The government has claimed that the postal service was supposed to make an exception with the NHS England flyer by popping it through letterboxes across the country.
Meanwhile, Reg reader Holly pointed out concerns about the relative ease with which GP medical records - classified as being supposedly anonymised or pseudonymised - could be untangled.
"Like most people who have the faintest clue about IT, I've got concerns regarding the release of Amber data, and its subsequent re-identification using a jigsaw attack," she said.
NHS England has claimed it would never publish Amber data, which are classified as such because patient identifiers such as postcode and date of birth are removed first, outside of what it claims are strict criteria.
That's because individuals can be easily re-identified by linking that information to other data sets, the health service has said. Specifically, NHS England has promised: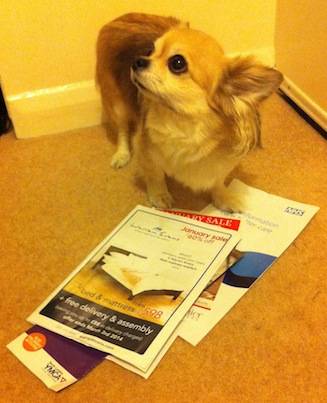 Did you easily spot the care.data leaflet in among your junk mail?
Amber data are only made available under a legal contract to approved analysts for approved purposes. The contract stipulates how the data must be stored and protected, and how the data must be destroyed afterwards. Any attempt to re-identify an individual is strictly prohibited and there is a range of criminal and civil penalties for any infringements.
Some of you have only heard about care.data after reading about it in these pages.
"Had I not seen your initial article nothing would have registered when the leaflet floated through the letter box with the junk mail," said Reg reader Dennis.
"As it happens I'm part of the cohort under study at www.ukbiobank.ac.uk. For the life of me I cannot see what care.data will achieve that is being achieved completely anonymously by the UK Biobank.
"So thanks for publicising this important issue."
While others simply wanted to know if there was a form they could use to opt out of the care.data scheme. You can find one here.
And Reg reader John couldn't help wittily comparing the entire mailout fiasco to Douglas Adams' best-loved novel.
This leaflet, badly written though it apparently is, is important enough that the mailshot should have been ADDRESSED to each person on the NHS's records, and POSTED, rather than having been sent through the junk mail. As it is, it's the equivalent of the planning notice for the demolition of Earth in the Hitchhiker's Guide to the Galaxy.
Quite. ®