NASA's orbiting space-broadband probe LADEE beams back Moon snaps
And boffins can't wait to solve mystery of levitating lunar dust
NASA's LADEE (Lunar Atmosphere and Dust Environment Explorer) probe orbiting the Moon has sent its first images of the lunar surface and the surrounding stars as it fine-tunes its navigation system.
The satellite, which was launched in September during an unintentional amphibian barbecue, spent the early part of the past month mapping out its own exact celestial map using a wide-angle lens to capture as many stars as possible. This unfortunately also means that the resolution of objects on the Moon is pretty uninspiring.
"Star tracker cameras are actually not very good at taking ordinary images," said Butler Hine, LADEE project manager at NASA's Ames Research Center. "But they can sometimes provide exciting glimpses of the lunar terrain."
Exciting may be overdoing it somewhat; the four images from the north western hemisphere of the Moon do show some interesting sites, but at a very poor angle and resolution. They show such blurry marvels as "a minor lunar mountain range, Montes Agricola," and a few impact craters ranging from 2.5 to 14 miles across – which aren't exactly thin on the ground (pun definitely intended).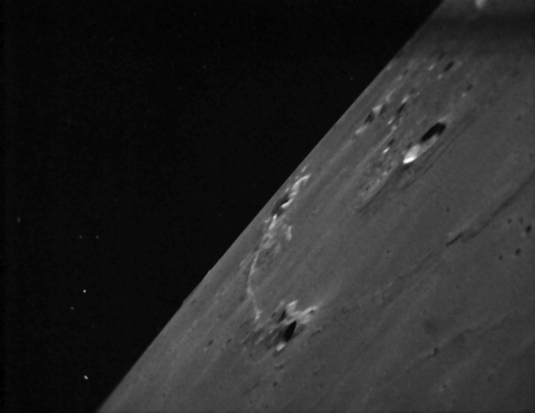 The moderately exciting Montes Agricola mountain range
But the picture's release is important as now LADEE can begin its primary missions: sniffing the chemical composition of the Moon's negligible atmosphere, testing out a super-fast space broadband system, and hopefully solving a mystery that has had NASA's boffins baffled for nearly 50 years.
Apollo 17 was NASA's last mission to the Moon and the only one that actually included a geologist on the landing team; Harrison Schmitt. He drew pictures of a mysterious glow from the Moon's surface at sunrise, as though the Sun's light was being scattered by dust floating free of the lunar surface.
The atmosphere on the lunar surface is primarily made up of argon, helium and sodium, but is one hundred trillionth to that of Earth at sea level – a science lab would consider the "atmosphere" on the Moon to be a pretty good vacuum. As such, it shouldn't be thick enough to support enough dust particles to cause the sunrise.
Lunar dust has some unusual and rather annoying properties. The Moon's surface is covered by a thin layer of very fine dust, the smallest remains of meteorites and other space debris smashing down. It's highly abrasive and clings to everything due to its electrostatic charge, so could make lunar living more troublesome. Thus, NASA wants to understand what's going on.
LADEE's payload includes a Lunar Dust Experiment, which will swing through the atmosphere to detect dust impacts on objects as small as 0.1 microns across. At the same time twin spectrometers (one covering ultraviolet and visible light, and the other to detect ions and elements) will sample what atmosphere can be found.
The probe also carries an interplanetary broadband system dubbed the Lunar Laser Communications Demonstration, which shifts data at 622Mbps between the bird and three base-stations here on Earth. An upgrade, to be tested in 2017, should allow 1.25Gbps of encoded traffic, or 2.88Gbps of unencoded.
Once NASA decides the probe has outlived its usefulness LADEE will raise some dust of its own with a kamikaze dive into the lunar surface. The space agency doesn't want the Moon's orbit too cluttered and it's not the only one who's probing the Moon's secrets. ®