Swollen-bellied Riverbed spears trout of doubt: Opnet buyout blues over
Offers up fresh Steelhead DX8000
---
Riverbed, the WAN optimising and cloud storage gateway biz, has announced a sparkling new Steelhead appliance and pretty shiny results as it recovers from digesting an acquisition. Which first? Let's go for the revenues and earnings.
Fourth quarter 2013 revenues were $283m – satisfying growth compared to revenues of $262m in the previous quarter and $238m a year ago. Profits, though, were another matter. They were just $8m - 2.8 per cent of revenues - which contrasts to a 6-8 per cent margin in 2011 and 2012. The previous quarters saw profits of $3.8m and a year ago Riverbed reported $5m in profits. Things are getting better.
Revenues for the full year were $1bn, nicely up on the previous year's $837m, but net income (profit) for 2013 was a loss of $12m. There had been a profit of $55m for 2012. Something went awry.
Three charts provide snapshot glimpses of the revenues and profit/loss picture. First, quarterly revenues and profit/loss to the end of 2013: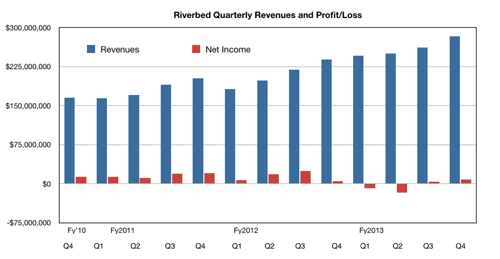 Click the pic to get bigger look.
Now let's look at profits/losses as a percentage of revenue: this is revealing.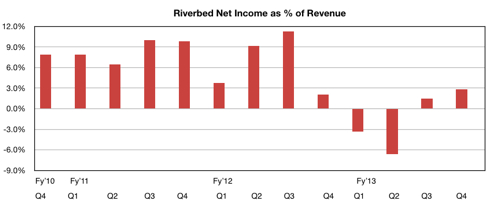 Something dreadful happened to net income after the third quarter of 2012, with a presaging of the problems in the first quarter.
Finally, the annual revenues and profits graph shows the overall perspective, with quarterly fluctuations, and illustrates Riverbed's financial issues.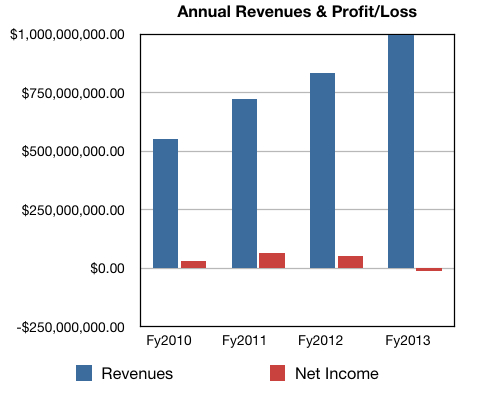 The conclusions from these three charts?
Starting in 2012 there was a first quarter profits dip and the recovery in the second and third quarters wasn't sustained with a small profit in the fourth quarter and then …
Two quarters of losses in the first half of 2013, a thin profit in the third quarter and slightly better one on the final quarter.
Annual revenues have been rising steadily but net income went awry in 2012 and turned into a loss on 2013. Cost controls simply fell apart in 2012 and still haven't recovered.
Riverbed bought Opnet Technologies, a network traffic management company, for $1bn in late 2012, and the after-effects of integrating that acquisition have included relatively uncontrolled spending.
Riverbed founder, chairman and CEO Jerry Kenelly talked of the Opnet digestion problems in a November 2013 analysts' meeting, mentioning:
Big move – merging 700 people into 1800 people
Inherently challenging and costly
Still Recent – less than 1 year in total
2 quarters "feet on the stree",
Some impact from Government unrest
Largely complete as 2014 approaches
The company said WAN optimisation was becoming a commodity market (= lower margins) and so it redefined itself as a location-independent computing company in November last year – an attempt to break out of the WAN optimisation niche. Opnet is a key part of this.
The outlook for 2014 is brighter and Riverbed is now moving ahead again, with its new appliance part of that.
Brand new Steelhead
Kennelly said in November: "With Steelhead, SaaS apps like Microsoft Office 365 can be delivered up to 33 times faster while using 97 per cent less bandwidth."
Steelheads are claimed to deliver up to 60x WAN performance acceleration and up to 99 per cent bandwidth reduction. They come in EX branch office connect versions, CX larger branch office and a data centre variants, and, now, a DX data centre-to-data centre box.
This is the Steelhead DX Edition 8000 Series, designed for use in datacenter-to-datacenter data replication. It features:
Up to 2 Gbit/s of optimised WAN capacity
Up to 10 Gbit/s of optimised LAN capacity
It optimises up to 10,000 TCP and UDP application flows
Optimisations for data replication applications such as NetApp SnapMirror and EMC Symmetrix Remote Data Facility (SRDF)
You can get a specsheet here (small pdf).
The Steelhead DX 8000 is available now. ®