The NSA and Department of Homeland Security have abandoned efforts to shut down an internet site selling parodies of its logos on T-shirts, coffee cups and bumper stickers.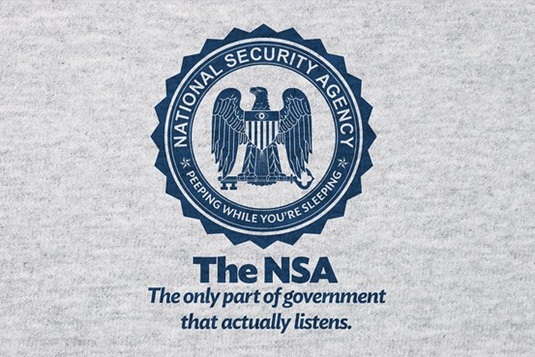 Fort Meade shows a poor sense of humor
Almost three years ago the NSA sent a cease-and-desist letter to online retailer Zazzle claiming that some of its merchandise was illegal under Public Law 86-36 contained in the 1959 National Security Agency Act, which prohibits misuse of the agency's logo. At fault were items designed by the politically themed T-shirt company Liberty Maniacs.
Maniacs founder and artist Dan McCall had a number of designs on his site for use on clothing, coffee mugs, and bumper stickers that featured the NSA logo with the mottoes "We're peeping when you're sleeping," "Spying on you since 1952," and "The NSA, the only branch of government that actually listens."
A few months later the Department of Homeland Security (DHS) sent a similar letter objecting to a T-shirt reading "Department of Homeland Stupidity," claiming that it was a crime to "mutilate or alter the seal of any department or agency of the United States."
While Zazzle caved to government pressure promptly, McCall didn't, and benefited from the resulting Streisand Effect, selling plenty of the T-shirts "NSA doesn't want you to wear," and reaping donations to the cause via PayPal.
Then in 2013 the advocacy group Public Citizen sued both the DHS and the NSA claiming that the takedown notices broke First Amendment safeguards and was an abuse of government power. Today, the two agencies decided to settle the case with no admission of guilt, but a $500 check and permission for Mr McCall to carry on.
"I'm glad the case helped reaffirm the right to lampoon our government. I always thought parody was a healthy tradition in American society. It's good to know that it's still legal," said McCall.
It does seem unusual that the only two agencies to take offense were the NSA and DHS. The Department of Alcohol Tobacco Firearms & Explosive was apparently fine with the "If you're doing something cool we're likely trying to stop you" design, and the CIA apparently showed a sense of humor over the "Making the leaders of tomorrow by killing the leaders of today," and "Cocaine Import Agency," slogans. ®
Similar topics