Virtualisation outfit FalconStor is starting to move on the product front again, and is combining its VTL (Virtual tape library) and FDS dedupe product into a single offering, claiming 50 per cent cost-savings.
The FDS (File-interface Deduplication System) offers post-processing and/or concurrent block-level deduplication with a data ingest of up to 1,500 MB/sec (5.4 TB/hr) for CIFS and NFS.
The product bundle pairs/integrates the FDS and VTL products into the Optimised Backup and Deduplcation Solution v8.0 (OBDS) and gives them a common user interface and, so the company says, up to 50 per cent cost-saving.
The company intends to move all of its technology to a unified platform. Speaking via the quote cannery, Gary Quinn, FalconStor's president and CEO, said: "We will be announcing new solutions over the course of the year, to bring all of the elements of data management into a single, unified data management and services platform with a common user interface. We will offer solutions including Migration, Business Continuity, Protection & Recovery, and the Optimised Backup and Deduplication solution we've launched today. "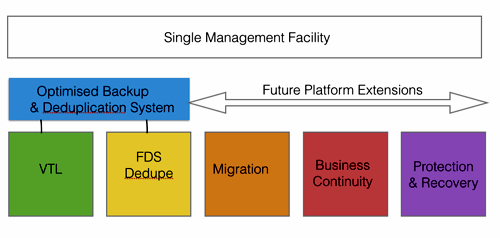 FalconStor platform concept
FalconStor says OBDS 8.0 enables:
Managing block and file backup and deduplication on a single node, requiring 50 per cent less hardware
Cascading replication which is WAN-optimised and transmits deduped data. Customers can "replicate multiple types of data to multiple locations quickly in a cascaded fashion. This adds an extra layer of recoverability and data access when moving data from the data center to remote locations"
300 per cent faster NAS operations than v7.0 product with sustained 6TB/hour average throughput
35 per cent faster VTL interface than VTL v7.5, with a sustained 11.2TB/hour throughput using a single node
Symantec/Data Domain Boost not needed as "Single-node sustained performance is equal to or greater than competitors' multi-node solutions and has no impact to the backup server"
Average backup window is now three-times shorter – 2.8 hours vs. 8 hours – resulting in 65 per cent less time spent by IT administrators managing backups
Reduced complexity - "Optimised out of the box with wizard-driven set up for local and remote deployment, as well as unified reporting for storage and growth management"
OBDS 8.0 can be bought as a software-only option, as an integrated appliance on Dell, IBM or Hitachi hardware (servers plus storage) or as a gateway function on top of existing storage.
Other product news:
FalconStor Continuous Data Protector (CDP) 7.6 and Network Storage Server (NSS) 7.6 are now generally available
"CDP 7.6 has been updated to eliminate the backup window and to recover data in minutes instead of hours, while offering automated recovery for Microsoft Windows, Linux and VMware and Hyper-V servers"
"NSS 7.6 offers storage virtualisation to reduce storage capital and management costs by over 50 per cent"
NSS Stretch Cluster "distance has been doubled from 50 Km to 100 Km – as with any stretch cluster, distance is latency dependent"
Cascaded multi-site replication
Chinese language support for the management console interface
Profits - at last
A hugely significant turnaround on the net income front has been made to happen, with FalconStor declaring a quarterly profit after more than 15 quarters of losses. Revenues for the final 2013 quarter were just $14.6m from which the firm made a profit of $0.9m.
In the year-ago quarter revenues were $22.5m and the loss was $2.3m. In the third 2013 quarter there was a loss of $2.3m on $14.7m revenues.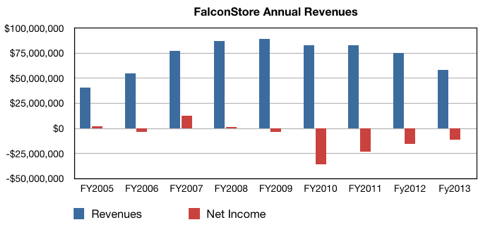 Full 2013 year revenues were $58.6m with a loss of $10.9m. In the prior year the loss was $15m on revenues of $65.4m, with a loss of $23.4m the year before on $82.9m revenues; this savage slimming down exercise is is financial liposuction in action and this is the fifth year of losses but the chart shows losses decreasing faster than revenues are falling. We might hope for the 2014 year to be profitable as a whole, based on extrapolating these trends.
CEO and FalconStor president Gary Quinn said: "We are pleased to have achieved our goal of reaching profitability in the fourth quarter of 2013. The company's improving financial picture reflects the completion of our stabilisation efforts and the steps we're taking to build for future growth. While we will continue to pay close attention to our cost structure, we are also introducing innovative technology and updated sales programs, which are examples of intensified focus on delivering value to our customers."
What a terribly long and hard struggle it has been for FalconStor. Let's hope this marks the turn of a financial corner and the platform product direction becomes a whole new stage in the company's progress.
Prices and availability
OBDS 8.0 and FalconStor Migration, Continuity, Protection & Recovery 7.6 products are available immediately as software, an integrated appliance, or a gateway using existing storage through FalcinStor's channels. Software only MSRP starts at:
OBDS 8.0 software -$ 24,161 - inclusive of 12TB of capacity and 3 years of maintenance and upgrades
NSS/CDP 7.6 software - $18,585 - inclusive of 10TB of capacity and 3 years of maintenance and upgrades
®