Primary Data, the stealthy storage virtualisation startup set up by Fusion-io's founders, has scored more cash and says it will come out of stealth later this year.
After resigning from Fusion-io, CEO David Flynn and marketing head Rick White set up Primary Data and received $50m of B-round funding in October last year. There are reports that it has received another $13m from the original investors, increasing the size of the B-round.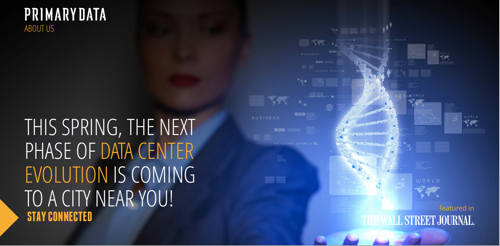 Primary Data home page.
Primary Data has this to say about itself;
Primary Data is a well-funded, emerging enterprise software company leading the next evolution in software-defined data centre technologies.

Primary Data is developing next generation data virtualization and mobility technologies to manage how information is stored and shared globally. Led by Fusion-io founders David Flynn and Rick White, our team of recognised pioneers in the storage industry is experienced in successfully bringing disruptive technologies to market.

The company closed a $50 million financing round in October 2013 and, with this record-setting funding, is ready to lead the charge to a new era of storage that spans from Flash to Cloud.

Primary Data is scheduled to launch from stealth in late 2014.
We understand that staff at Primary data include:
David Flynn - co-founder and CEO,
Rick White - chief marketing officer,
Benny Halevy of Tonian- co-founder and CTO,
Adam Kaplan of Tonian - co-founder and SVP business development,
Ron Asher - SVP engineering, coming from IBM's XIV operation in Israel,
Doug O'Flaherty - VP Products and marketing; "Product features and community activities for new Internet service streamlining information sharing,"
Oren Danewitz - R&D manager.
The company has an Israeli office - part of the acquired Tonian operation - as well as a US one. Local Israeli newspaper Haaretz reported in December that Primary Data's goal is to become a $10bn company. It currently has more than 40 engineers which could rise to 100 by the end of the year.
Flynn was quoted as saying: "Most storage companies and many technology companies in Israel are built just to be sold to some bigger company. I built a very big company with Fusion-io and I'm here to build an even bigger self-standing company. I took Fusion-io public and ran it for two years as a public company, and I think Primary Data is a bigger opportunity. We're very excited about building a self-standing public company."
Primary Data's value, implied by the funding looks to be north of $200 million.
It's technology, which focuses on large data sets used by media, life sciences, oil and gas, and semiconductor companies, is set to promote data transfer between separate storage silos, but presenting it as a single virtual storage pool.
There are presumed to be both local and remote and cloud-located storage locations. Incoming data will be stored by the system in an optimal location, based on capacity, performance and security needs, and moved during its lifecycle to different locations as its value or access rate changes.
The Primary Data product is software using commodity hardware. It will require a lot of work and we shouldn't expect product general availability any time soon. ®