NetApp, tuck yourself in – your mid-range is showing: New FAS8000 on sale, ONTAP updated
Scale-out via clustering the way ahead for array biz
---
As expected NetApp has launched its FAS8000 mid-range array, a point ONTAP software release, and FlexArray virtualization software.
The FAS8000 is a scale-out design with 24-node clusters and hybrid cloud deployments in mind. It has V-series functionality, which virtualizes third-party arrays via a NetApp head unit, included as a licensed option with its software.
It uses faster Intel Sandy Bridge processors, expanded memory, and has two to three times more virtual storage tier flash than the effectively superseded FAS3200s and FAS6220. The performance can be in excess of 2.6 million IOPS, it's claimed. We understand that there is a doubling of performance compared to previous systems but no price rises.
You can read more details about the 8000 from an earlier Reg story, here.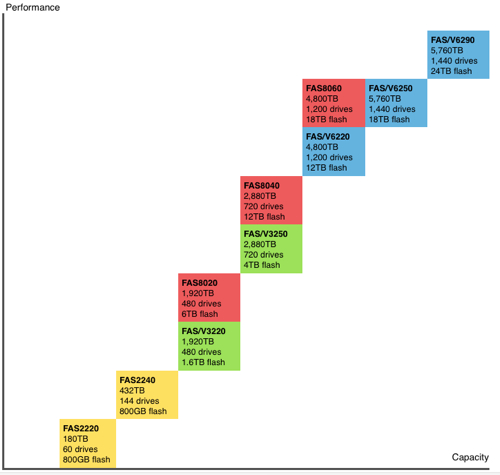 NetApp FAS8000 positioning (click to enlarge)
A FAS8060 has up to 4.8PB of raw capacity. NetApp states "a single cluster can grow up to 24 nodes and 57PB of capacity with ease." Although clusters can have up to the aforementioned 24 nodes, these are grouped into high-availability pairs – so the maximum cluster capacity is 57PB and not the 115.2PB you would expect from the simple multiplication of 24 x 4.8PB.
We expect SPECsfs and SPC-1 performance benchmark numbers to be announced shortly.
NetApp says the FAS8000 is its first array designed to take advantage of its Clustered Data ONTAP array operating system. The idea, introduced with ONTAP 8.2.0, is to combine a set of clustered FAS arrays into a single virtual storage pool and carve out virtual storage machines (VSMs) individually set up to suit an application's needs: each can have its own policies for access protocols, security, protection, quality of service, and so forth.
Each VSM is effectively a software-defined FAS array, and they can be set up and torn down dynamically as business needs change. We shouldn't think of hardware partitioning anymore as VSMs can be part of a single FAS array or include more than one FAS box.
The FAS8000 can scale up and also, via clustering, scale out. It may be NetApp's intention to extend the FAS8000 range upwards rather than bringing out new FAS6200 models. There won't necessarily be three FAS ranges in future, as there are now with the FAS2200s, FAS8000s and FAS6200s. NetApp could cover more storage array space with fewer platforms.
Clustered Data ONTAP 8.2.1
Non-disruptive operations are extended with this release. Its features include:
Non-disruptive storage shelf removal.
Support for SMB 3.0 – this means users can run, say, Microsoft SQL Server over continuously available SMB 3.0 shares.
Improved configuration tool making it three times faster to get a cluster up and running.
FlexArray
This software effectively brings external arrays into the ONTAP world by virtualizing them. It supports external arrays from NetApp's own E-series, plus ones from HDS and EMC. NetApp wouldn't comment about the possible inclusion of IBM or other vendors in the FlexArray support matrix.
All new models in the FAS range will have the FlexArray option, and we can envisage the specific V-Series hardware systems disappearing over time.
NetApp guarantees a customer's FAS8000 with FlexArray, or V-series machine, will pay for itself in nine months or less – or it will make up the difference. Find out more here.
There is a FAS8000 data sheet [PDF] available. The FAS8000 arrays, FlexArray virtualization software, and clustered Data ONTAP 8.2.1 are available today. ®