Project Tango: Google's all-ringing, all-dancing 3D-sensing smartphone
Coders compete to get hands on 200 clever camera mobes
Google hasn't just kept Motorola's patents in its deal with Lenovo, it's also keeping the mobile manufacturer's skunkworkish Advanced Technology and Projects (ATAP) group.
And that team has just unveiled a new smartphone dubbed Project Tango, which is aimed at developers.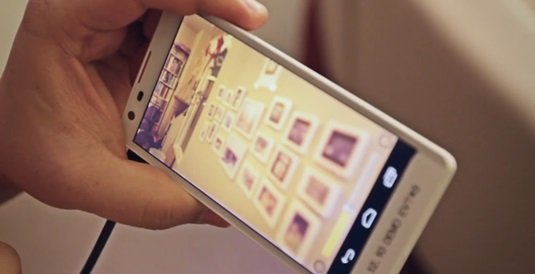 Project Tango ... watching you watch it
Project Tango is a five-inch handset running, surprise surprise, Android. The device uses cameras and depth-perception sensors to constantly map out the holder's physical environment in 3D and match that to the phone's internal gyroscopic systems and more general location data from GPS.
This data can be used by the phone to build up an accurate picture of its surroundings so that software can combine it with on-screen graphics, or throw the information into a database for later use. Imagine walking through a room, the phone in your hand detecting the walls surrounding you, and an app displaying stuff on the screen using that proximity data, for example.
"Mobile devices today assume that the physical world ends at the boundaries of the screen," said ATAP's technical program leader Johnny Lee. "Our goal is to give mobile devices a human-scale understanding of space and motion."
You may remember Lee from such systems as Microsoft's Kinect, which he had a key role in developing for Redmond. Lee left the Microsoft fold in 2011 for Google, and it's highly likely that Tango will incorporate some of what he learned in setting up Kinect systems.
Tango has three sensor units built into the back of the device: a 4MP main camera in the usual position at the top of the casing, with a depth-sensing monitor and motion-tracking camera built into the base. The sensors take up to a quarter of a million measurements every second to map out the handset's surroundings.
Youtube video of Tango in action
Possible applications mentioned by Lee include using a 3D-mapped version of your living room as a gaming space; seeing how new furniture would look in a room with Tango's on-screen augmentation features; or helping the visually impaired navigate their surroundings. Google Glass also looks like a good fit for the phone.
Google says it has tapped into studies of computer visual imaging by researchers at universities and in the private sector to build Tango. The web giant has already started buying some of the companies involved to augment its plans for robot development over the next ten years, and it appears that Google will be using that knowledge in Project Tango too.
All that 3D mapping and processing takes a lot of grunt and Google has two Myriad 1 visual processors in the handset from chip designers Movidius to handle the workload. The company claims that it can process the sensor data collected by Tango ten-times faster than anything else on the market, but within a reasonable power envelope that won't cripple the battery.
Judging by a presentation David Moloney, the CTO of Movidius, gave to the HotChips 2011 conference, the Myriad 1 processor is a proprietary system-on-a-chip that uses a "Streaming Hybrid Architecture Vector Engine." Its instruction set is RISC-like, it borrows streaming and floating point operations from GPU designs, and adds DSP processing into the mix.
Back then Movidius was only building the Myriad platform in 65nm, but Moloney said the firm would be sampling 28nm designs in late 2012. It's reasonable to assume that it is these smaller and more power-efficient chips that are under the hood in Tango.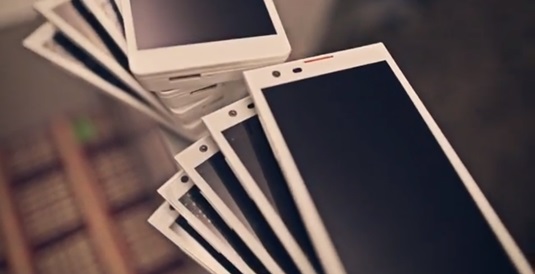 200 handsets available for developers with smart ideas
The first 200 handsets and software development kits for Tango will be sent out to a select group of programmers by March 14, Google said, and anyone can apply with a good idea. The Chocolate Factory asks applicants to consider donating code developed for the phone under an Apache 2.0 license, and it will also share Tango-related work with other open-source programs in fields such as robotics – the camera and sensor technology developed for Tango could easily aid a semi-intelligent robot trying to understand its surroundings.
As for the rest of us, don't expect to see Tango handsets on the shelves in the near future. It's clear there's a lot of development work left to do, even at a basic code level in the handset.
But it's yet another way Google is ploughing its research dollars into new mobile systems and, given that limited manufacturing of Tango reference platforms has already begun, it's fair to say Mountain View thinks it's on to something big. ®