Seagate subsidiary LaCie has launched a set of external storage boxes using a 5TB Seagate hard drive – even though disk maker Seagate hasn't officially launched a 5TB part.
So far only Toshiba has officially announced a 5TB drive and that was only a few days ago. Tosh's 5TB disk is for internal use rather than external drive products.
This LaCie/Seagate 5TB device spins at 7,200rpm, and will be used in LaCie's new 5big, 2big and d2 Thunderbolt desktop products. The 5big can hold up to 25TB of data using five of the new drives; can be configured in RAID0, RAID1 and JBOD modes; and has dual Thunderbolt ports.
The 5TB disk will also be used in the 2big and d2 Quadra gear that uses USB 3.0 or Firewire.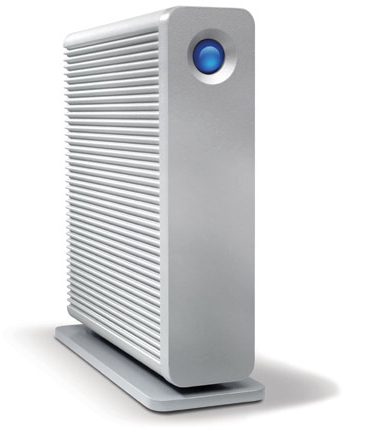 The LaCie 5TB d2 Thunderbolt
We have no further details of the drive itself, although we guess it has a 6Gbit/s SATA interface. LaCie's documentation states it has a 64MB cache or greater.
We have been expecting a 5TB shingled magnetic recording (SMR) drive from Seagate; this is the technology that mandates multiple track rewrites when updating data, thus reading should be noticeably faster than random writing.
The 25TB 5big Thunderbolt box can apparently hit a read speed of 785MB/sec, and write at 695MB/sec – but we notice that's using 4TB drives rather than the new 5TB disks, so your mileage may very well vary.
But the existence of a 5TB drive running at 7,200rpm for external use suggests Seagate will rapidly introduce a 5TB internal drive in its Terascale, NAS, Video (all 5,900 rpm) and Constellation (7,200rpm) drive lines.
The products can be purchased from the LaCie Online Store and LaCie resellers. The list price for a 5TB d2 Thunderbolt is £239 ($299). A 25TB 5big Thunderbolt box will set you back £1,979 ($2499). ®