This article is more than 1 year old
Office Online rises from ashes of 'confusing' Office Web Apps
Relaunched web productivity suite offers easier access
One day after rebranding its cloud storage service as OneDrive, Microsoft has relaunched the web-based versions of its Office productivity applications under the new, friendlier moniker of Office Online.
Redmond was forced to rename its SkyDrive service as OneDrive on Wednesday after losing a trademark dispute with British Sky Broadcasting. But no similar issue caused Microsoft to change the name of its browser-based productivity software from Office Web Apps to Office Online; rather, the company says, the old name was just too hard for customers to understand.
"We heard from customers that the inclusion of Apps in our name was confusing," wrote Office Online marketing manager Amanda Lefebvre in a blog post on Thursday. "Are they something I install? Do I go to an app store to get them?"
The answer, of course, is no – Office Online (née Office Web Apps) is merely a set of HTML-based facsimiles of Word, Excel, PowerPoint, and OneNote that allow you to create and edit Office-compatible documents in your web browser.
Much like rival Google Docs, Microsoft's web-based offerings have far fewer features than the desktop Office applications, but they allow basic editing and formatting. And unlike Google Docs, Office Online offers near-perfect fidelity when viewing Office documents on the web.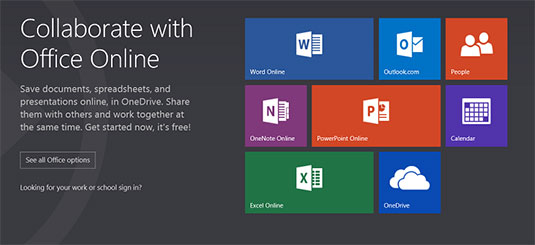 The rebranded Office Online offers a new web-based launcher with a familiar look and feel
Along with the name change to Office Online, the web applications can now be launched from a new, easy-to-access website at Office.com. In addition to the four Office apps, the site also includes launcher tiles for Outlook.com, Microsoft's web-based People and Calendar apps, and OneDrive, which is where Office Online stores users' documents.
Microsoft has also integrated a launcher into each of the Office Online components that offers the same tiles as the Office.com homepage and can be accessed by clicking an arrow in the upper left of the browser window.
The relaunched Office Online site also now offers a wide variety of templates for Word, Excel, and PowerPoint that can be used to create new documents.
Access to Office Online is free, although you may need to pay if you want more than the 7GB of storage OneDrive offers to start. Like OneDrive, however, Office Online does require you to sign up for a Microsoft Account. ®