This article is more than 1 year old
European Space Agency: PLATO will seek out 'ADVANCED LIFE forms'... 'SLIME'
Shiny new alien world spotter to blast off in 10 years' time
The European Space Agency is planning to launch its own planet-hunting observatory in 2024, after the mission was chosen for the Cosmic Vision 2015-2025 programme.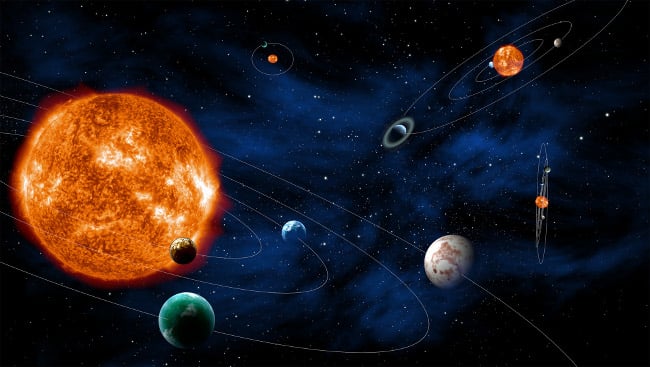 The Planetary Transits and Oscillations of stars, or PLATO, mission has been chosen to monitor relatively nearby stars, searching for the tiny dips in brightness that are the sign a planet is orbiting in front of them.
The PLATO Science consortium leader Don Pollacco, from the University of Warwick, quipped: "This is fantastic news for Europe. PLATO will allow the first systematic survey of nearby planets for indications from advanced life forms (as well as slime)."
PLATO will use 34 separate small telecopies and camera to search for other worlds around up to a million stars spread across half of the sky, at a cost to the agency of around €600m, along with another few hundred million in donated hardware from member states.
Hundreds of exoplanets have been spotted by astronomers across the Universe, many of them found by NASA's now defunct Kepler mission, but no truly Earth-like world for us to decamp to should the going get rough(er) here at home has been found yet.
Indeed, not all boffins are sure that the data we have so far on exoplanets is all that reliable. Adam Burrows, a professor of astrophysical sciences at Princeton University, has published a review of exoplanet research in the Proceedings of the National Academy of Sciences this week that claims scientists have actually come up with few "hard facts" about the atmosphere and liveability of far-off worlds.
"Exoplanet research is in a period of productive fermentation that implies we're doing something new that will indeed mature," Burrows said. "Our observations just aren't yet of a quality that is good enough to draw the conclusions we want to draw.
"There's a lot of hype in this subject, a lot of irrational exuberance. Popular media have characterised our understanding as better than it actually is. They've been able to generate excitement that creates a positive connection between the astrophysics community and the public at large, but it's important not to hype conclusions too much at this point."
Europe's PLATO mission is hoping to calculate characteristics of exoplanets like mass, radius, density and age, which will provide "an indication of its composition". The space observatory will also be figuring out if the worlds lie in the famed Goldilocks zone - the right distance from its sun for liquid water to potentially exist.
PLATO is joining Solar Orbiter and Euclid as the third of the ESA's M-class missions. Solar Orbiter is due to launch in 2017 to study the Sun and its solar winds from less than 50 million kilometres away, while Euclid, aiming to blast off in 2020, will be looking for dark energy, dark matter and the structure of the Universe.
The agency is hoping for a 2024 launch slot for PLATO, which will head into space on the back of a Soyuz rocket for an initial six-year mission. The observatory will park up at L2, a handy stopping point gravity-wise 1.5 million kilometres from Earth, as seen from the Sun. ®