Alongside the "beat Moore's law" stream of research, computer science boffins have also spent years working on increasing memory density. Now, University of California Riverside researchers have demonstrated a holographic memory based on a phenomenon called spin waves.
As the university explains in this canned statement, spin waves are "a collective oscillation of spins in magnetic materials", and can be exploited as the basis of a non-photonic holographic memory.
This, they say, would make it easier to create holographic memories that are compatible with conventional electronics, and by operating at shorter wavelengths than optically-based holographic memory, should also deliver better memory density.
The university says that after nine years' work, lead researcher Alexander Khitun "decided the device didn't need to replace the computer's electronic circuits. Instead, the device would complement the circuits, or help them accomplish certain tasks, such as image recognition, speech recognition and data processing."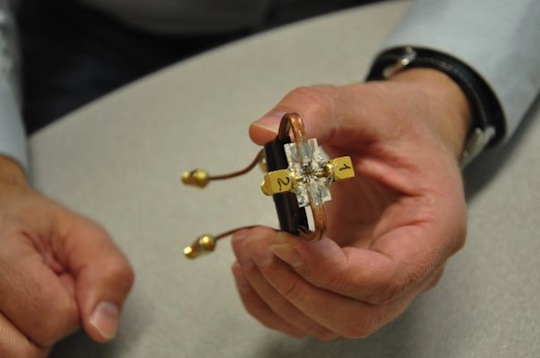 Two bits of the future? Khitun's holographic memory prototype.
Image: University of California Riverside
The two-bit magnonic holographic memory prototype used in the experiments was created by a pair of magnets (representing the memory elements) aligned in different positions on magnetic waveguides. As the researchers explain in this Arxiv paper, turning this into a practical technology will involve scaling down the nano-elements needed for spin excitation and detection.
In other words: making teeny-tiny antennas. ®