This article is more than 1 year old
Hot racks and cool customers: Colocating in the capital
Where diesel, data and dark fibre meet
Feature In a world where data centre duties are increasingly relocated to lower cost territories in the East and beyond, why would anyone want to set up shop in the heart of London? Even if there was a requirement for your data to be UK-based, surely a location in the shires where rents are lower would make sense.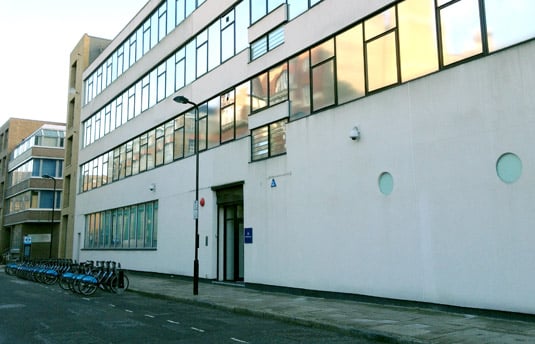 City Lifeline colocation data centre building
That may appear to be the case in most instances, but it all depends on the nature of your business, according to Roger Keenan, managing director of City Lifeline, a colocation centre in based in the heart of City of London. This year is the company's 21st birthday and although it was originally set up as a disaster recovery facility for traders in the City, this tech stronghold has moved with the times, swapping out coax for fibre and traders for telcos.
Recently, it upgraded its generators to 2N taking it up to a Tier 3 rating, if you buy into that US trade association rating system – presentation here [PDF].
When The Register came calling, the operations guys were busy putting one of the backup generators through the monthly power testing routine. We'll be looking at this process in more detail later and taking a look at the massive diesel engines and the UPS buffer that keeps those colocation racks up and running for City Lifeline's clients 24/7/365.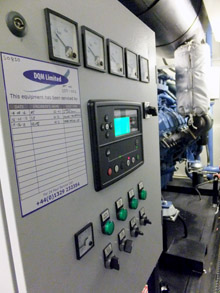 More from the generator room later
Ten years ago, explains Keenan, the clientele was 100 per cent voice telephony, but that has dropped down to about 50 per cent. Services such as Skype have had an impact, so the phone operators that remain are mostly those involved in pre-paid phonecards, enabling cheap calls to far-flung lands.
There's a broader mix of clients than that, although some he can't talk about – such as a fashion retailer, which he finds perplexing given the nature of its business – and others he can discuss, which can be equally perplexing.
The International Institute of Strategic Studies (IISS) is a case in point. As a leading global security think tank, you'd think it would rather keep quiet about its data activities but it has even given its blessing for a case study of its colocation implementation to appear on City Lifeline's website.
The IISS project had several needs according to its CTO Neil Goodman, who sought to virtualise the IT operating environment with additional resources featuring Disaster Recovery and a High Availability environment. Goodman went through the motions of finding a colocation provider, and it was City Lifeline's London presence that was a major factor, not simply for its metropolitan convenience, but for the benefits that the capital's global connectivity offers.
Optical collusion
Fibre Alley is a phrase that City Lifeline likes to bandy about to describe its position "at the centre of the world's internet backbone", which sounds akin to a spinal tap, but reflects the company's claim that London is home to more than half of the UK's data centres and these services need fast, high capacity networks to do business.

Dark fibre makes its mark outside City Lifeline's premises
To prove the point, Keenan suggested I take a look at the outside of the building, which had getting on for 20 different cabinets (manholes) in the space of 50 yards (46m). Many of the cast iron covers were emblazoned with the names of providers such as euNetworks and companies long since gone or acquired – such as Metro Media Fibre Networks (now Zayo) and WorldCom, all conveniently situated on City Lifeline's doorstep.
"We've got 25 carriers in the building and they bring their fibre in from the outside world. They will have a presence here – a rack or even a private suite – and from there they will connect out to customers. City Lifeline itself doesn't bring fibre into the building, but there are miles and miles of fibre coming into the site."
The fact that so much of the world's fibre terminates in London gives the businesses here a distinct advantage for global communications. Add to that the availability of dark fibre in the capital, which, among other things delivers low latency between data centres in Docklands and beyond.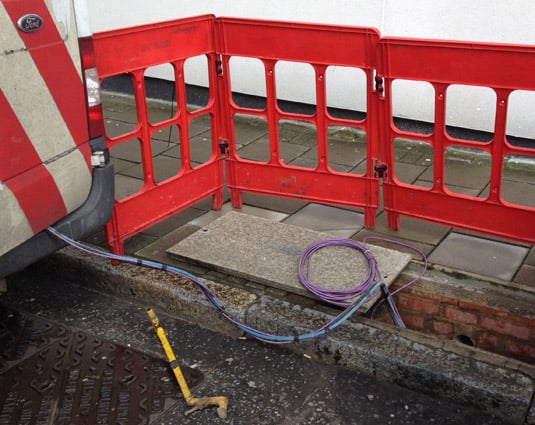 London traffic: outside City Lifeline a cable guy connects fibre for Vodafone and performs tests in his van
OK, so there are some obvious comms and capacity benefits to the London location as well as being able to draw upon the talents of the capital's highly skilled IT community. However, there is a price to be paid, and Keenan reckons his clients are having to cough up around 30 per cent more to be located here than in a more remotely located data centre, but for many, it's worth it.
Secure holdings
The whole notion of colocation does help contain costs. Customers are not paying for a dedicated area on their premises to be fitted out with their IT kit, which in some instances could be an expensive use of office space. That's all taken care of here, as it would be in similar facilities around the country.
"Another interesting thing that happens," says Keenan "is their insurance premiums go down because now they don't have all their IT on-site."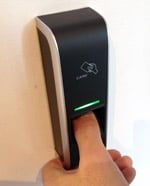 You need to get the thumbs-up to enter the building
Indeed, security is another factor and just to get around the place you'll find biometric tech installed on doors everywhere. The racks are all locked up and those sharing the aisles only get keys to their own kit. Security knows who goes in and out and I couldn't get beyond reception without first producing photo ID and consenting to fingerprint scanning.
With pinkie pressed on the scanner, entry functions much like a glass-panelled air lock for a single person; the door behind you closing before the other one opens. Called an anti-tailgating pod, it's not for claustrophobes.
If you'd rather not colocate in the same rack space, then you can opt for a suite. Indeed, IISS might not mind chatting about its tech activities but it's not complacent about its operations and has its own secure room within City Lifeline featuring various sensors and CCTV that link back to its own HQ monitoring it all, to ensure it's a tamper-free environment.
"If there's a fire, security always has an override on everything so it can do something about it," says Keenan. "If there was a cooling problem that needed fixing, we'd tell them first before going in there, otherwise we'd never go in there."