Blocks and Files A just-announced two-node NetApp FAS8040 cluster scored 86,072.33 IOPS [PDF] on the SPC-1 random I/O storage benchmark, with linear scale-out extrapolation suggesting it could do better than the FAS6240's performance.
The list price for the system was a smidgen below half a million bucks at $495,652.43, giving a list price/performance rating of $5.76/IOPS.
There was 84.2TB of configured storage capacity, using 450GB 10,000rpm SAS drives, and the configuration included two 512GB PCIe flash cards, one per node acting as a flash cache. The 8040 can have up to 12TB of flash as a virtual storage tier, but the SPC configuration doesn't list any such memory as a line item.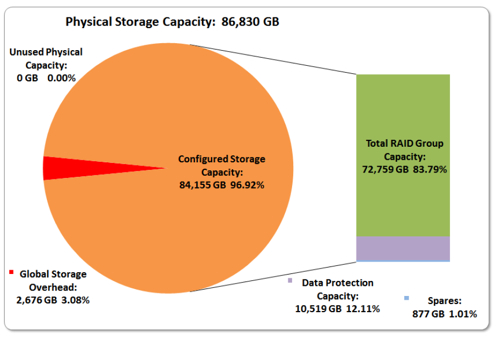 FAS8040 SPC-1 storage capacity
NetApp suggests that its FAS8000's performance grows linearly as nodes are added to a cluster. A six-node FAS6240 – part of NetApp's top end FAS6200 range, the FAS8000 being a mid-range array – achieved 250,039.67 SPC-1 IOPS. So, multiplying the two-node FAS8040 result by three to get a hypothetical six-node FAS8040 result, we get 258,216.99 IOPS, more than the actual FAS6240 result. Interesting, especially as there is a faster FAS8060 in the 8000 range.
Back to reality, here's a table showing the FAS8040 result and nine systems below it: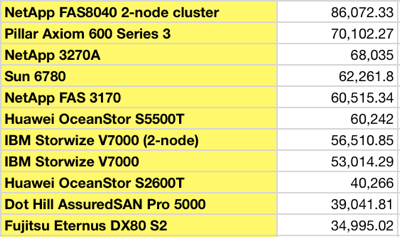 FAS8040 SPC-1 IOPS results and some below it
Let's look at the systems immediately above the FAS8040: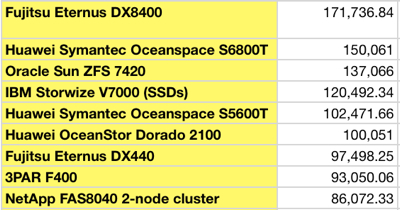 Nine systems better than the FAS8040 on SPC-1 IOPS
The FAS8040 is better than a tested Storwize V7000 configuration using disk drives but less good than an all-flash V7000; that's hardly surprising.
The most desirable comparison, with an EMC VNX, is not possible as EMC isn't exposing that system to SPC-1 benchmark visibility. HP's 3PAR F400 is faster than the NetApp array but not by much. As it's a 2009 vintage design it's not that relevant.
We're left feeling disappointed. Let's load an 8040 up with flash and see what happens. Let's try out a six-node 8060, loaded with flash, and see how that performs. There must be more to come, surely? ®