This article is more than 1 year old
Toshiba Encore: The Windows 8.1 tablet that might catch on
Don't be fooled by the fondleslab's feel...
Review Windows tablets have hardly set the world on fire. Limp processors, confusion in the mind of Joe Public over the difference between Windows proper and Windows RT, plus a lack of apps for the user-interface-once-known-as-Metro have all combined to dampen enthusiasm.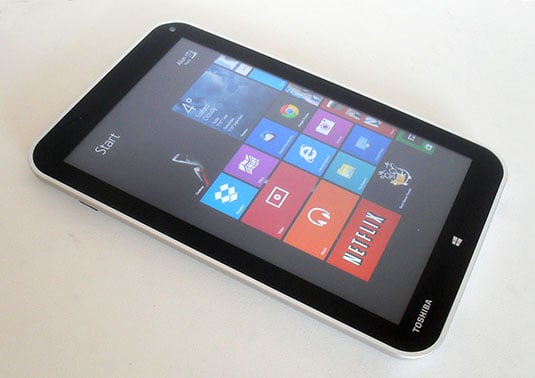 Mighty Atom: Toshiba's Encore 8-incher
The list of reasons is a long one. But with the arrival of Intel's new Bay Trail Atom CPUs and Windows 8.1 several OEM's including Dell, Asus and Toshiba are taking another stab at the idea. In my paws at the moment is Toshiba's effort, the £299 64GB Encore 8-inch tablet.
Initial impressions are frankly not that good. The design is solid enough, but there more than a faint whiff of the budget about the rounded, plastic faux aluminium back and the overall thickness of the thing. At nearly 11mm, it's much more chunky than the competing iPad or Nexus kit and weighing in at 450g too, it's hardly what you'd call light either.
If you covered over the Toshiba branding you would suspect it was made by Archos and commanded a price well south of £200. Take a look around the sides of the Encore and you'll discover that the microSD card slot is exposed to the elements. To be fair, a card will slot in far enough to make accidental ejection fairly unlikely.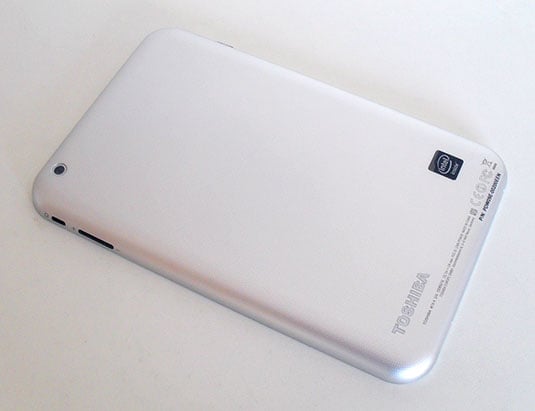 Don't be fooled, that's not a metal casing, it's plastic
The power and volume controls are not exposed enough though. You have to search for them and the push with rather too much deliberation for my liking and the fact that the Windows home button below the screen isn't illuminated or profiled can make it difficult to work out which way up you are holding the thing in the dark.
The screen goes some way to redeeming things. It may only have a resolution of 1280 x 800 – equivalent to 189 dpi when stretched across an 8-inch diagonal – but it's a IPS affair with broad viewing angles, plenty of brightness and good colour saturation.
The 8MP camera and 2Mp webcam are a cut above what you'd find on most tablets too, with image quality through both components appearing fairly impressive. When I first launched the main camera, the app crashed and Windows restarted itself to install an update which was a little worrying but everything has been reliable since then.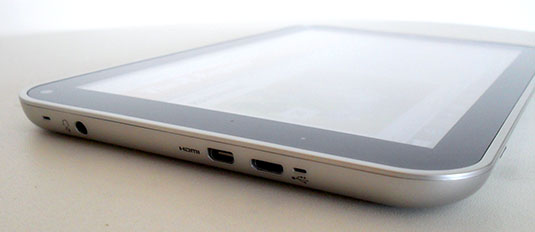 HDMI, microUSB and 3.5mm audio I/O all line up at the top
The Toshiba Encore is quite well connected too, with a micro HDMI port to partner the usual micro USB 2.0 socket. The Bluetooth 4.0 radio is bang up to date but the 802.11n Wi-Fi card only supports the 2.4GHz wavelength. A rather less common addition for a Windows tablet is the GPS receiver to pinpoint your location on Bing maps. The stereo speakers on the bottom of the Encore aren't too shabby but a little more volume would be nice.
I suspect the most common version of the Encore to be found at retail will be the 32GB version but I'd strongly suggest forking out the extra £50 for the 64GB machine. Windows 8.1 is many things but small is not one of them and my Encore showed only 52GB of nominal storage and even before I started loading it up that only equalled just under 40GB of usable free space.
If you have only 32GB to start with, then things will get very tight, very fast. Sure you can use the up to 32GB capacity micro SD to pick up some of the slack but I'm always happier with a decent wedge of built-in storage.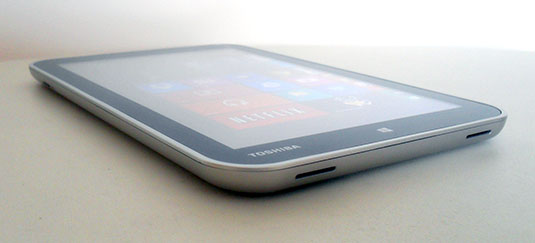 Stereo speakers are good for a tablet but could be louder
Hauling the coal inside the Encore is a quad-core 1.33-GHz Intel Atom Z3740 Bay Trail processor with 2GB of RAM and thanks to that – and the 32-bit incarnation of Windows 8.1 that runs this Tosh tablet – it can do everything a regular Windows laptop can do and subjectively it always felt pretty fast and fluid. Indeed, much more so than any Windows tablet running on previous generation Atom chips that I've tried.