A startup headed up by former Intel chip architect, Sun Sparc CTO, and Transmeta cofounder David Ditzel has developed a way to allow communication in 3D stacked chips without the expense and fabrication hassles of creating physical connections between the layers.
ThruChip Communications' ThruChip Interface (TCI) uses inductive coils that communicate layer-to-layer rather than the physical metal wires used by through-silicon via (TSV) tech to link a 3D chip's silicon layers.
TSVs are used, for example, in Micron's Hybrid Memory Cube (HMC) and Samsung's vertically stacked NAND (V-NAND) chips, and are under intensive study by a number of chip designers and fabricators.
While fast and effective, TSVs have a number of challenges – not the least of which being the difficulties of ultra-precise mechanical alignment in multiple-layer implementations, the need for process tweaks in their manufacture, and added expense.
TCI, on the other hand, fabs its on-die inductive metal coils in a straightforward digital CMOS process, and since it's a purely electrical process, there are no overarching mechanical issues – although alignment remains critical.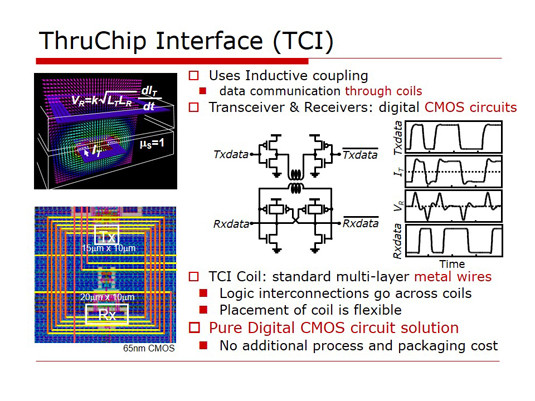 Inductive coils are like a teasing big brother: 'I'm not touching you! I'm not touching you!'
There's no need, however, for precisely drilled holes, no additional steps to add the TSV wires, and – according to ThruChip Communications, at least – it's all accomplished at "significant cost savings compared to TSV."
In addition, ThruChip Communications claims that TCI is fast, reliable, makes 3D chips consume less power and be simpler to test than TVS-based 3D chips, and that it's a simple matter to stack layers of dies created using different processes.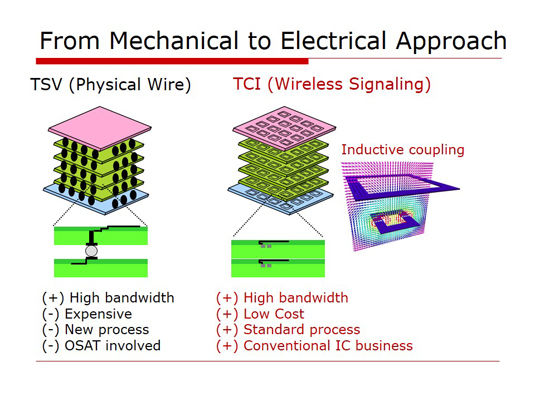 Standard CMOS process, no involvement of outsourced assembly and test (OSAT) houses – what not to like?
The technology is still in the proof-of-concept stage, but Ditzel, CTO Tadahiro Kuroda, and their team have created over two dozen prototype chips and systems based on TCI, including one 3D part that stacked 128 NAND layers using TCI interconnects.
They envision a number of different use cases for TCI: stacked NAND or DRAM, stacked FPGAs, memory parked on top of SoCs or other dies, and the like.
Should you be interested in incorporating TCI into a device you're working on, the team would be more than happy to talk with you. As they say on their website, "Yes, you do need a license to use ThruChip technology for 3D chip stacking applications, but don't worry, it's simple." ®
The Reg thanks EE Times' Rick Merritt for bringing ThruChip Communications to our attention in his Friday article on the startup and its technology.