'Polar vortex' or not, last month among the warmest Januaries recorded
Is warm-up mucking up climate and weather? Rush Limbaugh is certain; scientists aren't
---
It may come as a surprise to shivering citizens of the US lower 48 who are brittle from the "polar vortex" freeze-out – which is back, by the way – or soggy Brits wringing out from the recent floods, but last month was one of the warmest Januaries on record when measured globally.
How warm? It depends upon whose analysis you prefer. The National Oceanic and Atmospheric Agency (NOAA) says that first month of 2014 was the fourth warmest January in the past 135 years, while the Goddard Institute for Space Studies (GISS) ranks it number three.
Don't put too much stock in the different rankings, however. Both research groups work off the same data sets, but interpret the data a bit differently, with the rankings established by differences of as little as a couple hundredths of a degree.
In addition to these high global temperature rankings, a few regional details bear mentioning, as well. During the month, says NOAA, England received rainfall 91 per cent above average, and Western Australia's precipitation was about twice normal. In the US, the tables were reversed. Here in the western US, we had the driest January since 2003 and the fifth driest on record for the lower 48 – and California governor Jerry Brown declared a drought state of emergency.
Might you pop over a few tanker-loads of your excess aqua, mates?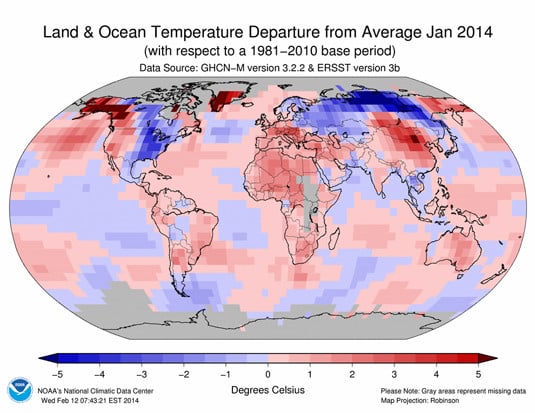 January's temperature anomalies according to NOAA ...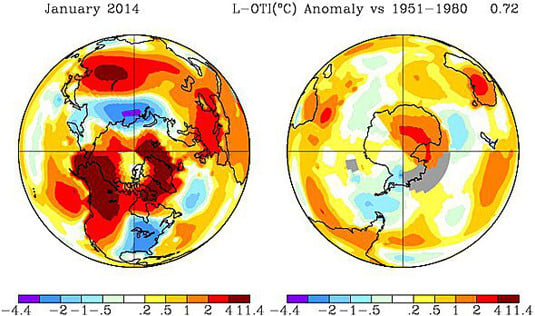 ... and the same period according to GISS
Needless to say, the oft-wacky weather of the past month has prompted fringe denialists and blinkered warmists alike to argue for their points of view on weather's relationship with climate change – and vice versa. The overall trend towards increasing oceanic and atmosphere heat loading has prompted some to assert proof that climate change is causing severe weather events; others point to snow and ice blanketing their communities as evidence against global warming at all.
The cold weather in the northeast US, for example, prompted ridicule of climate science by such noted atmospheric experts as Donald Trump, Rush Limbaugh, and senators James Inhofe (R-OK) and Ted Cruz (R-TX).
On the other side of the spectrum, news stories blaming droughts on climate change popped up in such venues as USA Today, but by and large the global-warming-to-drought linkage focussed on longer-term desertification, with stern warnings by such interest groups as the Natural Resources Defense Council and the Union of Concerned Scientists.
Climate change as a proximate cause of the frigid weather in the eastern US and the UK's wet weather was, however, postulated by more even-handed observers such as Professor Jennifer Francis of Rutgers University's Institute of Marine and Coastal Sciences, who offered her opinion that the weakening temperature differential between the Arctic and the tropics was causing the jet stream to meander and stall, causing weather patterns such as the polar vortex to remain in place for longer than usual.
"The pattern we've seen in December and January has been one of these very wavy patterns," she said. "It doesn't mean that every year the UK is going to be in a stormy pattern. Next year you could have very dry conditions, and for that to be persistent. You can't say that flooding is going to happen more often. Next year may be dry, but whatever you get is going to last longer."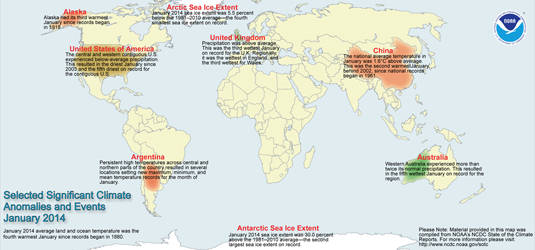 Want to argue for or against global-warming induced weather? January offered some tempting talking points
(click to enlarge)
Perhaps the most sober outlook on the relationship between the overall global warming trend and this January's extreme weather was expressed by a quintet of climate scientists writing in this month's Science.
"Some have been touting such stretches of extreme cold as evidence that global warming is a hoax," they wrote, "while others have been citing them as evidence that global warming is causing a 'global weirding' of the weather. In our view, it is neither."
These five worthies didn't shy away from the "prevailing view in our community" that the globe is warming and that Man is a contributing factor, but they argue that linking the global-warming induced loss of sea ice in the Arctic to more-severe winter weather events is as yet unsupportable.
To make that argument the "centerpiece of the public discourse on global warming is inappropriate and a distraction," they write.
"Even in a warming climate," their article concludes, "we could experience an extraordinary run of cold winters, but harsher winters in future decades are not among the most likely nor the most serious consequences of global warming." ®
Bootnote
Here's a bit of weekend fun: New Scientist recently published an interactive, zoomable map of regional temperature changes throughout the world from 1894 through last year. Just dial a date range, then either click on a location on the map or type in the name of your city and country, and discover how temps have changed around your digs during your chosen period of time.