Mozilla takes wraps off 25 DOLLAR Firefox OS smartphone
Predicts 'flood' of cheap mobes for emerging markets
MWC 2014 Ever in search of the next few billion people who will access the internet for the first time in the coming years, Mozilla has unveiled a reference design of a smartphone that it says could sell for as low as $25 (£15).
The entry-level prototype running Mozilla's Linux-and-HTML-based Firefox OS was unveiled at the Mobile World Conference in Barcelona on Sunday.
Mozilla has long targeted the low end of the smartphone market with its Firefox OS hardware, rather than get torn to bits trying to compete with the likes of Apple and Samsung on the high end. But its cheapest kit so far, the ZTE Open, still retails for $80 globally.
What makes the new ultra-low price point possible, Mozilla says, is a new system on a chip (SoC) developed by hardware partner Spreadtrum, a Chinese fabless semiconductor company that specializes in building reference designs and turnkey device designs for OEMs.
Previous Firefox OS handsets have all been based on Qualcomm Snapdragon SoCs, as are some new devices being shown off at this year's MWC.
"The efficiency that Spreadtrum brings to the process is going to enable, I believe, a flood of $25 smartphones," Mozilla COO Jay Sullivan said in remarks at the conference on Sunday night.
Spreadtrum's new part, dubbed the SC8621, combines a single-core ARM Cortex-A5 CPU clocked at 1GHz with 1GB LPDDR1 RAM and 2GB NAND flash storage. It supports screen resolutions up to HVGA (640 by 240), or QVGA (320 by 240) on devices fitted with QWERTY keyboards, and it includes basic support for Wi-Fi, Bluetooth, FM radio, and 2Mp cameras.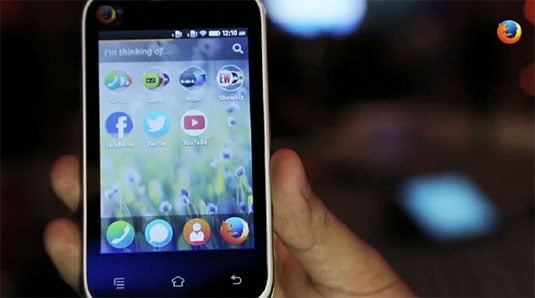 It's low-end and has a 3.5-inch screen, but it won't break the bank: Mozilla's Jay Sullivan shows off the $25 Firefox OS phone
It's certainly no powerhouse by today's standards. But then, previous Firefox OS devices have had similarly modest specs. One of the advantages of Mozilla's mobile OS is that it can run on very low-end hardware – to say nothing of the low cost of the OS to OEMs, considering that it's developed as an open-source project with a fully open ecosystem.
"The point of all this is we're trying to bring people online," Sullivan said. "There are many people who are going to move from a feature phone to a smartphone in the next couple of years, and many people who have never even had a feature phone are going to come online as well."
Indeed, capturing share in emerging markets has been one of the key themes of this year's MWC. On Sunday, Microsoft VP Joe Belfiore told Bloomberg that Redmond has similarly been working with Qualcomm to develop an SoC that could be used to build ultra-cheap Windows Phone devices.
As for when the first $25 Firefox OS mobes might appear, however, Mozilla didn't say. The device demoed at MWC was merely a reference prototype, and a manufacturer has yet to sign on to build them.
In the meantime, however, ZTE – one of the first hardware makers to offer a Firefox OS device for sale through carriers – announced two new handsets running the web-based OS on Monday, although retail pricing was not specified. ®