This article is more than 1 year old
Nokia launches Euro ANDROID invasion, quips: 'Microsoft knew what they were buying'
Finnish mobe maker pees its pants at X-series news
MWC 2014 Microsoft was aware of Nokia's plans to release a range of Android phones, the man in charge of the new range told us today. And the new Nokiadroids - of which there are more than anyone predicted - will be coming to the UK - possibly sooner than anyone realises.
Timo Toikkanen, Executive Vice President of Nokia Mobile Phones said Nokia had been watching the growth of the cheapies segment for two years. Toikkanen is responsible for any phone that isn't a Lumia smartphone or tablet.
"Microsoft knew what they were buying", he told us. "You don't do a deal like that without doing due diligence."
Asked if the Android-based X range would be coming to wealthier markets, Toikkanen replied that everywhere he sells phones today would get Nokia X devices. That's 160 markets worldwide - but doesn't include North America or Japan. So Nokia will not attempt to preserve Lumia by "geofencing" the X range to emerging markets.
Nokia's cheapies, I wrote a month ago, are "not for the likes of us". Well, apparently they are after all. So while the "Nokiadroid" itself was widely predicted, with disbelief slowly diminishing, nobody predicted how aggressively Nokia would fight the prospect of low-end obsolesence.
The deal means Microsoft will be making Android devices when it completes the acquisition of Nokia's phones division. But perhaps not "Android" as the punter understands it: that is, a Google-phone crammed with Google apps and services and plastered with Android widgets, looking like a child has tipped several different jigsaws onto a glass table. Everything Googly and Scroogly has been stripped out. Nokia could have made more of the privacy benefits – Google is mostly a data collection agency these days – but it can let Microsoft do that.
Nokia's X range is more like Amazon's Kindle Fire tablet, only with a much more radical makeover. It's barely recognisable as an Android device at all, and the skin takes away the rough edges replacing stock Android entirely.
It's done all this to sell a lot more phones of course. IDC's Francisco Jeronimo estimates the Android market will be 2.5bn by 2017, up from 1.2bn today. And much of this is a new middle class from what were originally called BRICS (Brazil, Russia, India, China, South Africa) but have since been augmented by overlapping permutations such as TIMBIs (Turkey, India, Mexico, Brazil and Indonesia). Not to mention countries such as Vietnam, which has seen GDP consistently grow at around 5 per cent and (we pointed out recently) has a better mathematics system than the UK.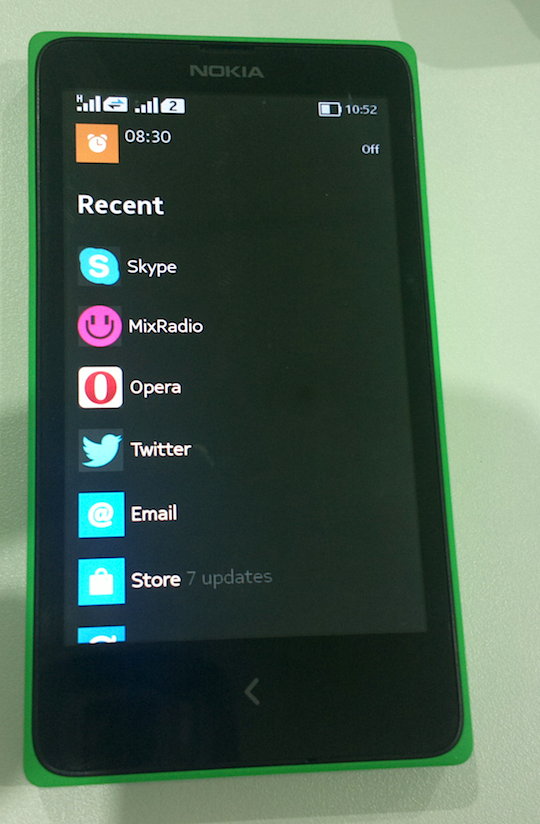 The Fastlane feature gathers notifications and recent people and apps.
In reality Nokia had no option, either. Ignoring making Androids would be too costly to contemplate. A low cost platform had to have an "ecosystem" and Android is really the only game in town. Nokia is admitting the obvious: that the Series 40-based Asha had simply run out of puff. Series 40 was originally 'NOS', or the Nokia Operating System - powering its growth to the top of the industry in the 1990s. It's generous to call it an operating system at all. Yet it had outlived Symbian, the OS Nokia had intended to replace it , and in past years had been loaded with Java to present a slicker experience to budget users in Asia and other price-sensitive emerging markets.
Yet despite the slick and attractive Fastlane UI, it's struggling to keep up. It can't multitask and the screen is a throwback to the EGA era. Eighteen months ago the odd Asha phone trickling into to the UK cost around £100. The most recent (until today's announcement) Asha 503 cost £49.99 SIM free in the UK. Today's Asha cost €49. It's simply run out of road.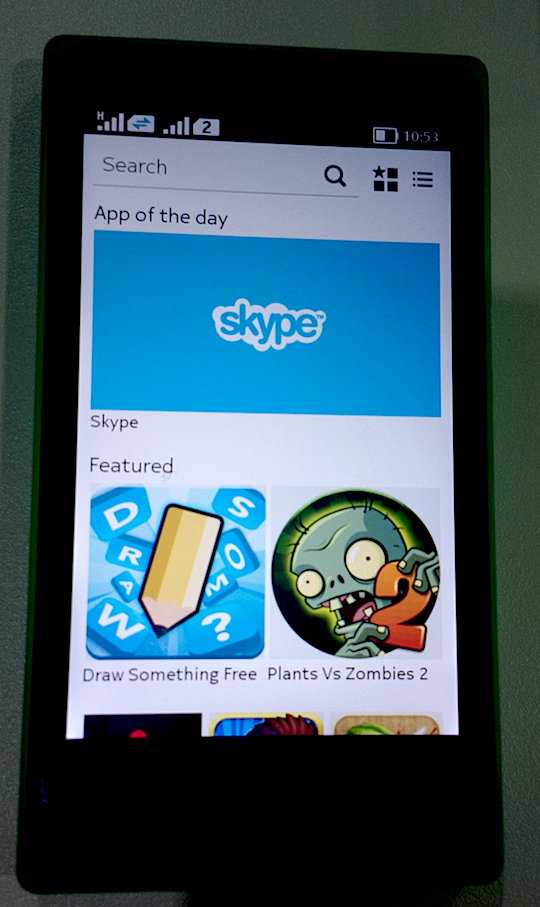 The Nokia Store for X, "curated" says Nokia. Which means they should at least run.
And it's a blessing in disguise for Microsoft's service division, too.
Since the Nokia deal was announced in September, Microsoft has been batting away questions that it would flog off the "legacy" Mobile Phones division that came with the deal, as soon as it could. But surely today, this division is a lot less "legacy" than it was 24 hours ago? If Microsoft doesn't put its services in front of that next 1.6bn-strong smartphone audience, it risks becoming the Aga or Zimmer of technology industry - a brand trusted by old people, but not used by anyone else. And again, with no one willing to combine to create a platform with developer buy-in, Android is the only game in town.
Toikkanen and other Nokia executives had to field a lot of questions about overlapping price points and cannibalisation today. I pointed out that the Lumia 520 could be bought for £69.95 today in the UK. That's about the price of a pint of beer less than the €89 (£73.45 at today's rates) Nokiadroid. That shows this isn't a hypothetical.
Microsoft is changing the Windows reference design so much cheaper Windows Phones can be built - without cameras for example, or discrete hardware controls.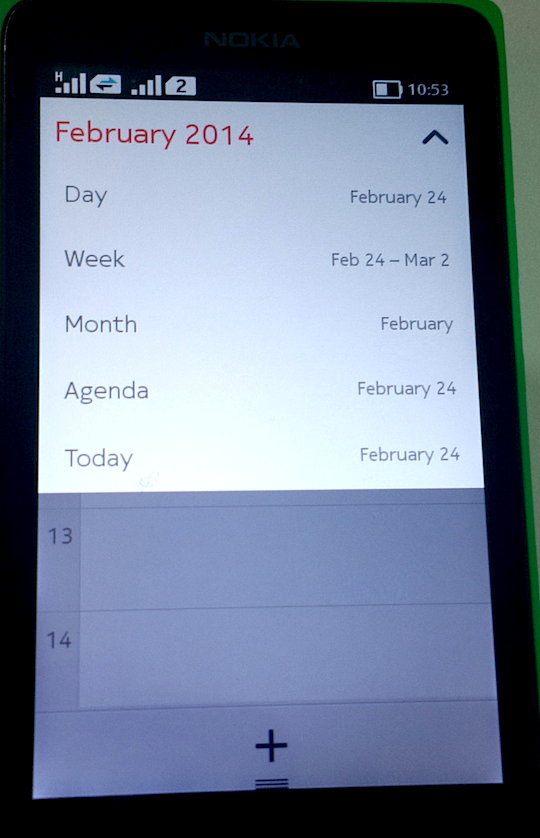 Calendar settings.
Toikkanen replied that the figure I quoted is a subsidised price for the Lumia 520. But it's what the punter sees when they go shopping - would they know or care? One phone does Android apps, and the other doesn't. The official response is that Lumia still offers more: access to Office, Xbox and a slicker and snappier experience. Nokia says that after much market research it doesn't fear cannibalisation. It's going to be taking share off other Android manufacturers, particularly no-name devices. ®
Peenote
Many moons ago, outgoing Nokia veep Anssi Vanjoki compared phone manufacturers adopting Android to Finnish boys who "pee in their pants" to keep warm.