MWC 2014 Sony has announced the new Xperia Z2, an Android KitKat phone, as a predictable progression on the Z1 and has enlisted the help of the its single-gloved departed partner, popstar Michael Jackson, to help pimp it out.
Despite the slightly larger 5.2-inch screen size, the new phone is a mere 2.8mm lengthier than its predecessor at 146.8 x 73.3 and retains a thickness of 8.2mm, although it has slimmed down to 158g from the Z1's 169g. Like the Z1 it is waterproof (to IPX5 and IPX8) with a seamless aluminium frame and tempered glass.
The message from Sony is that Sony Mobile is now a full member of the Sony family and this was backed up by VIP rows at the press conference that were packed with Japanese execs.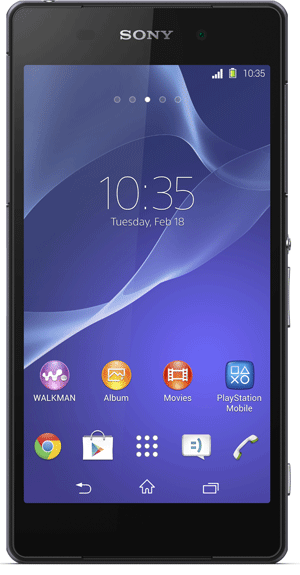 To promote the new phone, Sony announced a deal with the estate of Michael Jackson, not the first time the Thriller star has risen from the dead. Sony Music is, of course, the relevant record label... In a a tacked-on "and one more thing", Sony President Kazuo Hirai announced more integration with Sony content, but without giving any details. This could have been a major play for Sony Music Publishing and over 10 years ago was seen as the greatest asset of the company but now it is perhaps too late.
The integration with the Sony hardware family means the Z2 can shoot 4k (3840×2160 pixels/30p) video – after all, all those beautiful 4K Sony tellies need to get their content from somewhere. There is a combination of hardware and software to give image steadying and a 120-frames-per-second mode ,which can do slow motion effects along with a range of other creative effects such as water and the ability to overlay cartoons so that you can make your own version of Who Framed Roger Rabbit. You can't however see 4k on the phone as it's 1920 x 1080, but then on a 5.2-inch display 4k might be excessive. Even the front-facing camera is 1080p at 2.2Mp.
The phone and some new high quality headphones implement digital noise cancelling to give up to 98 per cent reduction in ambient noise.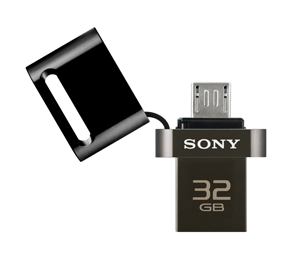 The phone has a 20.7MP camera, with a Qualcomm Snapdragon 801 quad-core Krait processor running at up to 2.3 GHz with separate GPU. It also has a 3200mAh battery and microSD support – plus Sony also announced a very neat new USB memory stick with both traditional and MicroUSB connectors (pictured left).
M2 and other March launches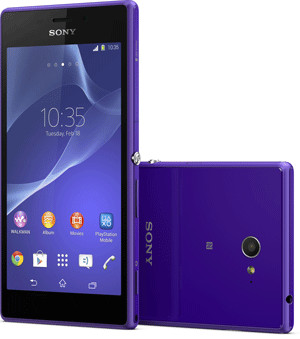 Sony is unashamedly high end – it once tried mass market products as part of its Sony Ericsson joint venture but its salespeople apparently couldn't get their heads around the idea. However, there is a new mid-range handset, the Sony idea of cheap, a 3G phone called the M2. This has a 4.8-inch screen, 960 x 480 display, measures 40x71x8.6mm and weighs 148g. It runs JellyBean Android (4.3) on a 1.2GHz dual core Qualcomm processor. There is NFC support – the device is touted as being for sharing but Sony seems to have given up on the idea of using NFC tags to change phone profiles – something launched at MWC a couple of years ago. There is an 8MP camera and 2300mAh battery which Sony claims is good for over 14 hours of talktime or nearly 700 hours on standby.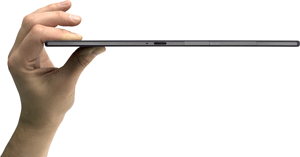 Sony also announced the beautiful Xperia Z2 tablet, the "World's slimmest and lightest waterproof tablet for its size". It has 10.1-inch 1920 x 1200 pixel display, 8MP camera, quad core 2.3GHz processor and 6000mAh battery together with a neat looking Bluetooth dock and remote control which doubles as handset.
The company has history in wearables and was also displaying a device called the core, which fits into a wristband, which the user buys either from Sony or a number of second-tier fashion companies. The band integrates with the Sony Lifelog application to measure sleep patterns, steps taken, calories burned, photos you've taken and music you've listened to.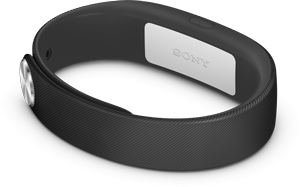 The Swedish demonstrator was chosen to explain how she used the app to chart what she did on her birthday – possibly because she has a more interesting life than either the Sony Mobile president or the Barcelona footballer they asked to try it. Indeed there was an implication from the president that the application puts pressure on you to do more in life so you have more to blog about. Privacy issues were not mentioned. Lifelog will be open with an SDK to come soon. To show what it can do, the Japanese firm showed off a concept of a Lifelog camera, which automatically shoots handsfree pictures through the day.
Such things are not new, Nokia worked very hard on "life blogging" in the early 2000s and Motorola talked about the idea of a constant wearable camera on a press trip to its Milan studio at around the same time. As far as your correspondent is concerned, I couldn't see why you would want it then and not much has changed since.
The Sony products look and feel fabulous, but the company, which in the interests of transparency I need to explain used to employ me, feels a little lost. ®
* Not just MJ's imperative as famously used in Beat It, Thriller, Billie Jean et cetera but indeed, a wandering Buddhist monk in Japanese...