This article is more than 1 year old
Cheap'n'cheerful Chinese mobesters ZTE launch Firefox phones
Billion-unit shipment hopes for Open C and Open II
MWC 2014 As Telefonica pushes Firefox as a foil to the dominance of Apple and Android, ZTE is keen to play ball with a couple of new Firefox phones. Called the Open C and Open II, they are looking to ship more than one million devices this year. The new phones run Firefox OS 1.3.
It's Telefonica's strategy to sell Firefox phones to users in markets where digital watches are still seen as being a pretty neat idea and so catch the smartphone audience before they fall into the clutches of the evil over-the-top players.
This means that the real push for ZTE is in Venezuela and Uruguay, although they also sell in the UK and US through eBay.
Mozilla has worked closely with Qualcomm so it's no surprise that it has a Snapdragon processor, in this case a dual-core CPU. ZTE claims that as Firefox OS consumes fewer resources, the 1400 mAh battery on the Open C lasts for at least six to eight hours, "even when watching videos or listening to music for a long time." It's available in dark blue, light blue, turquoise, red, white and orange.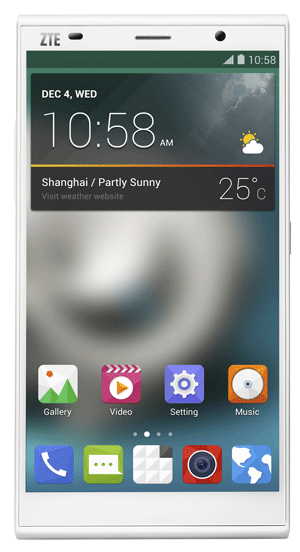 The ZTE Grand Memo II
The Open C is a 3G phone with a three megapixel camera, 4-inch 800 × 480 pixels screen and measures 126 × 64.7 × 10.8 mm.
The ZTE Open II is cheaper, being a 3G phone with a two megapixel camera, 3.5-inch 480 × 320 pixels display, 256 MB of RAM and a smaller 1150 mAh battery. It measures 118 × 61 × 10.5mm.
ZTE isn't completely wedded to Firefox; it also announced a new Android KitKat phablet: the Grand Memo II. This LTE phone has a 6" Gorilla Glass-covered IPS display with narrow bezels and runs ZTE's new MiFavor 2.3 user interface. At 161.5x83x7.2mm it's pretty slim. There is a 13MP rear camera and 5MP front camera which is optimised for video calling. The device will first launch in April in China, followed by simultaneous launches in Europe, North America and Asia Pacific.
ZTE is struggling to move up-market and has been seen by the operators as an option for when they want to buy cheap stuff. That's helped its market share – ZTE is now the fifth biggest manufacturer in the world – albeit that leaves it fifth in a list which includes Samsung, Apple and everyone else.
ZTE tries to address this by selling the more upmarket products direct to the public but will need significantly upmarket products to win hearts and minds. ®