Imagination details mucho macho PowerVR GX6650 mobile GPU
Headed to the next-generation iPhone and iPad?
MWC 2014 At last month's Consumer Electronics show, UK chip designer Imagination Technologies unveiled its new PowerVR Series6XT Rogue GPU architecture for SoCs. On Monday at the Mobile World Congress in Barcelona, it released details of what it calls "the shining star of the PowerVR Series6XT," the PowerVR GX6650.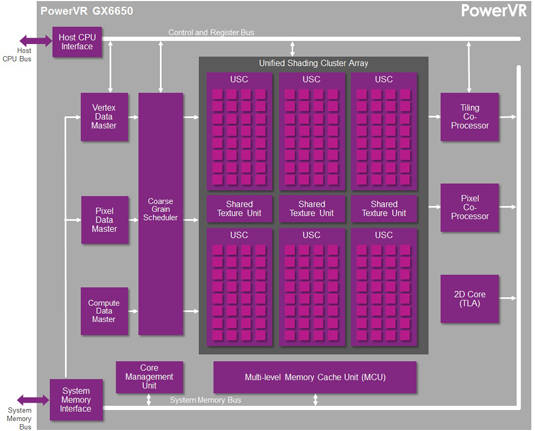 192 cores, no waiting (click to enlarge)
The new GPU design, company spokesman Alexandru Voica writes in a blog post, is "the most powerful GPU IP core available today" and "our fastest GPU to date."
It appears that Voica is not overstating his case. The PowerVR GX6650 has 192 cores arranged in six of what the company calls Unified Shading Clusters (USCs). Of course, the concept of exactly what a "core" is can get somewhat muddy when you're talking about GPUs, but Imagination offers a helpful blog post explaining how it does its counting.
No matter how you chose to define a GPU core, however, there's one PowerVR GX6650 stat that's inarguably impressive: it has a throughput of 12 pixels per clock cycle, a rate that Voica says is "up to triple the number of our competitors."
If you count among its competitors Nvidia's Tegra K1 mobile GPU, based on that company's Kepler architecture – a fair comparison, in our opinion – Voica is correct. As AnandTech notes in their own look at the PowerVR GX6650, the Tegra K1's pixel throughput is four pixels per clock.
As Voica points out, gigaflops are all well and good when evaluating GPU performance, but if you're pushing a plethora of pixels out at, say, a 4K video display, pixels-per-clock become a metric worth watching.
Being a mobile chip, power management is an important factor in the PowerVR GX6650's design. Accordingly, the li'l beast incorporates the second generation of Imagination's PVR3C texture, frame-buffer, and geometry compression for higher efficiencies, and PowerGearing G6XT for dynamic demand-based management of the six USCs and other GPU elements.
So where might we see the PowerVR GX6650 appear? Well, earlier this month Apple and Imagination announced that they were extending their multi-year, multi-use license agreement – an announcement that immediately goosed the UK company's stock price.
Although Apple – of course – has made no statements about which Imagination GPU design that might appear in any of its future A-series application processors, we wouldn't be surprised to find PowerVR GX6650 IP in a future iPhone or iPad SoC. ®