This article is more than 1 year old
LG offers BRAIN-SAVING CANCER-BL... er 'good luck charms'
Quick, block those evil waves ... before they make your phone work
MWC 2014 What LG would like us to be writing about is its Knock Code – a system which takes the idea of drawing a shape to unlock a phone and replaces it with a Simon-style pattern of taps. That might have been the case if LG hadn't chosen to promote the technology by handing out a, ahem, "radiation shield".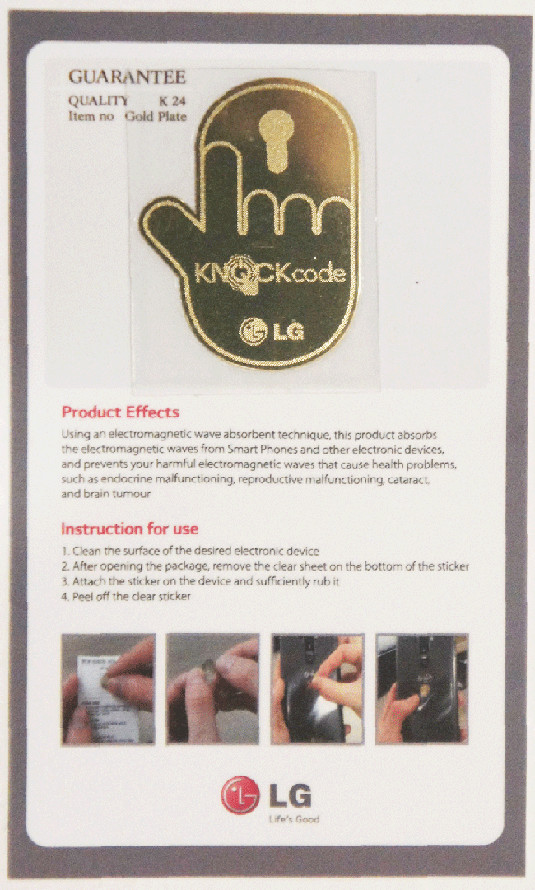 This will "protect" you, but not from marketing bollocks
The gold sticker is labelled a with the term "Product Effects"... It reads:
Using an electromagnetic wave absorbent [sic] technique, this product absorbs the electromagnetic waves from Smart Phone [sic] and other electronic devices, and prevents your harmful electromagnetic waves that cause health problems, such as endocrine malfunctioning, reproductive malfunctioning, cataract [sic] and brain tumour.
Ignoring the interesting use of English and that this is akin to the vegetarian society handing out promotional bacon sandwiches, the idea that – even due to the misguided ideas of a publicity firm – a respectable mobile tech company would endorse a product where the science is so thoroughly discredited gives us pause.
There has been good and detailed study of possible effects of mobile phone radiation and all the studies have turned up a response along the lines of "we can't find anything".
And all this leaves aside the simple science that if the gew-gaw did indeed, er, "absorb" the electromagnetic waves – then the phone you've so carefully "cleaned" and to which you'd attached the well "rubbed" sticker would stop working.
LG's Ken Hong admits that it was a mistake to bring the stickers – which are apparently given away in shops in South Korea – to the show, but attributes this to cultural differences. He says that they are seen as good luck charms, that people regard them as we would a four-leafed clover and don't really think they do anything.
Hong also says the translation of the blurb makes it appear to be far more serious and scientific-sounding than it actually is, arguing that it wouldn't be anything quite as intimidating in the native Korean.
Following my intervention, LG are now no longer giving them out at Mobile World Congress which I suppose makes mine a little bit of a collector's item. ®