This article is more than 1 year old
Final LOHAN test flights codenamed 'Punch' and 'Judy'
That's the way to do it - we sincerely hope
The grand finale of the Low Orbit Helium Assisted Navigator (LOHAN) saga is approaching, and is now so tantalisingly close you could almost reach out and stick a match to it.
It's been a long, winding road, to be sure, but we still have a few things to wrap before we can finally see what happens when you stick a rocket motor in a 3D-printed spaceplane and blast it into the stratosphere.
On Saturday 5 April, a British contingent of the LOHAN team - comprising myself, Dave Akerman, Rob Eastwood, Paul Shackleton and Anthony Stirk - will assemble at an unspecified location somewhere in the west of England and dispatch two balloon missions heavenwards.
The first - dubbed "Punch" - will carry a Cesaroni rocket motor to 20,000m to determine once and for all if our custom igniter will indeed persuade LOHAN to breathe fire at altitude.
LOHAN regulars know this has been one of the most challenging aspects of the project. Tests began back in July 2012, when a first outing for the Rocketry Experimental High Altitude Barosimulator (REHAB) hypobaric chamber...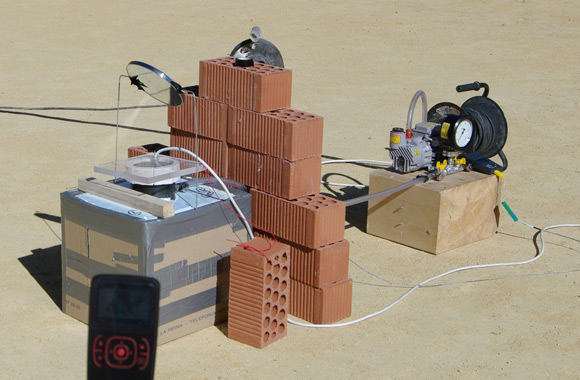 ...rather irritatingly ending in forlorn fizzling as the off-the-shelf igniters failed to deliver at a pressure equivalent to an altitude of around 23,300m. The reason, we suspected, was due to lack of heat transfer from igniter to charge in a oxygen-light atmosphere, so evidently more fire was in order.
Enter reader Rob Eastwood, Head Firer for Flashpoint Fireworks, who brewed up a more incendiary custom igniter: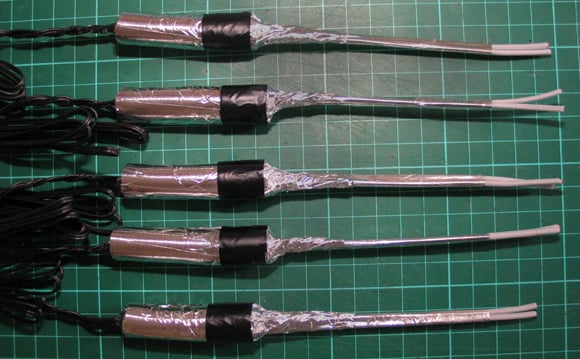 While this magnificent assemblage did indeed get a motor to go bang in REHAB...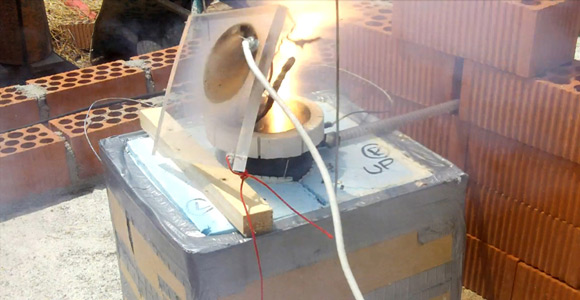 ...we hadn't yet tested the full effects of altitude+cold.
Fast-forward to July 2013, when a high-altitude test of the igniter under the control of the Special Project Electronic Altitude Release System (SPEARS) board revealed that the PIC component, while having previously demonstrated no objection to low pressure, didn't much like the chill.
Here's a post-flight snap, showing how the PIC began to burn, then gave up the ghost: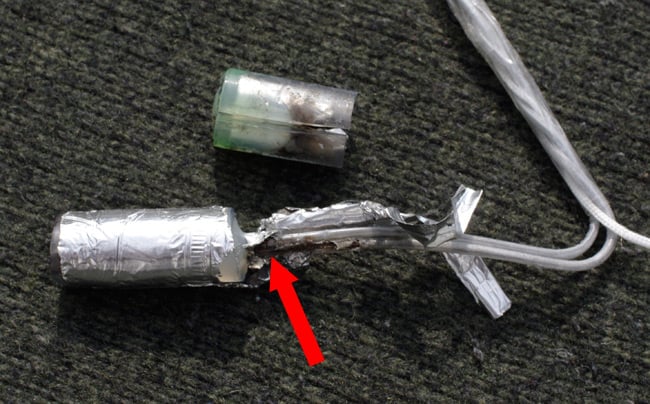 So, it was back to the drawing board and a new igniter of classified composition which went off with a satisfying pop at 20,000m:
Cue happy faces for (from L-R) Claire Edwards, Paul Shackleton, Dave Akerman and Rob Eastwood...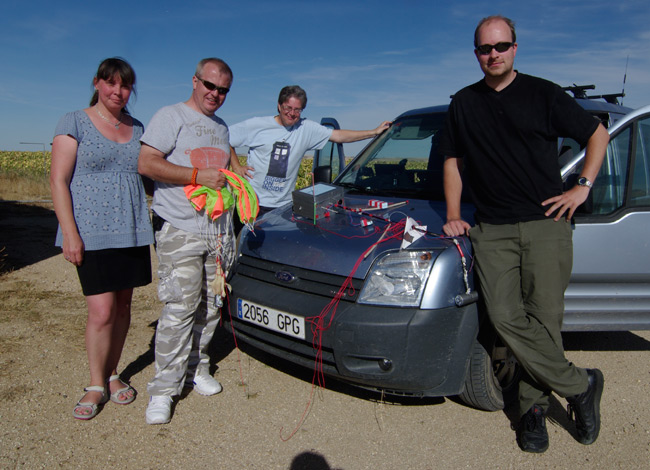 ...albeit tempered by the fact that we hadn't been able to deploy a loaded rocket motor due to the risk of setting fire to the sun-scorched Spanish countryside and spending some quality time in jail.
Now, finally, we'll send up the igniter plus a motor, and that will (we sincerely hope) be an end to the matter. Since the last flight, the ever enthusiastic Paul and Rob have been eyeing an even more awesome fire-breathing device, the exact composition of which must remain under wraps for now but will be revealed in due course.