Judy: Let's just test this lovely motor toaster, shall we, children?
The second 5 April flight – codenamed "Judy" – will carry the Vulture 2's full-fat Cesaroni 54mm 3G case wrapped in its space-grade Polyimide Thermofoil flexible heater...

...and a heatshrink overcoat, and ultimately connected to a LiPo and thermostat rig: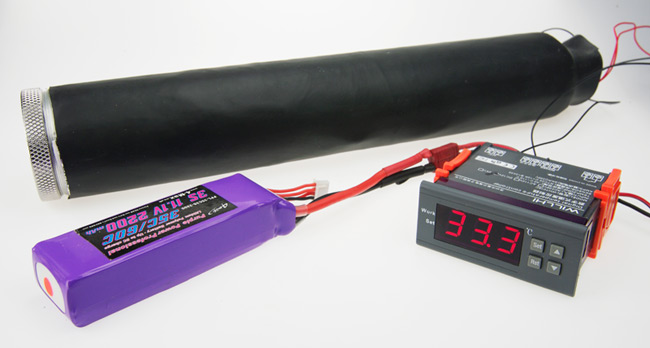 There's more on this set-up right here, but suffice it to say, the thermostat is on hand to prevent possible heater meltdown in the absence of air at altitude.
Quite honestly, we have no idea what will happen, so a quick jaunt heavenwards is the best way to find out.
As well as the two main tests, Punch and Judy will help us check out the performance of a few of our mission cameras which haven't yet enjoyed a lovely day out at -50°C.
As ever, the balloon launches and pursuit will be streamed live on the interwebs, while radio hams can lend a helping hand by tuning into mission trackers. We'll provide full details as the event gets closer. ®
Bootnote
Yes, yes, all of that's absolutely fantastic, we hear you cry, but why "Punch" and "Judy"? Well, the missions are named in honour of two of my mutts, seen here on left and right with their sister Richard in the centre.

That's right, when I got this trio as small puppies, the desire to name them Punch, Richard and Judy was overwhelming, despite protests from the kids that Richard is a actually a girl. "I don't care, it's too bloody funny," was my response.
And so it was, until I had to attempt to explain the gag to Spanish locals, who tried not very hard to listen patiently to tales of murderous puppets and their wives, British TV personalities, and how their names could be effortlessly intertwined to great comic effect. ®
---
More from the lovely LOHAN:
---