Microsoft has shipped Office 2013 Service Pack 1, the first major update roll-up for the latest iteration of its desktop productivity software.
The release applies only to traditional, perpetual-license versions of Office that were installed from media or by downloading a standard Windows MSI installer.
Versions of Office that were installed via Redmond's Click-to-Run application streaming technology – including Office 365 subscriptions and some trial versions of Office that come preinstalled on new PCs – should already be mostly up to date and will automatically receive the latest updates during the next regular patch cycle.*
As with past Service Packs, this release includes all of the Office 2013 updates that Microsoft has shipped since the product became publicly available in November 2012, up through December 2013 for Cumulative Updates and through January 2014 for Public Updates (which can include critical security fixes).
Among the new features introduced in SP1 are better support for Windows 8.1 and for certain hardware, including high DPI screens and the "precision touchpads" found in some new Windows 8.1 laptops.
The Service Pack also does a little marketing nip-and-tuck, replacing all instances of the word "SkyDrive" with "OneDrive," in keeping with the branding change Microsoft was forced to make after losing a trademark dispute to British Sky Broadcasting. The former SkyDrive Pro app has been renamed OneDrive for Business.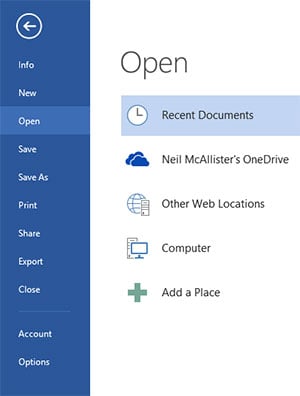 Microsoft gets its branding sorted out: Now only Windows
still remembers when it was called SkyDrive
The security fixes are the most important benefit of the update, however, and you can find a detailed breakdown of just what they cover here.
Office 2013 Service Pack 1 is available from Microsoft Download Center beginning on Tuesday in both 32-bit and 64-bit versions. Once installed, the Office applications will be at version 15.0.4569.1506 or higher.
If you don't feel like installing the update now, however, you should still get ready: Redmond says it will begin pushing it out to all Office 2013 customers via Microsoft Update within the next 30 days.
Concurrent with the update for the desktop suite, Microsoft has also shipped Service Packs for the major Office 2013 server components, SharePoint and Exchange. As described here, Exchange SP1 offers security enhancements, UI improvements, and support for Windows Server 2012 R2, while SharePoint Server SP1 provides typical hotfixes. ®
Bootnote
* This Service Pack demonstrates a gripe we have with Click-to-Run versions of Office. Microsoft says Office 365 subscribers and users of other Click-to-Run versions are "always up to date," but that's not strictly true. Users who have installed the suite from media can download Office 2013 SP1 today, but the update installer won't work on a Click-to-Run version, and there's no telling when Microsoft will stream the fixes to its Click-to-Run users.
A workaround, however, is to go to the File->Account menu in any Office Click-to-Run application and disable updates under Update Options, then re-enable them a few seconds later. That should force the software to check for updates, and the SP1 fixes should begin downloading momentarily.
You'll still need to manually agree to shut down any Office components that are running before the fixes will actually install, however – including background OneNote services that run all the time – which doesn't seem like much of an "automatic update" to us.
Similar topics