All-flash array start-up Astute is adding NFS access and OpenStack support as it tries to broaden its SMB customer appeal through file and cloud functionality.
Astute Networks was founded in 2000 to accelerate TCP/IP networks. After two or three years it transitioned into embedded and military flash systems and then, a few years later, went through a second transition to become an all-flash array supplier to small and medium businesses.
Its funding history, according to TechCrunch, looks like this:
$16m in 2001
$15m in 2004
$10m in January 2009
$0.66m debt funding November 2011
$12m B-round June 2012, with Samsung taking part,
$0.95m debt funding February 2013
The B-round is termed a B or second round because it was the second funding exercise for Astute once it became an all-flash array supplier.
We write about Astute once a year. In August 2012 we said it had a ViSX fourth generation networked all-flash array using a DataPump ASIC to offload TCP/IP and SCSI processing from the CPU. The flash was eMLC-grade and you could have up to 9.6TB in a 2U rack box. VDI was identified as a use case, with iSCSI block access, and the CEO was Steve Topper.
Fast-forward to April last year and we learnt Astute had an MLC flash version of the ViSX array, with up to 45.6TB in the enclosure, plus an optional deduplication feature and sync/async replication. The CEO was now Bob MacKnight and he is still in position today.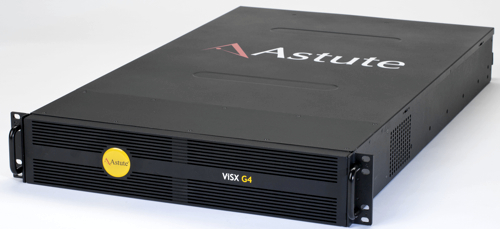 Astute 4th generation ViSX array
Astute's ViSX array offers 140,000 IOPS sustained throughput, with read, random or sequential at 140K and write, random or sequential at 90K.
It states: "Applications such as virtualised databases, SharePoint and VDI have demanding I/O performance characteristics that legacy storage architectures were never designed to support. The Astute ViSX performance storage appliance was purpose-built to address these I/O-intensive applications. ViSX eliminates all critical I/O bottlenecks that affect application and virtual desktop (VDI) performance and delivers unprecedented random IOPS performance and IOPS per dollar."
The company thinks it has the lowest $/IOPS number of any array provider - "Best performance per dollar of any flash solution" - although it was not able to show us any comparative numbers to substantiate the claim.
OpenStack and NFS
Here we are in February 2014 and the big news is that ViSX OS v5 version offers OpenStack support through Cinder, and NFS access has been added alongside the existing iSCSI block access, NFS v2, v3, and v4.0 are all supported.
Keith Klarer, an Astute founder and its VP of engineering, said: "OpenStack deployments for VDI and for relational database consolidation are two applications in which users can see an immediate and meaningful ROI by deploying our flash storage systems. There is also significant interest in our flash storage when implementing object database systems in environments that need high object access performance, or low access latency."
The OpenStack Cinder standard is supported by ViSX as both an iSCSI target and NFS server. Grizzly and Havana OpenStack releases are supported. It intends to keep current with OpenStack progress and Astute says it expects to be among the first vendors supporting the next Icehouse release. The OpenStack support is intended to widen Astute's potential customer base to include public and private cloud service providers.
This base is served by a dozen or so qualified channel partners for Astute in North America. Expansion into Europe and Asia is no doubt dependent on business success with the current products.
Astute's website says "ViSX appliances also optionally offer integrated in-line de-duplication."
What are we doing? It depends what you want
We hear from marketing head Jeff Whitney that adding deduplication into ViSX OS is a roadmap item, along with compression.
"The original plan was to bring all of our features to market at once," Whitney told us, "and you will find in [a previous] high level graphical image of the ViSX system a mention of inline dedupe and compression."
"Once we had a look at who was currently buying our kit or might in the future - SMEs, not enterprise data centres - we reset our plans," he added, "and came out with asynch and synch replication with link compression and encryption, [plus] NFS support on top of existing iSCSI, and OpenStack support.
"We are ... going to add dedupe and compression ... and it will open up potentially larger opportunities, but for our current customer base it is not that important and thus [was put back] in the development and release schedule."
The ViSX appliance needs no special tuning, license, or management tools. It supports all major hypervisors and has, Astute says, tight VMware vSphere integration - through a VMware vCenter plug-in tab for vSphere environments.
Jim Bagley, a senior analyst at SSG-NOW, said: "We consider ViSX OS v5 a quantum leap from a niche playing flash array to a major contender in the storage business. This is because the move from a block-only device to a fully featured file server with NSFv4, coupled with an aggressive OpenStack strategy and the inherent network efficiency of the ViSX DataPump architecture creates a highly desirable feature set, particularly for the mid-market at a value price."
Astute has been starting up for some time. Let's hope that the ViSX array takes off and delivers on its flash price, performance and simplicity promise.
The ViSX Performance Storage Appliance is available now in a range of capacities from 1TB to 45.6TB, and add-on flash modules are available in sizes of 480GB, 960GB and 1900GB. An appliance with 4.5TB of usable capacity costs $90,000. ®