Boeing going ... GONE: Black phone will SELF-DESTRUCT in 30 secs
FCC filings reveal hush-hush device which destroys itself when tampered with
---
Who makes the most secure smartphones on the planet? Is it Apple? Samsung? BlackBerry? Boeing is betting the US government's answer is "none of the above."
A filing with the US Federal Communications Commission first spotted by storage community site MyCE sheds new light on the aerospace giant's plans to market a smartphone that's specifically designed to be secure enough to be used by government agencies, the military, and their contractors.
According to the paperwork, that device is called the Boeing Black, model number H8V-BLK1, and its workings are so hush-hush that Boeing has filed to have its correspondence with the FCC deemed confidential and "permanently withheld from public inspection."
"Boeing's Black phone will be sold primarily to government agencies and companies engaged in contractual activities with those agencies that are related to defense and homeland security," the filing states. "The device will be marketed and sold in a manner such that low level technical and operational information about the product will not be provided to the general public."
Here's what we do know, based on the filing: The Boeing Black will be a dual-MicroSIM smartphone that supports GSM, WCDMA, and LTE on a wide range of bands to facilitate global use. It will also feature Wi-Fi and Bluetooth connectivity, and it will come equipped with USB, HDMI, and PDMI ports. From the supplied diagrams, it also looks like it might sport some kind of camera (often a no-no for top security work).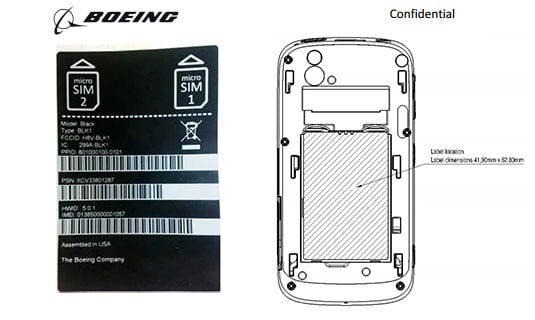 "Assembled in USA" – but try to disassemble it and it will wipe all its data and go dead
Back in 2012, a Boeing spokesman told National Defense Magazine that the company was planning to develop a secure smartphone based on Android, so we can only assume that's what the Black will be running, albeit with Boeing's own custom modifications.
Other than that, we have few details – and we're not likely to get any, either. From Boeing's filing:
There are no serviceable parts on Boeing's Black phone and any attempted servicing or replacing of parts would destroy the product. The Boeing Black phone is manufactured as a sealed device both with epoxy around the casing and with screws, the heads of which are covered with tamper proof covering to identify attempted disassembly. Any attempt to break open the casing of the device would trigger functions that would delete the data and software contained within the device and make the device inoperable.
The company further says that anyone who buys a Boeing Black will have to sign a confidentiality agreement banning them from disclosing any information about the product's hardware or software, let alone reverse engineering it.
Boeing isn't the only company interested in developing snoop-proof mobes. At the Mobile World Congress conference in Barcelona this week, Blackphone – a collaboration between Spanish startup Geeksphone and security firm Silent Circle – announced that its high-end secure smartphone was available for preorder.
While Blackphone will set you back $629, however, we're betting Boeing is counting on a bigger payout than that. When it launched its secure smartphone project in 2012, it observed that phones with military-grade security were selling for between $15,000 and $20,000 apiece.
"We are going to drive down towards a lower price point, but ... not mass-market price point," a Boeing VP said at the time. Taxpayers, get out your checkbooks. ®